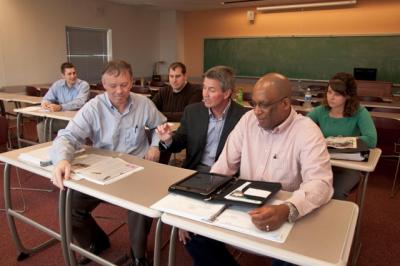 Balancing responsibilities at work and home is challenging, which is why earning a degree can be very difficult for adults. Penn State Behrend now offers accelerated courses in a format that makes it possible for adults to get a degree without sacrificing valuable time at their job or with their family. The college also offers academic support services like tutoring and academic advising, and special services for adult learners like childcare facilities.
Many employees at regional companies have also benefited from the value of a Penn State Behrend education. Employees at well-known companies such as Erie Insurance, General Electric, LORD Corporation, and many others have enhanced their careers by attaining a Penn State degree.
Office of Adult Learner Services: Penn State Behrend has an office dedicated to serving the needs of our adult learners, whether it's with scheduling, financial aid, or support services.