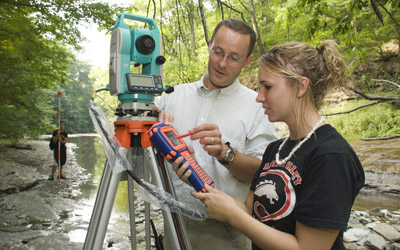 The B.S. Science degree provides students with a broad, general education in the sciences. Options within the degree are geared toward students who want a high degree of flexibility in their studies and whose interests and skills are more cross-disciplinary.
Penn State Behrend offers four options within the Science major to permit specialization: Environmental Studies, General Science, General Science Pre-certification, and Earth and Space Science Education Pre-certification. All options allow the opportunity to add a minor or take courses in complementary fields such as business, education, and political science.
The Environmental Studies option focuses on helping students understand the processes at work on the Earth and develop a background in the social, economic, and political issues that dominate environmental discussions today. A core course sequence includes the fundamentals of geographic information systems, a dominant research tool in earth sciences. Northwestern Pennsylvania and Lake Erie offer an outstanding setting for research and internship opportunities.
The General Science option allows students to frame their studies to meet diverse career goals rooted in science. Students who choose this option use electives to broaden their career horizon: science journalism, public policy and politics, or business are just a few possibilities.
The General Science Education Precertification option and the Earth and Space Science Education Precertification options are designed for students who want to pursue teaching certification at the secondary level. Students earn a four-year degree in Science, and then acquire teaching skills and certification at another college or university, which generally takes one year.