Ashlyn Kelly
Contact me with questions about PSB!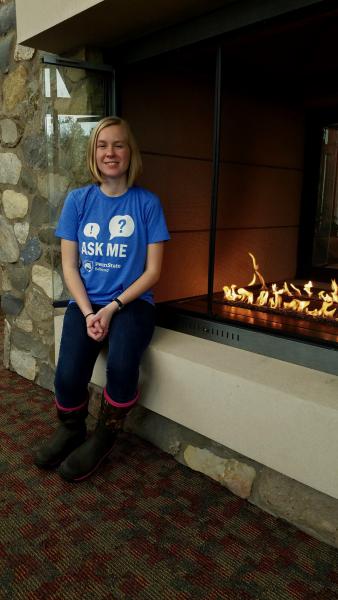 Major: Chemistry
Hometown: Bradford, Pennsylvania
Year standing: Junior
A little about me: I am a junior chemistry major, with a minor in biology where I hope to become a science teacher one day. On campus I am the President of Random Acts of Kindness, the Membership Chair for Lion Ambassadors, the Publicity Chair for the Nittany Catholic, the Liturgical Minister Coordinator for Catholic Campus Ministries, a Lion Scout, and a student grader.
Why did I choose Penn State Behrend? I chose Behrend because it reminded me a lot of home. I grew up on a hill, in the middle of the woods that got a lot of snow in the winter. So, it was a perfect fit! Especially since I like colder weather. But the main reason why I chose Behrend was because of the chemistry labs. Being a chemistry major, I wanted to work with the most up to date technology, as that is what I will be working with when I graduate. In 2009, Behrend renovated the chemistry labs and they are everything I could ever want. We have a lot of instruments that most students don't work with until they go on to graduate school, so it is cool to be using them as an undergraduate student. Also, in order for me to graduate in my major, I need to do research. Behrend offers many research opportunities for students. I am currently undergoing the selection process for who I want to do research for in the chemistry department. However, next semester I have the opportunity to go to Costa Rica for a week to do biological research. Behrend has so many opportunities to offer, and that is my favorite thing about it.
What is your favorite thing about Behrend and why? It is really hard to pick my favorite thing about Behrend, because I love it all! Behrend has given me so many opportunities that I thought I would never have. For example, I went on a bus trip to New York City where I got to reunite with one of my cousins after not seeing him for 12 years. I also got the chance to study abroad, which was something I never planned on doing when I came here. The people at Behrend are also the nicest people I have ever met. It's nice walking to class everyday seeing familiar faces, meanwhile, seeing different ones. It seems like I am always meeting someone new. Everyone is like family here. We all love each other no matter our differences, and we are always there to support each other. The uniqueness and diversity is another thing that really stands out to me. Growing up, I did not attend the most culturally diverse school and Behrend has allowed me to meet people from all around the world. With friends that feel like family and a beautiful campus, Behrend is my home away from home!
What do you like to do in your spare time? What extracurricular activities are you involved in? When I'm not in class or studying, I partake in extracurricular activities. This year I am the president of Random Acts of Kindness, a secret organization on campus that tries to make Behrend a better place. We do everything from giving random people gifts to cheer them up if they are having a rough time to passing out snack bags in the residence halls for everyone living on campus to wish them "good luck" on finals. I am also a Lion Ambassador, and I'm the Membership Chair this year and was the Formal Chair last year. Lion Ambassadors is known on campus for spreading Penn State pride. We host our famous "Midnight Bingo" where students can play bingo for free for prizes such as Xboxes, TVs, as well as cheese balls and ramen. I am also involved with Catholic Campus Ministries, where I am the Liturgical Ministry Coordinator and the Publicity Chair for The Nittany Catholic. Lastly, I am a general member of Chemistry Club. When I am not studying or busy doing something for one of the clubs I am in, I am working as a Lion Scout (tour guide) or a student grader. Behrend offers many jobs on campus, which is great for me since I don't have a car. So, Behrend always has something for me to do to stay busy!
What is a piece of advice you have for a prospective Behrend student? The biggest piece of advice I could give to a prospective student is to be yourself, be open-minded, and try new things. If I didn't do any of these things, I would not be the person I am today. My freshman year I decided to join Lion Ambassadors, and knew no one going into it. The quite, shy girl, who hardly ever spoke, was joining one of the biggest organizations on campus, which would require her to speak in front of large crowds. I gave speeches to my whole school before, but I am not the one who usually starts up conversations or speaks up. Well, now I am the girl who you can't get to stop talking because Lion Ambassadors really helped me get out of my shell and it is an organization I have never regretted joining. Lastly, never give up no matter how hard something may seem. You will have many obstacles that you will need to overcome, but they will just make you a better person. The beginning of my second semester, my dad was life-flighted due to an accident at work. I was grateful he was still alive, because it was something that could have easily killed him. Therefore, I never take anything for granted anymore and I'm always trying to make someone's day better because you never know what they are going through. Many of my friends didn't even know about the accident until a year after it happened, because it was just something that wasn't easy for me to talk about. So, there will be those times where you will struggle, but you just have to make the best of it!
What "field work"/internships have you utilized to help you find work within your major? I will be doing research in order to graduate, so I will get hands-on experience on what it will be like to do research in a chemistry lab. I am also a student grader for the chemistry department and I want to teach, so grading is allowing me to see what the professors look for in answers. This process will help me write my own answer keys when the time comes. Lastly, next semester I am going to Costa Rica to do biological research, which will allow me to do research in my minor, as well. It will allow me to see what it is like to do scientific research outside of the United States. By the time that I graduate, Behrend will fully prepare me to either enter the workforce or go to graduate school.
What do you hope to do after graduation? After graduation, I am currently debating on going to grad school to get a Ph.D. in chemistry or a Master's in chemistry or education. I am also considering joining the Teach For America Corps. Here I would teach in an underprivileged school for two years, take a few online classes, and would receive my Master's at the end of the program. I really like this option, because I am always willing to help others and I want to make a difference. It will also allow me to start working right out of college.
If you could travel anywhere in the world, where would you go? If I could travel anywhere in the world, I would like to go to Europe. More specifically, I would like to go to France. In middle school and high school I took French, and the culture has always seemed interesting to me. I also love to cook and who doesn't love French cuisine!