Daniella Diaz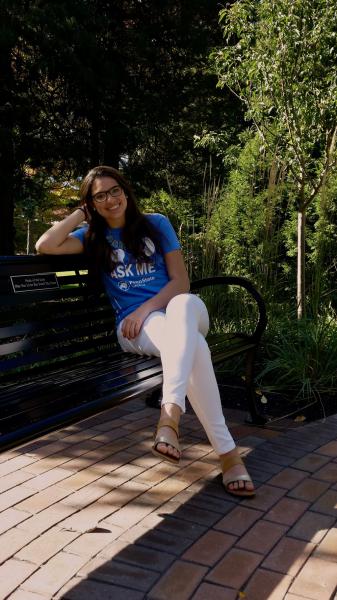 Contact me with questions about PSB!
Major: Marketing
Hometown: San Juan, Puerto Rico
Year standing: Sophomore
A little about me: I am bilingual and currently starting an American Sign Language Club at school. I'm in a sorority, Alpha Sigma Tau, and I hold an executive board position (V.P. of Recruitment). I do philanthropy through my sorority such as adopt a highway, special needs pageant, and Soldiers and Sailors Home. I have two dogs back home that I absolutely love and miss.
Why did I choose Penn State Behrend? I visited the school and the campus and the people made me fall in love with it. It was spring when I visited, so it was beautiful, and everyone was incredibly nice to me.
What is your favorite thing about Behrend and why? I love that you get a great quality education in a smaller campus. I love that I get to know all my professors. The Academic and Career Planning Center is also a great tool that I utilize and love about Behrend.
What do you like to do in your spare time? What extracurricular activities are you involved in? I love to be involved in my sorority and general Greek life. I also like to do philanthropy around the Erie area. I'm also involved in Her Campus and Lion Ambassadors.
What is a piece of advice you have for prospective Behrend students? Give Erie an actual chance. Being from a big city, I thought I was going to hate Erie and, in less than a month, I fell in love with the campus and the people. Therefore, give it a genuine chance and get involved. For me, getting involved in a sorority helped me make friends with all Greek life members and it helped with my shyness.
What "field work"/internships have you utilized to help you find work within your major? I'm currently applying to a lot of marketing internships in the fashion industry and I'm waiting to hear back. But, things that I have put in my resume include the clubs and organizations that I am involved in on campus, such as Lion Ambassadors, Her Campus, Alpha Sigma Tau, Welcome Week, and even working at Bruno's and the Learning Resource Center.
What do you hope to do after graduation? After I graduate,I hope to receive employment at a fashion or beauty company in a big city or abroad.
If you could travel anywhere in the world, where would you go? Argentina and Bora Bora. Argentina for the good food and music and Bora Bora for the beautiful beaches.