Kate Becker
Contact me with questions about PSB!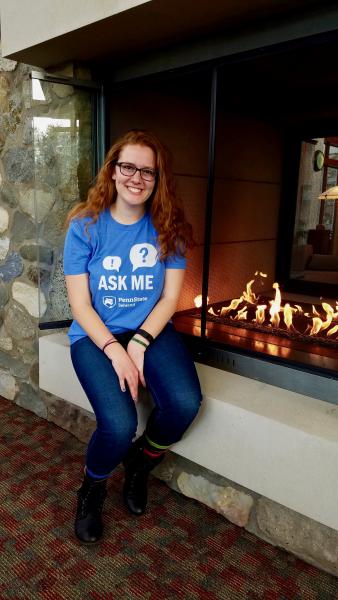 Major: International Business & Marketing
Hometown: San Juan, Puerto Rico
Year standing: Junior
A little about me: I'm Kate and I am a junior studying International Business and Marketing and minoring in Chemistry. During my freshman year, I was completely undecided about my major. After some searching, I narrowed my list down to Business, Communications, and Chemistry. I decided on doing a little bit of everything. I have lived on campus all three years, each year in a different style of housing (freshman residence hall, suite, apartment). Between my classes, homework, club events and meetings, and hanging out with friends, I have packed days. However, I love staying busy, and I am always excited to meet new people and try new things!
Why did I choose Penn State Behrend? When I first toured Behrend, I was mesmerized by how clean the campus was. Everybody I interacted with seemed friendly, the class sizes looked comfortable, the professors sounded approachable, and the smaller campus seemed like a good fit for me. After choosing Behrend, I realized I was right about all my assumptions! I have made some fantastic friends and the strangers I interact with have all been friendly. My classes are small enough to the point where the professors know my name and I feel comfortable asking questions and participating in class. Even though the campus might seem small to some, I keep meeting new people, finding new clubs, and discovering new spots.
What is your favorite thing about Behrend and why? I love that the campus is small enough to run into friends on the way to class, but at the same time it is big enough to interact with a new person every day. I love meeting new people, and it is great to run into those people in random places on campus, or even at a restaurant or grocery store near campus.
What do you like to do in your spare time? What extracurricular activities are you involved in? My hobbies include swimming, painting, reading, binge-watching TV, eating, and singing in the shower. I have been a part of multiple clubs on campus, but I am currently involved with Lion Scouts (tour guide), BVZ Radio, Relay for Life of Penn Sate Behrend, Reality Check (community service club), and a leadership club. This past summer (2016), I studied abroad in Maastricht, Netherlands for six weeks. I took two business classes, and overall visited seven different countries.
What is a piece of advice you have for prospective Behrend students? Do not be afraid to recreate yourself in college! Before coming to Behrend, I was scared to try new things, I would get embarrassed way too easily, and I was fairly shy. I made it my mission to get involved in all the clubs that appealed to me and to meet as many people as I could! I am now involved in more than I could have ever imagined in high school, I laugh at myself before I have time to feel embarrassed, and I am on my way to turning into a beautiful social butterfly.
What "field work"/internships have you utilized to help you find work within your major? I am hoping to get an internship for summer 2017. I was very nervous to attend the fall career fair, but luckily the Academic and Career Planning Center (ACPC), which is the office that sets up the career fair, provided resources for preparation. Two weeks before the career fair, I went to the ACPC to meet with an adviser and go over my resume. Then I attended the career fair expo, which was a practice round where representatives from eight different companies were helping students with their hello/hand-shake/introductions. Students could also ask them questions about what to expect or what to review before the actual career fair. I also attended the Business Blitz, which was set up like speed-dating with employers. I sat with 10 different recruiters and practiced my elevator pitch and got to ask them questions. After all the practice, I felt a lot more confident at the career fair.
What do you hope to do after graduation? I have never had a dream job. What I would like to get into in the future is event planning. That type of job sounds appealing to me. Ideally I would work for a global company and do some traveling for business.
If you could travel anywhere in the world, where would you go? I have been able to travel quite a bit with my family. I would like to start doing more activities on my bucket list. One of them is paragliding in Switzerland.