Lia Vinciguerra
​Contact me with questions about PSB!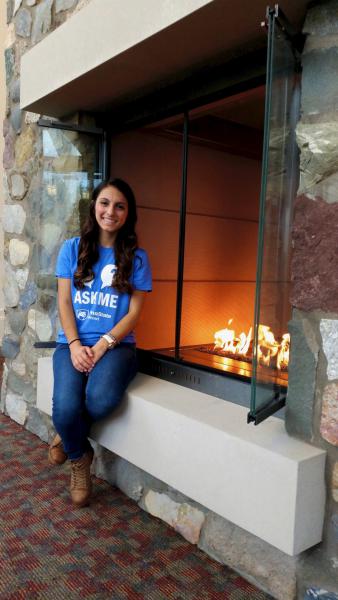 Major: Biology (3+4 Accelerated Program in Optometry)
Hometown: Beaver Falls, Pennsylvania
Year standing: Junior
A little about me: I am a Junior here at Penn State Behrend and I am from Beaver County. I was born to a proud Italian American family and I am 1 of 2 children in my family. I used to play soccer in high school and found out about Penn State Behrend through the soccer coach who recruited me to play at Behrend.
Why did I choose Penn State Behrend? I was lucky enough to have figured out what my passion was junior year of high school. Therefore, I chose Penn State Behrend for their 3+4 Accelerated Program in Optometry that is linked with Ohio State. Not only was Behrend able to provide a program that was financially beneficial, it also had the small campus feel that I was looking for. I wanted to have that 1-on-1 attention rather than being just a number. I also realized that most Penn State alumni are extremely proud to represent Penn State and I wondered why that is. Now I know, once you're a Nittany Lion, you are ALWAYS a Nittany Lion.
What is your favorite thing about Behrend and why? My favorite thing about Behrend is the relationships you create because the class size is relatively small. I have learned a lot more because the professors hold me accountable. I also feel important because the teachers get to know who I am and vice versa.
What do you like to do in your spare time? What extracurricular activities are you involved in? Well I loved being involved on campus. I am a member of Lion Scouts, Lion Ambassadors (Secretary) and Gamma Sigma Sigma Service Sorority. I have been a Resident Assistant (R.A.) since freshman year and I am also an alum of the Behrend Honors Program. I have been lucky enough to have been on the Alternative Spring Break trip and cast of the Spring 2016 musical Bonnie and Clyde. I love being with my family, going to Presque Isle. and eating Italian food!
What is a piece of advice you have for a prospective Behrend student? A piece of advice I have for a prospective student is to get involved on campus. The best way to learn more about campus is through involvement. I truly started to love Behrend when I started to be proactive and join clubs that would interest me. I made friends, memories, and an impact on society through these organizations and I suggest that a future student join clubs in order to do the same.
What "field work"/internships have you utilized to help you find work within your major? I am planning on studying abroad for the Spring 2017 semester in Costa Rica for BIOL 499A. This class will allow me to conduct research in Costa Rica over spring break while also gaining knowledge through the semester-long class. I am excited for this opportunity that Behrend will provide me.
What do you hope to do after graduation? I plan to enroll in a four-year optometry program within the United States and to eventually become an optometrist. I also plan to do optometric nonprofit work in underdeveloped countries with my optometry license.
If you could travel anywhere in the world, where would you go? I would travel back to Italy because I love learnin​g more about my heritage. Rome is also somewhere I have been interested in going to for awhile because of its religious and art history. I would like to see  in person some of the artwork that I learned about in my ART 110H class.