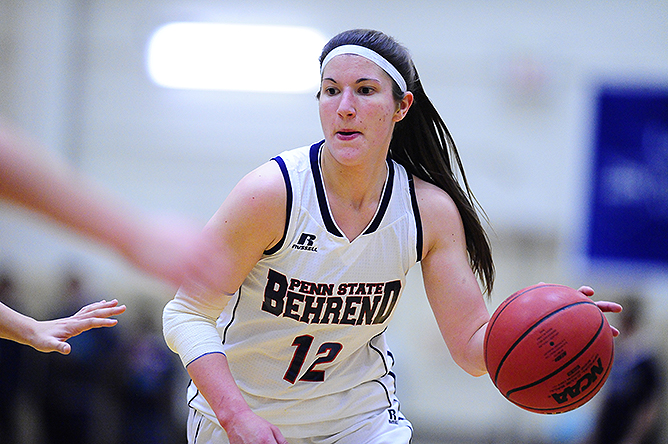 Name: Ally Burke '16
Sport: Women's Basketball
Class: Senior
Hometown: Erie, PA
Major: Childhood and Early Adolescent Education with a minor in Communication
My favorite moment on the court…
My favorite moment on the court was scoring 1,000 points and breaking the program record for most points scored in a single season. 
Being an athlete...
is the greatest blessing in my life. Being an athlete is far more then succeeding in your given sport. Being an athlete has taught me more about life than I ever thought I could learn. Being an athlete has given me the desire to win on and off the court. Athletic ability comes with a touch of natural ability and a heap of hard work. My desire to excel spawns excellence from the most simple tasks to the most complex tasks. Being an athlete, I learned that getting knocked down was just part of the process to work even harder to improve. As an athlete, I enjoy the challenge and meeting higher expectations. The most important thing I learned as an athlete is mental toughness. I was tested physically as an athlete and faced with adversity. This pushed me to levels I never thought I could reach. As an athlete, I was taught sacrifice. I am able to put others before myself, especially my teammates. Being an athlete has taught me to be a leader. The title "captain" never granted me leadership skills. I am able to lead because I know how to motivate, cultivate relationships, and earn the trust and respect of my teammate and coaches. When things weren't going well, my team looked to me to lead them. As an athlete, I was posed with opportunities to improve on a daily basis, and always took the initiative to get better. All in all, being an athlete has given me an opportunity to represent my school and community to the fullest. 
From Behrend, I…
gained another family. I have fallen in love with this school, the professors, and the people. From Behrend, I have been given the opportunity to graduate with a degree from one of the best colleges in the country. From Behrend, I have gained friendships and connections that I will take with me for many years to come. From Behrend, I was given all the tools I need to be successful as a person and in my professional field. I plan to become an Early Childhood Education teacher and become the teacher I know I can be.
I am more than my sport, I…
am a student and future teacher candidate. There is a reason student is placed before athlete. I knew my collegiate career would eventually come to an end but the degree I receive will take me everywhere I need and want to go in life. I am also a daughter and a sister. There is nothing more important to me than my family. They have taught me everything I know and continue to teach me everyday. They have given me all the opportunities to become the student, athlete, and person I am today. 
Giving back is important because…
no matter how tough you think your life is there is always someone who has to face challenges that are much tougher than our own. Giving back is where you give, and then nothing happens. No benefits for you, no recognition, nothing tangible gets sent your way. Your biggest and sole reward is the realization that you've made a significant change in someone's life. Volunteering in all shapes and forms has provided me with valuable experience and insight. Giving back is important because it brings people together and strengthens the community.
If I could tell a donor one thing…
thank you is not enough. I am beyond grateful for the experiences I have been able to be apart of from donor support. I was able to travel to Brazil and Florida. These experiences were very humbling to be as a person and as a player. I was able to meet people and hear stories that changed my views on life. I was able to work with children who did not have more than the clothes on their backs. They taught me the value of life and appreciation. I truly feel spoiled by what I have been able to do in my four years at Behrend. I would not have traded these experiences for the world. From donor support I was able to do things I have only dreamed of. I was able to travel across the world and see life through a different lens. I was able to grow as a person. I was able to experience things that other people never will. I was able to play the sport I love and meet people who have changed my life forever. I was able to enjoy these experiences with my teammates and coaches. All in all, I would say thank you very much for your generous donations. These donations continue to positively affect my life for the better and make me a well rounded individual.