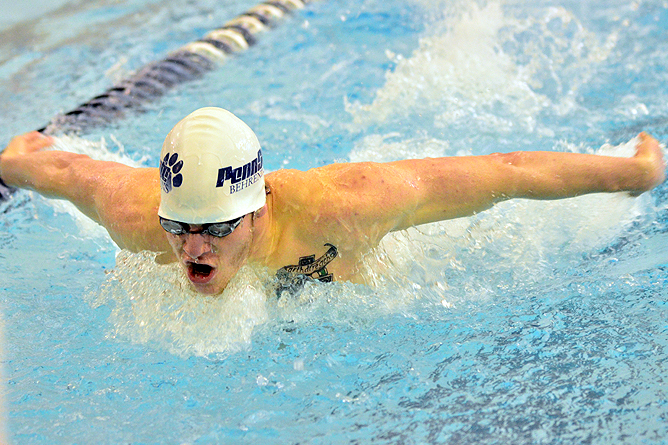 Name:
Dan Simon '15
Sport:
Swimming
Class:
Senior
Hometown:
Harrison City, PA
Majors:
Management Information Systems and Project & Supply Chain Management
My favorite moment in the pool…
Was when I stood on the podium to receive my award after I placed 5th at the NCAA National Championships in the 100 backstroke.
Being an athlete, I…
Have learned how to be a leader in and out of the pool. I have learned lifelong lessons that I will always take with me no matter where I go. I have made countless friendships that I will have for the rest of my life. If I was not a Penn State Behrend athlete, I would not be the person I am today.
Because of a donor's support, I…
Traveled to Florida and Arizona for our winter training trips. If not for a donor's support, I would not have been able to go on those trips. Our winter training trips are the most important week of our season. We practice three times a day for a week straight. We not only grow stronger and faster during the week but also much closer as a team. Training trip brings our team closer together and forms new and stronger friendships between teammates. Much of the success the Behrend Swim Team has had is a direct result of the work we put in during our training trip. If we did not have the funding to be able to go on training trip, we would not be such a successful team.
From Behrend, I…
I have accepted an IT Business Analyst/Project Manager position with Highmark in Pittsburgh.
I am more than my sport, I…
Am a student, a friend, a son,
Giving back is important because…
We hold several fundraisers throughout the year. We sell clothes, calendars, and much more to help pay for our team expenses and winter training trip. The more donations we receive, the less we have to fundraise or pay out of pocket to cover our expenses. That also enables us to focus more on school work and working hard in the pool. Donations would allow us to have the best equipment and racing suits, stay in better hotels, and have better meals after meets. Just a small donation can make a huge difference in our season. 
If I could tell a donor one thing…
Thank you for all of your generous support in the past and please continue to donate!