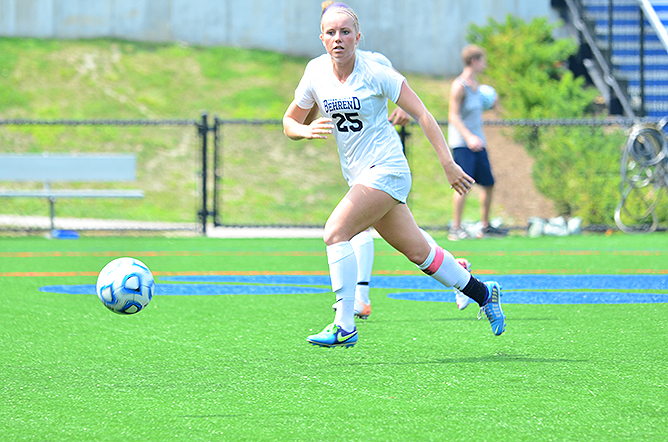 Name:
Maddie Monte '15
Sport:
Soccer
Class:
Senior
Hometown:
Beaver, PA
Major:
Interdisciplinary Business with Engineering Studies
My favorite moment on the field…
Was when we won the conference for the 4th year in a row in overtime against our rivals Pitt-Bradford on their home field.  
Being an athlete, I…
Learned so much about teamwork and how to be a leader. We all learned from each other, about how to work together on and off the field. We became more than teammates, we became a family. We won together and lost together, and always had each others backs.
Because of a donor's support, I…
Traveled to Brazil with my team. We played 3 local teams, as well as ran some camps for local children. Not only did we win all of our games, but we also got introduced as the US Women's National Team! We traveled to San Paulo, Paraty, Rio, and a private island. Exploring the Brazilian jungles, playing with local children, and exchanging gear with opposing players was an unforgettable experience. We also got a brand new stadium during my time here, which made playing even more enjoyable! Without the donations, my team would have never had the opportunity to travel to Brazil or have the experience of playing on a brand new turf field. Traveling with my team and playing on a state-of-the-art field created unforgettable experiences for myself, and the rest of my team.
From Behrend, I…
Accepted a job at Westinghouse Nuclear where I will use my mechanical engineering and business background in my role of a Marketing Engineer. Using my knowledge from the classroom and leadership and teamwork skills from the soccer field I hope to continue my education and career.
I am more than my sport, I…
Am a friend, a daughter, a sister, a student, a leader, CrossFit competitor, an engineer.
Giving back is important because…
We do some fundraisers during the year, such as selling soccer gear and hosting tournaments for high school teams. With our busy schedules including soccer, homework, jobs, internships, and hoping to have a social life, we do not have time for much more. Giving back is important because even though we don't have enough time to do more fundraising, or enough money to fund the entire team, we can still do things like tour New York City after a soccer tournament or have a great meal the night before competing in NCAA's!
If I could tell a donor one thing…
Thank you SO much!