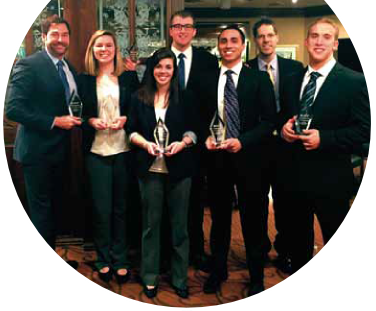 A student investment team from Penn State Behrend's Black School of Business reached the regional finals of the Chartered Financial Analyst Institute's Research Challenge in Chicago in April, topping teams from nearly 1,000 other schools!
The team—Drew Barko, Samantha Chiprean, Eric Frei, Ricky Grullon, and Kelsey Schupp—spent more than 130 hours preparing a detailed financial report and one-year stock valuation for the initial competition, which was held in Pittsburgh in March. There, they competed against students from the University of Pittsburgh, Carnegie Mellon, Duquesne, and Penn State's University Park campus, winning the regional title.
In Chicago, they then won an initial round that cut the number of teams from 106 to just twenty-one, outperforming students from Loyola University Maryland and Binghamton University. "The performance of our team is a testimony to the high caliber of our students and the excellent instruction they receive from our faculty," said Dr. Greg Filbeck, interim director of the Black School of Business.
>From left, Dr. Greg Filbeck, Samantha Chiprean, Kelsey Schupp, Eric Frei, Ricky Grullon, industry adviser Josh Armstrong, and Drew Barko.