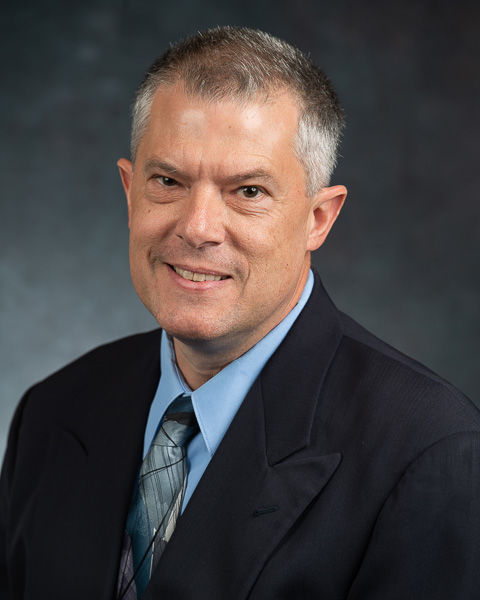 Professor, Mechanical Engineering
AMIC BUILDING
5350 TECHNOLOGY DRIVE
ERIE PA 16510
Biography

Dr. John T. Roth is a professor of mechanical engineering at Penn State Behrend. He received his B.S. and Ph.D. degrees in Mechanical Engineering at Michigan Technological University.

Dr. Roth has an active research program in the areas of signal processing, material removal, cryogenics, and electrical manufacturing.

Some of the sponsors of his research program include: Ford Motor Company, COLDfire Technology, Pennsylvania Infrastructure Technology Alliance (PITA), McInnes Rolled Rings, Spinworks, STERIS Corporation, Saegertown Manufacturing Corporation, and The Lincoln Electric Company. He also has worked on various joint projects with Carnegie Mellon University.

His recent collaborative research partners have included: Ford Motor Company, The Boeing Company, SKF, MS Autotech, Anderal Technologies, Northwestern University, Massachusetts Institute of Technology, Clemson University, University of Ulsan, National Science Foundation, and the Department of Energy.

His teaching interests include: Manufacturing Processes, Materials Science, Dynamic Systems, Adaptive Signal Processing, and Computer-Aided Design/Manufacturing.

Dr. Roth is a member of the American Society of Mechanical Engineering - Manufacturing Engineering Division (ASME-MED), Society of Manufacturing Engineers (SME), North American Manufacturing Research Institute (NAMRI), and the American Society for Engineering Education (ASEE). He has been the Technical Program Co-Chair (2007) and Chair (2008) of the International Conference on Manufacturing Science and Engineering. He serves as the chair of the Quality/Reliability Technical Committee of ASME-MED and also serves on both the Manufacturing Equipment Technical Committee of ASME-MED and the Scientific Committee of NAMRI/SME. He is also a member of ASM International.

---

Teaching

Courses Taught

BDENG 100S – Introduction to Engineering Design
E MCH 211 (011) – Statics
E MCH 213 (013) – Strength of Materials
ME BD 340 – Computer-Aided Engineering
M E 368 – Materials Properties and Characterizations
ME BD 446 – Material Properties and Characterizations
M E 468 – Engineering for Manufacturing Lecture and Laboratory
ME BD 455 – Engineering for Manufacturing
ME BD 497E (C) – Metallic Manufacturing Processes
MFGSE 540 – Manufacturing Systems

Additional courses taught at other institutions

Advanced Integrated Design, Modeling and Analysis
Computer-aided Design Methods
Dynamics
Engineering Analysis and Computational Techniques
Integrated Design, Modeling and Analysis
Introduction to Manufacturing Processes
Material Removal Processes and Machine Tools
Materials Science
Mechanical Vibrations
Mechanics of Materials

---

Research 

Cryogenic treatment of cutting tools

Cryogenically treating tungsten carbide tooling has the capability of extending tooling life, however, the mechanism of that extension has not been established. This study analyzes the microstructural alterations of the eta, gamma, and alpha phases within the carbide (WC) tooling caused by the treatments, and links these changes to the corresponding tool life. Of the four turning tool types investigated so far, two types had a decrease in life due to the treatment, one type had a slight increase, and the last type had a significant increase. The microstructural analysis shows that all three phases influence the tool life. Moreover, the combined influence of the phases is shown to dictate tool life. Thus, by knowing the treatment effect on the tooling, the corresponding tool life can be predicted prior to being used in production.

Electrically assisted manufacturing processes

Many manufacturing processes (e.g., forging, rolling, extrusion, and sheet metal) rely upon the application of heat to reduce the forces associated with fabricating parts. However, due to the negative implications associated with hot working, another more efficient means of applying energy is desired. This paper investigates the changes in the material properties of various metals (Aluminum, Copper, Iron, and Titanium based alloys) in response to electricity flow. Theory involving electromigration, and, more specifically, electroplasticity, is examined and the implications thereof are analyzed. It is shown that, using electrical current, flow stresses in a material are reduced, resulting in a lower specific energy for open-die forging. It is also shown that an applied electrical current can increase the forgeability of materials, allowing greater deformation prior to cracking. Additionally, elastic recovery is shown to decrease when using electricity during deformation. For most materials, these effects were dependent on strain rate.

Monitoring cutting processes using multivariate models

There is a strong need for monitoring techniques capable of tracking the health of cutting tools under varying conditions. Unfortunately, most monitoring techniques are dependent on the cutting direction and/or the sensor orientation, limiting their effectiveness in the typical industrial environment. With this in mind, this research develops a monitoring technique that is independent of both of these factors. This is accomplished by using multivariate autoregressive models that are fit to the output from a tri-axial accelerometer. The work shows that the eigenvalues of multivariate spectral matrices, calculated at the machining frequencies, are not only sensitive to the condition of the tool but are also independent of the direction of cutting and the orientation of the sensor. This independence is verified experimentally through tests conducted under a variety of cutting directions and sensor orientations. The project is also investigating using multivariate models to allow for multi-sensor integration in order to improve the capabilities of the monitoring scheme.
Research Interests

Electrically-Assisted Manufacturing (EAM), cryogenic material treatments, metal removal techniques, sheet metal processes, condition monitoring & prognostics, signal processing, materials science, and biomechanical devices.
Publications

Utilization of XSYTIN-1 Tool in Electrically Assisted Friction Stir Welding of Dissimilar Metals - Al 6061-T651 to Mild Steel, Advanced Materials and Technologies - 2019


A Mechanical Evaluation of an Overaged Aluminum Metal-Matrix-Composite (2009 Al/SiC/15p MMC), Procedia Manufacturing - June, 2019
Collaborators: Sean Flanagan, Author; Jeremy Main, Co-Author; Paul Lynch, Co-Author; Conner Vanderwiel, Co-Author

Utilization of Wavy Toolpath in Single-Point Incremental Forming - November, 2018
Collaborators: Tyler Grimm, Supervised Student Author; Ihab Ragai, Author

Investigation of Heterogeneous Joule Heating as the Explanation for the Transient Electroplastic Stress Drop in Pulsed Tension of 7075-T6 Aluminum, Journal of Manufacturing Science and Engineering - September, 2018
Collaborators: Brandt Ruszkiewicz, Author; Laine Mears, Co-Author

Rapid Freeform Sheet Metal Forming: Technology Development and System Verification - March, 2018
Collaborators: Vijitha Kiridena, Author; Ravi Verma, Co-Author; Timothy Gutowski, Co-Author

Effect of Electricity on Strain-Hardened Aluminum 2024 - November, 2017
Collaborators: Derek Shaffer, Author; Sean Sehman, Co-Author; Ihab Ragai, Co-Author; Bin Wang, Co-Author

Past Vertical Forming Utilizing Novel Tooling Methods in Single Point Incremental Forming - November, 2017
Collaborators: Tyler Grimm, Author; Ihab Ragai, Co-Author

Electrically-Assisted In-situ Sintering of Power Metals - July (3rd Quarter/Summer), 2017
Collaborators: Matt Schwabenbauer; Cody Dishong, Co-Author; Ihab Ragai, Co-Author

A Novel Modification to the Incremental Forming Process, Part 1: Multi-Directional Tooling, Procedia Manufacturing - July (3rd Quarter/Summer), 2017
Collaborators: Tyler Grimm, Author; Ihab Ragai, Co-Author

A Novel Modification to the Incremental Forming Process, Part 2: Validation of the Multi-Directional Tooling Method, Procedia Manufacturing - July (3rd Quarter/Summer), 2017
Collaborators: Tyler Grimm, Author; Ihab Ragai, Co-Author

Forming Limit Differences in Hemispherical Dome and Biaxial test during Equi-Biaixal Tension on Cruciform, ASME: Journal of Engineering Materials and Technology - July (3rd Quarter/Summer), 2017
Collaborators: Chetan Nikhare, Author; Emmett Vorisek, Co-Author; John Nolan, Co-Author

A Review of Electrically-Assisted Manufacturing With Emphasis on Modeling and Understanding of the Electroplastic Effect, Journal of Manufacturing Science and Engineering - July (3rd Quarter/Summer), 2017
Collaborators: Brandt Ruszkiewicz, Author; Tyler Grimm, Co-Author; Ihab Ragai, Author; Laine Mears, Co-Author

Optimum Process Parameters for Springback Reduction of Single Point Incrementally Formed Polycarbonate, Procedia Manufacturing - July (3rd Quarter/Summer), 2017
Collaborators: William Edwards, Author; Tyler Grimm, Co-Author; Ihab Ragai, Co-Author

The Effect of Multi-point Electrical Paths on Global Springback Elimination in Single Point Incremental Forming - June, 2017
Collaborators: Jacklyn Niebauer, Author; Derek Shaffer, Co-Author; Ihab Ragai, Co-Author/Presenter

The Effect of Polyethylene (Glycol) Diacrylate Post‐Fabrication Rest Time on Compressive Properties Analysis of Cryogenically Treated Sheet Nylon 6/6 - June, 2017
Collaborators: Derek Shaffer, Author; Cody Reinstadtler, Co-Author; Ihab Ragai, Co-Author/Presenter

The Effects of Polarity and Current Path in Electrically Assisted Single Point Incremental Forming of 2024-T3 Aluminum - June, 2017
Collaborators: Tyler Grimm, Author; Ihab Ragai, Co-Author/Presenter

Understanding the Differences in Hemispherical Dome and Biaxial Test During Equi-Biaixal Tension on Cruciform - November, 2016
Collaborators: Chetan Nikhare, Author/Presenter; Emmett Vorisek, Co-Author; John Nolan, Co-Author

Effect of Bi-axial Arm Velocity on Hole Expansion - June, 2016
Collaborators: Chetan Nikhare, Author/Presenter; Paul McDonald, Co-Author; Seth Beatty, Co-Author

Effects of Rapid Heating and Compression on Material Properties of 4340 Steel - June, 2016
Collaborators: Jamie Gloeckner, Co-Author; Shaun Chiesa, Co-Author; Tyler Grimm, Co-Author/Presenter; Ihab Ragai, Author/Presenter

Effect of Applied Electricity On Springback During Bending and Flattening of 304/316 Stainless Steel, Titanium ams-T-9046 And Magnesium Az31b - June, 2016
Collaborators: Jacklyn Niebauer, Author; Tyler Grimm, Co-Author; Derek Shaffer, Co-Author; Ian Sweeney, Co-Author; Ihab Ragai, Author

Electrically Assisted Global Springback Elimination After Single Point Incremental Forming - June, 2016
Collaborators: Trey Neveux, Co-Author/Presenter; Brandt Ruszkiewicz, Co-Author; Tyler Grimm, Co-Author; Ihab Ragai, Co-Author

Electrically Assisted Global Springback Elimination in AMS-T-9046 Titanium After Single Point Incremental Forming - June, 2016
Collaborators: Tyler Grimm, Co-Author; Ihab Ragai, Co-Author

Springback Induced in Single Point Incrementally Formed 2024-T3 Aluminum of Various Thicknesses - June, 2016
Collaborators: Trey Neveux, Author; Ihab Ragai, Co-Author

Wear Monitoring Tool Holder - July (3rd Quarter/Summer), 2015
Collaborators: Matthew McCormick, Author/Presenter; Stephen Strom, Co-Author; David Loker, Co-Author

Tool Electrical Isolation Methods for Stir Friction Welding - June, 2015
Collaborator: Trey Neveux, Author/Presenter

Calibration of Bi-axial Tension Testing Machine - June, 2015
Collaborators: Paul McDonald, Author; Seth Beatty, Co-Author; Chetan Nikhare, Co-Author

Effect of Toolpath on the Springback of 2024-T3 Aluminum during Single Point Incremental Forming - June, 2015
Collaborators: Zachary Reese, Author; Brandt Ruszkiewicz, Co-Author/Presenter; Chetan Nikhare, Co-Author

Investigation of Acoustic Signals During W1 Tool Steel Quenching - June, 2015
Collaborators: Chetan Nikhare, Author; Ihab Ragai, Co-Author/Presenter; David Loker, Co-Author; Shannon Sweeney, Co-Author; Chris Conklin, Co-Author

Direct Electric Current Spot Treatment's Effect On Springback Of 90 Degree Bent 2024-T3 Aluminum - June, 2015
Collaborators: Brandt Ruszkiewicz, Author/Presenter; Christopher Scriva, Co-Author; Zachary Reese, Co-Author; Chetan Nikhare, Co-Author; Ihab Ragai, Co-Author

Feasibility of End Mill Cooling Using the Venturi Effect with Compressed Air - June, 2015
Collaborators: Brandt Ruszkiewicz, Author/Presenter; Zachary Reese, Co-Author

Incrementally Formed Stiffeners Effect on the Reduction of Springback in 2024-T3 Aluminum After Single Point Incremental Forming - June, 2015
Collaborators: Brandt Ruszkiewicz, Author/Presenter; Sean Dodds, Co-Author; Zachary Reese, Co-Author; Ihab Ragai, Co-Author

Locally Applied Direct Electric Current's Effect on Springback of 2024-T3 Aluminum After Single Point Incremental Forming - June, 2015
Collaborators: Brandt Ruszkiewicz, Author; David Johnson, Co-Author

Electrically-Assisted Forming: Modeling and Control - August, 2014
Collaborators: Wesley Salandro, Author; Joshua Jones, Co-Author; Cristina Bunget, Co-Author; Laine Mears, Co-Author

The mechanical behavior of 5052-H32 aluminum alloys under a pulsed electric current, International Journal of Plasticity - July (3rd Quarter/Summer), 2014
Collaborators: Jae-Hun Roh, Author; Jeong-Jin Seo, Co-Author; Sung-Tae Hong, Author; Moon-Jo Kim, Co-Author; Heung Nam Han, Co-Author

Effect of Electric Current Density on the Mechanical Property of Advanced High Strength Steels under Quasi-static Tensile Loads, International Journal of Precision Engineering and Manufacturing - June, 2014
Collaborators: Min-Sung Kim, Author; Nguyen Vinh, Co-Author; Hyeong-Ho Yu, Co-Author; Sung-Tae Hong, Co-Author; Hyun-Woo Lee, Co-Author; Moon-Jo Kim, Co-Author; Heung Han, Co-Author

Effect of Prestrain on Electric Flow through the AA 5083 Material, Proceedings, International Deep Drawing Research Group 2014 Conference - June, 2014
Collaborators: Joseph Humphery, Author; Chetan Nikhare, Co-Author

Effect of Pulsed Current with 1450 MPa Martensitic Steel - June, 2014
Collaborators: Megan Lobdell, Author/Presenter; Chetan Nikhare, Co-Author; Dennie Parson, Co-Author; Dae-Ho Yang, Co-Author; Hyun-Woo Lee, Co-Author; Sung-Tae Hong, Co-Author

An Electric Touch for Aluminum Springback Elimination - June, 2013
Collaborators: Megan Lobdell, Author; Chetan Nikhare, Co-Author/Presenter

Comparison of Electrical and Thermal Effects on AA 5083 Aluminum Alloy, Proceedings, IDDRG2013 - June, 2013
Collaborators: Abram Pleta, Author; Chetan Nikhare, Co-Author/Presenter

Effect of Electric Current Density on the Mechanical Property of Advanced High Strength Steels under Quasi-static Tensile Loads - June, 2013
Collaborators: Min-Sung Kim, Author; Nguyen-Thai Vinh, Co-Author; Hyeong-Ho Yu, Co-Author; Sung-Tae Hong, Co-Author; Hyun-Woo Lee, Co-Author; Monn-Jo Kim, Co-Author; Heung-Nam Han, Co-Author

Effect of Electric Pulsing on 1500 Series Martensite Steel - June, 2013
Collaborators: Megan Lobdell, Author/Presenter; Chetan Nikhare, Co-Author/Presenter; Sung-Tae Hong, Co-Author; Hyun-Woo Lee, Co-Author

Electric-Assisted Aluminum 5083 Alloy Cup Forming - June, 2013
Collaborators: Stephan Lester, Author; Chetan Nikhare, Co-Author/Presenter

An investigation of Anisotropic Behavior on 5083 Aluminum Alloy using Electric Current - June, 2013
Collaborators: Abram Pleta, Author; Matthew Krugh, Co-Author; Chetan Nikhare, Co-Author/Presenter

Remote Tool Health Monitoring using Wireless Sensors on Rotational Machinery - 2012
Collaborator: David Loker, Author

Electrically-Assisted Forming of Magnesium AZ31: Effect of Current Magnitude and Deformation Rate on Foreability, Journal of Manufacturing Science and Engineering - October (4th Quarter/Autumn), 2012
Collaborators: Joshua Jones, Author; Laine Mears, Co-Author

Remote Tool Health Monitoring using Wireless Sensors on Potational Machinery - June, 2012
Collaborators: M Rynders, Author; David Loker, Co-Author

Exergy Analysis of Incremental Sheet Forming, Production Engineering Research and Development - January (1st Quarter/Winter), 2012
Collaborators: M Dittrich, Author; Timothy Gutowski, Co-Author; Jian Cao, Co-Author; Z Xia, Co-Author; V Kiridena, Co-Author; F Ren, Co-Author; H Henning, Co-Author

Learning Style Preferences in Cross-Functional Teams: Discipline-Specific or Personality-Related?, Journal of Behavorial Studies in Business - December, 2011
Collaborators: Diane Parente; Michael Filbeck

Wireless Nerve Positional Control of Prosthetic Device, Proceedings, 2011American Society of Mechanical Engineers-International Mechanical Engineering Congress and Exposition, IMECE2011 - November, 2011
Collaborators: David Loker; Yi Wu, Co-Author; Margaret Voss, Co-Author; Stephen Strom, Co-Author

Electrically Assisted Manufacturing - 2010
Collaborator: W Salandro

Application of Electric Current in Friction Stir Welding, 2010 International Manufacturing Science and Engineering Conference - 2010
Collaborators: M Pitschman; J Dolecki; G John; Jun Zhou

Condition Monitoring With Round Ceramic Inserts While Face Milling Using Acceleration Data, 2010 International Manufacturing Science and Engineering Conference - 2010
Collaborator: J Milner

Cryogenically Treated Round Silicon Carbide Whisker-Reinforced Alumina Inserts for Face Milling Hardened Steel, 2010 International Manufacturing Science and Engineering Conference - 2010
Collaborators: J Milner; J Goldsmith

Transmissibility of 802.15.1 – Compliant Radio in Machining Enclosures in Industrial Environments, 2010 International Manufacturing Science and Engineering Conference - 2010
Collaborators: R Sowles; D Suen; David Loker, Co-Author/Presenter

Condition Monitoring for Indexable Carbide End Mills Using Acceleration Data, Journal of Machining Science and Technology - 2010
Collaborator: J Milner

Deep Drawing of 5052 Aluminum Strips Using Electrically-Assisted Manufacturing (EAM), Transactions, North American Manufacturing Research Institute of the Society of Manufacturing Engineers, NAMRI/SME - 2010
Collaborator: T Collins

Empirical Modeling of the Stress-Strain Relationship for an Upsetting Process Under Direct Electrical Current, Transactions, North American Manufacturing Research Institute of the Society of Manufacturing Engineers, NAMRI/SME - 2010
Collaborators: J Jones; L Mears

Energy-Based Modeling on an Electrically-Assisted Forging Process, Transactions, North American Manufacturing Research Institute of the Society of Manufacturing Engineers, NAMRI/SME - 2010
Collaborators: C Bunget; W Salandro; L Mears

Formability of AL5xxx Sheet Metals Using Pulsed Current for Various Heat Treatments, Transactions, American Society of Mechanical Engineers, Journal of Manufacturing Science and Engineering - 2010
Collaborators: W Salandro; J Jones; T McNeal; S-T. Hong; M Smith

Quality and Inspection of Machining Operations: Tool Condition Monitoring, Transactions, American Society of Mechanical Engineers, Journal of Manufacturing Science and Engineering - 2010
Collaborators: D Djurdjanovic; X Yang; L Mears; T Kurfess

Electrically Assisted Manufacturing Makes Dollars and Sense, Literature for Prospective Manufacturing Collaborators - March, 2010
Collaborator: K Hobaugh

FEA Simulation Technique for Coupled Field Analysis of Metal Forming Under an Applied Direct Current (poster), 2009 International Manufacturing Science and Engineering Conference - 2009
Collaborator: David Johnson

Forgeability Enhancement of MG AZ31B-O Using a Continuous DC Electrical Current, Proceedings of the ASME 2009 International Manufacturing Science and Engineering Conference - 2009
Collaborator: Joshua Jones, Supervised Student Author

Investigation of Friction Stir Welding (poster) , 2009 International Manufacturing Science and Engineering Conference - 2009
Collaborators: J Dolecki; B Wigg; Jun Zhou

A Comparative Multi-field FEA and Experimental Study on the Enhanced Manufacturability of 6061-T6511 Aluminum Using DC Current, Transactions, American Society of Mechanical Engineers, Journal of Manufacturing Science and Engineering - 2009
Collaborators: Amir Khalilollahi; David Johnson

Coupled Multifield Finite Element Analysis Model of Upsetting Under an Applied Direct Current, Transactions, American Society of Mechanical Engineers, Journal of Manufacturing Science and Engineering - 2009
Collaborators: T Kronenberger; David Johnson

Effect of DC on the Formability of Ti-6AL-4V Titanium, Transactions, American Society of Mechanical Engineers, Journal of Engineering Materials and Technology - 2009
Collaborators: C Ross; J Kronenberger

End Mill Condition Monitoring and Failure Forecasting Method for Curvilinear Cuts of Non-Constant Radii, Transactions, American Society of Mechanical Engineers, Journal of Manufacturing Science and Engineering - 2009
Collaborators: C Suprock; L Downey

Quality and Inspection of Machining Operations: CMM Integration to the Machine Tool, Journal of Manufacturing Science and Engineering - 2009
Collaborators: L Mears; D Djurdjanovic; X Yang; T Kurfess

Springback Elimination for AL-6111 Alloys Using Electrically Assisted Manufacturing (EAM), Transactions, North American Manufacturing Research Institute of the Society of Manufacturing Engineers, NAMRI/SME - 2009
Collaborators: C Green; T McNeal

Teaming: Collaboration Efforts Between Courses in Corporate Finance and Manufacturing Engineering, Advances in Financial Education - 2009
Collaborators: Michael Filbeck; Diane Parente

Tensile Formability Enhancement of Magnesium AZ31B-O Alloy Using Electrical Pulsing, Transactions, North American Manufacturing Research Institute of the Society of Manufacturing Engineers, NAMRI/SME - 2009
Collaborators: W Salandro; A Khalifa

Effect on the Forgeability of Magnesium AZ31B-O When Continuous DC Electrical Current is Applied, 2009 International Manufacturing Science and Engineering Conference - October (4th Quarter/Autumn), 2009
Collaborator: J Jones

Feasibility Study of the Effectiveness of Cryogenically Treated Ceramic Inserts for Pocket Milling Maneuvers, Proceedings, 2009 International Manufacturing Science and Engineering Conference - October (4th Quarter/Autumn), 2009
Collaborators: Justin Milner; Jeffery Beers, Co-Author

Formation of 5052 Aluminum Channels Using Electrically-Assisted Manufacturing (EAM), Proceedings, 2009 International Manufacturing Science and Engineering Conference - October (4th Quarter/Autumn), 2009
Collaborator: W Salandro

The Microstructural Effects on Magnesium Alloy AZ31B-O While Undergoing an Electrically-Assisted Manufacturing Process, Proceedings, 2009 International Manufacturing Science and Engineering Conference - October (4th Quarter/Autumn), 2009
Collaborators: Timothy McNeal; Jeffrey Beers

A Comparability Study of a Wireless Electret Accelerometer to a Traditional Piezoelectric Accelerometer, 2008 International Manufacturing Science and Engineering Conference - 2008
Collaborators: J Jones; T McNeal; W Salandro; C Suprock; B Fusell

Condition Monitoring for Indexable Carbide End Mills Using Acceleration Data, 11th CIRP Conference on Modeling of Machining Operations - 2008
Collaborator: J Milner

Effect of Electrical Pulsing on Various Heat Treatments of 5xxx Series Aluminum Alloys, 2008 International Manufacturing Science and Engineering Conference - 2008
Collaborators: W Salandro; J Jones; T McNeal; S-T Hong; M Smith

Evaluation of Current Density Temperature and Deformations in Sheet Metal Strip and Dome Height Tests, Proceedings, 2008 International ANSYS Conference - 2008
Collaborators: Amir Khalilollahi; David Johnson

The Performance of Electret-Based Accelerometers and the Feasibility of Their Application in a Smart End Mill Tool Holder, Proceedings, 2008 International Symposium on Flexible Automation - 2008
Collaborators: C Suprock; B Fussell; R Jerard

Transient Multi-Field FEA Model for Predicting Current Density Distribution When Deforming Sheet Metal Under a Direct Current, Proceedings, 2008 American Society of Mechanical Engineers-International Mechanical Engineering Conference and Exposition (IMECE) - 2008
Collaborators: Amir Khalilollahi; D Jageman

A Cost Effective Accelerometer and DAQ for Machine Condition Monitoring: A Feasibility Study, Transactions, North American Manufacturing Research Institute of the Society of Manufacturing Engineers, NAMRI/SME - 2008
Collaborators: C Suprock; B Fussell; R Jerard

Directionally Independent Failure Prediction of End-Milling Tools by Tracking Increasing Chaotic Noise at the Machining Frequencies Due to Wear, Transactions, American Society of Mechanical Engineers, Journal of Manufacturing Science and Engineering - 2008
Collaborator: C Suprock

Enhanced Formability of 5754 Aluminum Sheet Metal Using Electric Pulsing, Transactions, North American Manufacturing Research Institute of the Society of Manufacturing Engineers, NAMRI/SME - 2008
Collaborators: I Loker; D Mauck; M Warner; S Golovashchenko; A Krause

Coupled Multifield Finite Element Analysis Model of Upsetting Under an Applied Direct Current, Proceedings, MSEC2007, 2007 ASME International Conference on Manufacturing Science and Engineering - 2007
Collaborators: T Kronenberger; David Johnson

End Mill Condition Monitoring and Failure Forecasting Method for Curvilinear Cuts of Non-Constant Radii, Proceedings, 2007 American Society of Mechanical Engineers-International Manufacturing Science and Engineering Conference - 2007
Collaborators: C Suprock; L Downey

Quality and Inspection of Machining Operations: Review of Condition Monitoring and CMM Inspection Techniques, Proceedings, 2007 American Society of Mechanical Engineers-International Manufacturing Science and Engineering Conference - 2007
Collaborators: L Mears; D Djurdjanovic; T Kurfess; X Yang

Directionally Independent Failure Prediction of End-Milling Tools During Pocketing Maneuvers, Transactions, American Society of Mechanical Engineers, Journal of Manufacturing Science and Engineering - 2007
Collaborators: C Suprock; J Piazza

Effects of DC Current on the Mechanical Behavior of AlMg1SiCu, A Taylor & Francis Journal: Materials and Manufacturing Processes - 2007
Collaborators: J Andrawes; T Kronenberger; T Perkins; Russell Warley

Manufacturing Aspects Relating to the Effects of DC Current on the Tensile Properties of Metals, Transactions, American Society of Mechanical Engineers, Journal of Engineering Materials and Technology - 2007
Collaborators: C Ross; D Irvin

Metallic Forging Using Electrical Flow as an Alternative to Warm/Hot Working, Transactions, American Society of Mechanical Engineers, Journal of Manufacturing Science and Engineering - 2007
Collaborators: T Perkins; T Kronenberger

Methods for On-line Directionally Independent Failure Prediction of End Milling Cutting Tools, A Taylor & Francis Journal: Journal of Machining Science and Technology - 2007
Collaborator: C Suprock

Real-time Failure Forecasting for Flat, Ball-Nose, Roughing, and Tapered Endmills Using Acceleration Data, Transactions, North American Manufacturing Research Institute of the Society of Manufacturing Engineers, NAMRI/SME - 2007
Collaborators: C Suprock; L Downey

Multi-Field FE Modeling of Resistive Heating in Ti-6Al-4V Specimens, Proceedings, 21st Canadian Congress of Applied Mechanics-CANCAM - June, 2007
Collaborators: T Kronenberger; Amir Khalilollahi; David Johnson

Axial Temperature Profile in a Cylindrical Tensile Bar Carrying a Large Electric Current During a Tensile Test, Proceedings, 2006 American Society of Mechanical Engineers-International Mechanical Engineering Congress and Exposition - 2006
Collaborator: Russell Warley

Compressive Superplastic Behavior of 6Al-4V Titanium Caused by an Applied DC Current, Proceedings, 2006 American Society of Mechanical Engineers-International Mechanical Engineering Congress and Exposition - 2006
Collaborators: T Kronenberger; M Warner

Directionally Independent Failure Prediction of End-Milling Cutting Tools: An Investigation of Noise Reduction Using Higher Dimensional Real Fourier Analysis, Proceedings, 2006 American Society of Mechanical Engineers-International Mechanical Engineering Congress and Exposition - 2006
Collaborator: C Suprock

Directionally Independent Failure Prediction of End-Milling Tools During Pocketing Maneuvers, Proceedings, 2006 American Society of Mechanical Engineers-International Manufacturing Science and Engineering Conference - 2006
Collaborators: C Suprock; J Piazza

Effect of DC Current on the Formability of 6AL-4V Titanium, Proceedings, 2006 American Society of Mechanical Engineers-International Manufacturing Science and Engineering Conference - 2006
Collaborators: C Ross; T Kronenberger

Multi-Field FE Modeling of Resistive Heating in a 6061-T6511 Aluminum Specimen, Proceedings, 2006 American Society of Mechanical Engineers-International Mechanical Engineering Congress and Exposition - 2006
Collaborators: Amir Khalilollahi; David Johnson

Use of Coupled Field FE Modeling in Study of Resistive Heating in a 6061-T6511 Aluminum Specimen, Proceedings, 2006 International ANSYS Conference - 2006
Collaborators: Russell Warley; Amir Khalilollahi

Using the Eigenvalues of Multivariate Spectral Matrices to Achieve Cutting Direction and Sensor Orientation Independence, Transactions, American Society of Mechanical Engineers, Journal of Manufacturing Science and Engineering - 2006


Automated Image Analysis of Microstructure Changes in Metal Alloys, IS&T/SPIE Symposium on Electronic Imaging 2005, Machine Vision Applications in Industrial Inspection XIII - 2005
Collaborators: M Hogue; Ralph Ford

The Effects of DC Current on the Tensile Properties of Metals, Proceedings, 2005 American Society of Mechanical Engineers-International Mechanical Engineering Congress and Exposition - 2005
Collaborator: C Ross

The Reduction of Deformation Energy and Increase in Workability of Metals Through an Applied Electric Current, Proceedings, 2005 American Society of Mechanical Engineers-International Mechanical Engineering Congress and Exposition - 2005
Collaborator: T Perkins

Effect of Cryogenic Treatments on Tungsten Carbide Tool Life: Microstructural Analysis, Transactions, North American Manufacturing Research Institute of the Society of Manufacturing Engineers, NAMRI/SME - 2005
Collaborators: A Gallagher; C Agosti

Viability of Electrically Treating 6061 T6511 Aluminum for Use in Manufacturing Processes, Transactions, North American Manufacturing Research Institute of the Society of Manufacturing Engineers, NAMRI/SME - 2005
Collaborators: J Heigel; J Andrawes; M Hogue; Ralph Ford

Broadening the Scope of a Material Science Course by Experimentally Testing the Effects of Electricity on a Metallic Test Specimen's Material Properties, Proceedings, 2004 American Society for Engineering Education Annual Conference and Exposition - 2004
Collaborators: Fredrick Nitterright; Robert Weissbach

Effectiveness of the Cryogenic Treatment of Carbide Inserts on Tool Wear When in Full Production Operations, Proceedings, 2004 American Society of Mechanical Engineers-International Mechanical Engineering Congress and Exposition - 2004
Collaborators: K Arner; C Agosti

Effects of DC Current on Stress-Strain Curve and Hardness of 6061 T6511 Aluminum, Proceedings, 2004 American Society of Mechanical Engineers-International Mechanical Engineering Congress and Exposition - 2004
Collaborators: J Andrawes; J Heigel; Russell Warley

Time and Frequency Domain Investigation of the Static and Dynamic Characteristics of Micro-Drilling, Proceedings, 2003 American Society of Mechanical Engineers-International Mechanical Engineering Congress and Exposition - 2003
Collaborators: A Guo; S Batzer

Smart Materials-Based Structural Vibration Isolation for Minimizing Product Quality Variation Using h(inf)-based Optimal Control, Proceedings, 2002 American Society of Mechanical Engineers-International Mechanical Engineering Congress and Exposition - 2002
Collaborator: J Turso

Monitoring Acceleration Signals Independent of Sensor Orientation: Experimental Verification, Proceedings, 19th Society for Experimental Mechanics - 2001


Using the Eigenvalues of Multivariate Spectral Matrices to Monitor Equipment, Proceedings, 2001 American Society of Mechanical Engineers-International Mechanical Engineering Congress and Exposition - 2001


An Orientation Independent Monitoring Technique for Accelerometers, Proceedings, 18th International Modal Analysis Conference-Society for Experimental Mechanics - 2000


Development of a Cutting Direction and Sensor Orientation Independent Monitoring Technique for End-Milling, Transactions, American Society of Mechanical Engineers, Journal of Manufacturing Science and Engineering - 2000
Collaborator: S Pandit

Condition Monitoring and Failure Prediction for Various Rotating Equipment Components, Proceedings, 17th International Modal Analysis Conference-Society for Experimental Mechanics - 1999
Collaborator: S Pandit

Development of a Cutting Direction and Sensor Orientation Independent Monitoring Technique for End-Milling, Manufacturing Science and Engineering - 1999
Collaborator: S Pandit

Using Multivariate Models to Monitor End-mill Wear and Predict Tool Failure, Technical Papers, North American Manufacturing Research Institution of the Society of Manufacturing Engineers, NAMRI/SME - 1999
Collaborator: S Pandit

Monitoring End-Mill Wear and Predicting Tool Failure Using Accelerometers, Transactions, American Society of Mechanical Engineers, Journal of Manufacturing Science and Engineering - 1999
Collaborator: S Pandit

Monitoring End-mill Wear and Predicting Tool Failure using Accelerometers - 1998


Monitoring End-Mill Wear and Predicting Tool Failure Using Accelerometers, Proceedings, 1998 American Society of Mechanical Engineers-International Mechanical Engineering Congress and Exposition - 1998
Collaborator: Sudhakar Pandit, Co-Author

Early Prediction of Impending End-Milling Tool Failure Using Acceleration Signals, Transactions, North American Manufacturing Research Institute of the Society of Manufacturing Engineers, NAMRI/SME - 1998
Collaborator: Sudhakar Pandit

Feasibility of Tool Breakage Prediction in End-Milling, Transactions, North American Manufacturing Research Institute of the Society of Manufacturing Engineers, NAMRI/SME - 1996
Collaborators: S Pandit; A Godbole

Monitoring and Diagnosis of Bearing Defects Using Data Dependent Systems, Integrated Computer-Aided Engineering - 1996
Collaborators: Sudhakar Pandit; D Paul

Tool Breakage Detection in End-Milling: A DDS Approach, Transactions, North American Manufacturing Research Institute of the Society of Manufacturing Engineers, NAMRI/SME - 1995
Collaborators: Sudhakar Pandit; Deburata Paul
Education

Ph D, Mechanical Engineering, Michigan Technological University

BS, Mechanical Engineering, Michigan Technological University