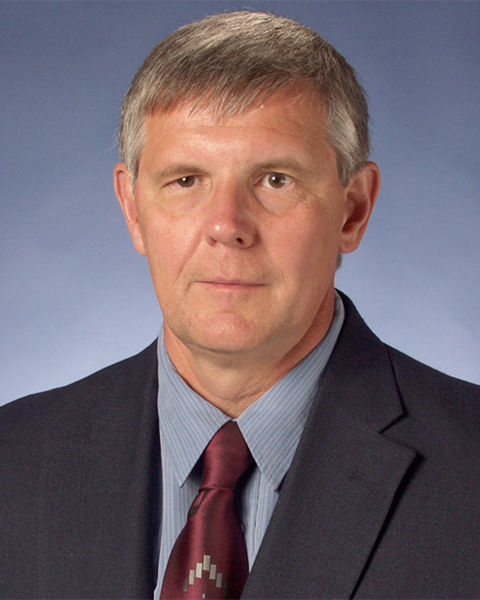 Lecturer in Engineering, Mechanical Engineering Technology
PENN STATE BEHREND
242 BURKE CENTER
ERIE PA 16563
Biography

Mr. Robert Edwards is a Lecturer in engineering at Penn State Behrend. He has been a faculty member in the Mechanical Engineering Technology department since 1991 when he was first hired as an adjunct. Mr. Edwards received his A.E. in Mechanical Technology from Broome Community College in 1970, his B.S.M.E. in Mechanical Engineering from the Rochester Institute of Technology in 1973, and the M.S. in Engineering from Gannon University in 1989. He came to Penn State Behrend with over 20 years of industrial experience. He was employed by General Electric, Smith Meter Systems, American Sterilizer Company, LORD Corporation and Finish Thompson.

Mr. Edwards is a member of the American Society of Mechanical Engineers ASME, the American Society of Electrical Engineers ASEE, the Institute of Electrical and Electronics Engineers IEEE, the American Society for Testing and Materials ASTM, and its D09 Committee, and the International Microelectronics and Packaging Society IMAPS.

---

Courses Taught

Intro to Engineering Design
Introduction to Engineering Graphics
Applied Electricity
Dynamics
First-Year Seminar
Fluid/Thermal Systems
Heat Transfer
Heat Transfer Lab
Introduction to Computer-Aided Drafting
Mechanical Measurements and Instrumentation
Spatial Analysis and Computer-Aided Drafting
Statics
Strength of Materials
Technical Drawing Fundamentals
Thermodynamics

---

Research 

Research projects completed

Krahe, R. [Principal Investigator], with Warley, R., and Edwards, R., "KDI Ice Maker Project – Phase 2, Applied Energy Research Center for KDI Industries, 2007.
Krahe, R. [Principal Investigator], Warley, R., and Edwards, R., "Ice-Maker Analysis and Design for Improved Efficiencies," Kold-Draft Industries, Erie, PA, $100,000, December 2006-June 2007.
Edwards, R. C. [Principal Investigator], "Solid Modeling and Drawing for a Gas Turbine," Usher Machine and Tool, $2,000, 2002.

Research (in progress)

Reckentenwald, G. [Principal Investigator/University of Portland] and Edwards, R. C. [Co-investigator], "Engineering of Everyday Things – Laboratory Exercises in the Thermal and Fluid Sciences," National Science Foundation, $50,230, January 2007-March 2010.
Nominated, School of Engineering Research Award, 2009.

---

Service 

Organizing conferences, service on conference committees

American Society for Engineering Education

Engineering Design Graphics Division-assisted in planning workshops and acted as contact person/trouble shooter during the conference, October 2009.

Active participation in professional and learned societies

American Society for Testing and Materials (ASTM)

D09 Committee, member, 2002-present.

Contributions to the University's programs to enhance equal opportunity and cultural diversity

Math Options, program for 7th and 8th grade girls, conducted sessions, 2002-2006, 2009-present.

 
Research Interests

Electronic systems, piping and fluid flow systems.
Publications

A Simple Experiment to Enhance Student Learning in the Aroa od Fins - 2017
Collaborator: Liyong Sun, Co-Author

A Simple Experiment to Enhance Student Learning of Pressure in a Fluid Power Course, Transactions on Techniques in STEM Education - October, 2016
Collaborator: Liyong Sun, Co-Author

A Student Research Project to Compare the Theoretical Pressure Drops Across Heat Sinks to Actual Measured Pressure Drops, Transactions on Techniques in STEM Education - October, 2016
Collaborators: Liyong Sun, Co-Editor; Nathan Myers

Developing in Class Experiments for Fluid and Thermal Science Courses for Technology Students - June, 2016
Collaborator: Liyong Sun, Co-Author

A Simple Experiment to Enhancing Student Learning of Pressure in Fluid Power Courses - April 8, 2016
Collaborator: Liyong Sun, Co-Author

A Student Research Project To Compare the Theoretical Pressure Drops Across Heat Sinks to Actual Measured Pressure Drops - April 17, 2015
Collaborators: Liyong Sun, Co-Author; Nathan Myers, Student Author

Enhancing Student Learning in Thermal-fluid Sciences Courses Through Software - April 17, 2015
Collaborator: Liyong Sun, Primary Author

Failure Analysis for Engineering Technology Students - June, 2014


Haptic Abilities and Their Impact on Teaching and Learning in the STEM Fields - June, 2014


Using Excel to Implement the Finite Difference Method for 2-D Heat Transfer in a Mechanical Engineering Technology Course - June, 2014


An In-Class Demonstration Used as an Introduction to the First Law of Thermodynamics for an Open System - April 6, 2013


Mechatronics for Non-Electrical Engineers, Proceedings, American Society for Engineering Education Annual Conference and Exposition - June, 2011
Collaborator: Michael Lobaugh

Mini-Projects as Part of a Freshman Seminar For Mechanical Engineering Technology Students, Proceedings, American Society for Engineering Education Annual Conference and Exposition - June, 2011
Collaborator: Michael Lobaugh

Resurrecting the Electrolytic Plotting Tank, Proceedings, American Society for Engineering Education Annual Conference and Exposition - June, 2011
Collaborators: T Demetrio; David Johnson

A Guided Inquiry Approach to Teaching Fan Selection, Proceedings, American Society for Engineering Education National Conference - 2010
Collaborator: G Recktenwald

An Inquiry-Based Exercise Involving a Tank of Water with a Hole in its Side, Proceedings, American Society for Engineering Education National Conference - 2010
Collaborator: G Recktenwald

Student Attitudes Toward Inquiry-Based Exercises in Undergraduate Lab Courses, Proceedings, American Society for Engineering Education National Conference - 2010
Collaborator: G Recktenwald

Undergraduate Involvement in Developing K-12 Hands-On Activities, Proceedings, American Society for Engineering Education National Conference - 2010
Collaborators: Kathryn Holliday-Darr, Co-Author; Melanie Ford

Re-enJEANeering STEM Education: Math Options Summer Camp, Journal of Technology Studies - 2010
Collaborators: Vibhuti Dave; Dawn Blasko; Kathryn Holliday-Darr; Jennifer Trich Kremer; Melanie Ford; Lucy Lenhardt; Barbara Hido

Guided Inquiry Laboratory Exercises Designed to Develop Qualitative Reasoning Skills in Undergraduate Engineering Students, Proceedings, 40th ASEE/IEEE Frontiers in Education Conference - October, 2010
Collaborator: G Recktenwald, Co-Author

Teaching the First Law of Thermodynamics for an Open System Through an Apparent Contradictory Experiment, Proceedings, American Society for Engineering Education St. Lawrence Section Conference - March, 2010
Collaborator: G Recktenwald

A Laboratory Exercise to Teach the Hydrostatic Principle as a Core Concept in Fluid Mechanics, Proceedings, American Society for Engineering Education National Conference - 2009
Collaborators: G Recktenwald; B Benini

Simple Experiments for the Thermal and Fluid Sciences, Proceedings, American Society for Engineering Education National Conference - 2009
Collaborator: G Recktenwald

The Engineering of Everyday Things: Simple Experiments in the Thermal and Fluid Sciences, Proceedings, American Society for Engineering Education National Conference - 2009
Collaborators: G Recktenwald; D Howe; J Faulkner; C Hsieh

A Study on the Design and Effectiveness of Conformal Cooling Channels in Rapid Tooling Inserts, The Technology Interface Journal, The Electronic Journal for Engineering Technology - 2009
Collaborator: Jonathan Meckley

A Simple Experiment to Expose Misconceptions About the Bernoulli Equation, Proceedings, IMECE 2009, 2009 ASME International Mechanical Engineering Congress and Exposition - November, 2009
Collaborators: G Recktenwald; D Howe; J Faulkner

Freehand Sketching in the Curricular – A View From the Outside, Proceedings, 64th EDGD Mid-Year Conference - October, 2009


Alternative Energy – Hands on Stem Activities, Proceedings, Synergy in STEM: Bringing Mathematics, Physics, and Engineering Together - October 30, 2009
Collaborators: Kathryn Holliday-Darr; Melanie Ford

A Homemade 2-Dimensional Thermal Conduction Apparatus Designed as a Student Project, Proceedings, American Society for Engineering Education National Conference - 2008


A Study of the Effect of Conformal Cooling on Part Temperature, Society of Plastics Engineers Annual Technical Conference (ANTEC) - 2008
Collaborator: Jonathan Meckley

A Study of the Mold Thermal Characteristics of Cooling Lines in Conventional and Rapid Tooling, Society of Plastics Engineers Annual Technical Conference (ANTEC) - 2008
Collaborator: Jonathan Meckley

Computer Applications for Engineers: Teaching Organizational, Problem Solving and Checking Skills to Freshmen Engineering Technology Students, Proceedings, American Society for Engineering Education National Conference - 2008


Guided Inquiry in an Engineering Technology Classroom, Proceedings, American Society for Engineering Education National Conference - 2008
Collaborator: G Recktenwald

Implementing Inquiry-Based Experiments in a Fluid Science Laboratory Class, Proceedings, American Society for Engineering Education National Conference - 2008
Collaborators: C Hsieh; G Recktenwald

A laboratory exercise to demonstrate how to experimentally determine the operating point for a fan, Proceedings, American Society for Engineering Education National Conference - 2007


Direct assessment of mechanics of material learning with concept inventory, Proceedings, American Society for Engineering Education National Conference - 2007
Collaborators: Shannon Sweeney; Richard Englund

Teaching Core Concepts in Thermal and Fluid Sciences Using Devices Familiar to the Student, American Society for Engineering Education St. Lawrence Regional Meeting - 2007


Using a homemade low speed wind tunnel to illustrate the continuity equation, Proceedings, American Society for Engineering Education National Conference - 2007


Using Simple Experiments to Teach Core Concepts in the Thermal and Fluid Sciences, Proceedings, American Society for Engineering Education National Conference - 2007
Collaborator: G Recktenwald

Mechanical engineering technology senior projects-An industry-education partnership, Proceedings, American Society for Engineering Education Regional Conference - 2006


Mechanical Engineering Technology Senior Projects-Partnering With Industry to Enhance the Students' Capstone Experience - 2006


Using laboratory experiences to facilitate the teaching of heat transfer to electrical engineering students, Proceedings, American Society for Engineering Education Regional Conference - November, 2006


A simple hairdryer experiment to demonstrate the first law of thermodynamics, American Society for Engineering Education Annual Conference and Exposition, Session #1348 - 2005


Teaching thermal management to electrical technology students, American Society for Engineering Education Regional Conference - 2005


Using available faculty expertise to add relevance to a first course in heat transfer, American Society for Engineering Education Annual Conference and Exposition, Session #2266 - 2005
Collaborators: Martin Dropik; Robert Simoneau

Improving a fluid and thermal sciences course for Electrical Engineering Technology students, ASEE Regional Conference - 2004


A rapid prototyping application in wind tunnel testing-a student project, American Society for Engineering Education Annual Conference and Exposition, Session #3550 - 2002
Collaborator: David Forsman
Education

MS, Engineering, Gannon University

BME, Mechanical Engineering, Rochester Institute of Technology

AAS, Mechanical Technology, Broome Community College