Indicator 4: Reduce the energy consumed by vehicles on campus.
A final issue related to the use of energy on the Behrend campus is the energy consumed by vehicles.
The dependence on vehicles not only contributes to the general degradation of our planet (release of CO2, use of petroleum, etc) it also contributes to the loss of the American neighborhood. Since the development of the automobile, American towns and cities have been increasingly designed for the automobile and not the people who live in these communities. Planning officials' solution to the increased traffic (and traffic jams) is to build more roads, and not to address the root of the problem: the over dependence on the auto.
Behrend has a population of about 4,500 (full-time/part-time students/faculty/staff), and in 2001-2002 there were 4,025 parking passes issued. That means 88% of the population has parking passes. The amount of passes actually exceeds the amount of parking spaces on campus by 1,663 passes. The amount of spaces Behrend does have works out to 21 acres of parking lots, that number would almost have to be doubled to fill the current demand.
Parking Passes (2001-2002)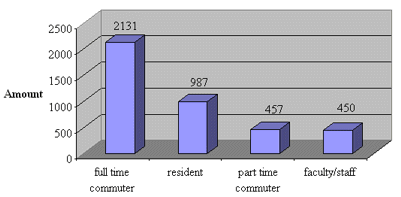 The answer to this dilemma is to decrease the dependence on the automobile:
Increased bus service to and from the campus would help public transportation become a more attractive option. Limiting the number of parking passes issued would also force some students to rely more on public transportation. Finally, if discount bus passes were available to students, some may think twice about the necessity of an automobile.
Carpooling is another option to decrease vehicles coming to campus. Developing a carpooling Web page or matrix would make it easy for those wanting to carpool to find a ride/passengers. Offering discounted/preferred parking passes for those who carpool would make it an tempting option.
Increasing bike ridership is another way to decrease dependence on automobiles. There is a bike path that connects Behrend to downtown Erie. Increasing the number of bike racks on campus may help increase bike-ridership. Publicizing the health/environmental benefits of bicycle riding may also contribute to an increase in pedal power.
Discourage on-campus residents from driving their cars from their residence halls to classes. The compact nature of campus (roughly a 15-minute walk from one end to the other) highlights the slothfulness of the students on campus. Sanctioning (or fining) anyone caught committing such an abhorrent action would facilitate the elimination of the practice.
Behrend also maintains fleet and maintenance vehicles. Exploration of the necessity of these vehicles could be conducted and conversion of some/all of college-owned vehicles to hybrid could be undertaken. Any equipment currently running on diesel could be modified to run on bio-diesel.