Indicator 1: Decrease water usage at Behrend.
Between the years of 1996 and 2001, Penn State Behrend's water usage grew by 43%. This water is used for potable uses (drinking, cooking, etc), non-potable uses (flushing toilets, cleaning laundry) and irrigation.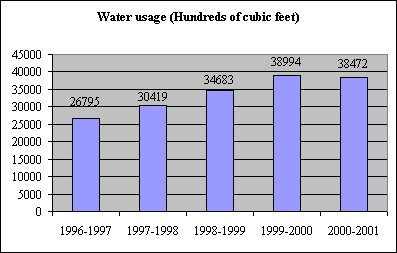 As Behrend continues to grow, it will become more of a challenge to not increase water demand. There are currently some measures in place to decrease water demand. These include:
Food service uses high-efficiency hot water heaters.
Housing has installed low-flow shower nozzles on existing showers in all student residence bathrooms, and uses high-efficiency clothes washers.
Campus facilities have automatic shut-off faucets and low-flush toilets.
There is a cooling tower in the plastics lab to cool the water before dumping into the waste stream.  
Other alternatives to combat water usage on campus, include:
Student education (water used during normal morning routine, water-saving tips shower hangers).
Adopt a proactive approach for water conservation in food service practices.
Plumbing maintenance (water leaks) issues should be a priority (possibly through formation of a hotline).
Place informational plaques in public bathroom area (could provide information about Behrend's water source and what happens to wastewater).
Institute an educational program in Behrend's child care center on water conservation and recycling gray water and continue the program through graduation.
Study feasibility of on-campus wastewater treatment.
Continue to ensure efficiency of all plumbing fixtures.
New construction on campus requires use of low-flush toilets and low-flow faucets, low-flow shower heads, and high-efficiency hot water heaters.
Explore waterless urinals.