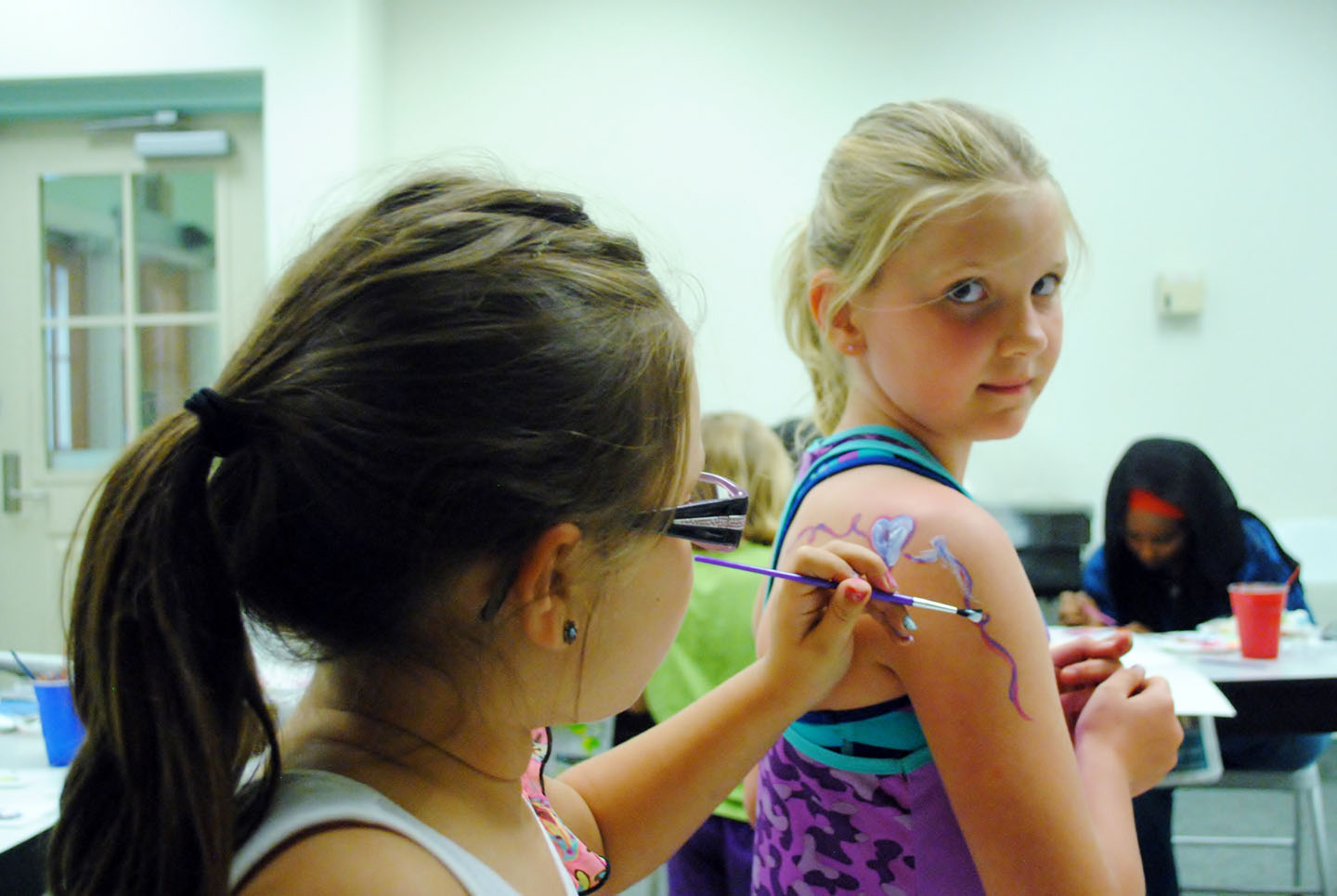 This page will guide you through the College for Kids program and give you valuable information and answer frequently asked questions regarding the following items:
Registration
As classes fill quickly, early registration is encouraged. Registration closes one week prior to class start date. Registration and payment are required at least one week prior to class start date to allow us to prepare for the appropriate number of students.
Payment Options
Online registration is payable by credit card only (MasterCard, Visa, Discover, or American Express).
Cancellation Policy
If for any reason a parent must cancel a class registration, the cancellation must be received in writing/email fourteen days in advance of the class and will be assessed a $10 cancellation fee. Cancellations made after that time will be assessed a $25 fee. There is no refund for cancellations made after the Friday (at noon) before the class begins. 
Program Location
College for Kids takes place on the campus of Penn State Behrend, Erie, PA. All classes originate on campus unless noted in the individual class descriptions (please see class links to the left). Students are supervised at all times.
Drop-Off and Pick-Up Procedure
Drop-off and pick-up is handled via a central location within the Reed Union Building (unless noted in the individual class descriptions). Signs will be posted as you enter the building giving you directions to the drop-off/pick up area).

Short-term parking is available in the Reed Union Building parking lot for your convenience.
Parents remaining on campus should see Police Services for a free parking permit.
Individual classes leave from and return to this central location.

Classes utilize many areas on campus, including the Penn State Behrend Outback.
Students not using Early/Late Care may be dropped off no more than 15 minutes before the start of class and should be picked up immediately at the end of class.

Any student being dropped off or picked up during class time should call the College for Kids Office at 898-6871 to make arrangements.
Penn State Behrend provides a secure drop-off and pick-up area for your child's safety.

Parents are required to escort their child/children during both drop-off and pick-up.
Authorized adults will be required to show Photo ID at time of pick-up, NO EXCEPTIONS.

In case of inclement weather, please provide appropriate rain gear for our travels to campus classrooms.
Download a campus map.
Class Schedules
One-week classes are scheduled Monday through Friday. Morning classes operate from 9:00 a.m. to noon, afternoon classes from 1:00-4:00 p.m., and all-day classes from 9:00 a.m.-4:00 p.m. Also available is optional early or late care.
Code of Conduct/Electronic Device Policy
The Penn State Behrend College for Kids staff is looking forward to providing your child with a fun, educational, memorable, and safe summer camp experience. Each camper has a responsibility to act in a way that assures a positive experience for all. All campers are required to follow these guidelines.
Behavior Guidelines
Campers shall be responsible for their words and actions.
Campers shall be respectful of others.
Campers shall follow directions from staff members.
Prohibited Behaviors
Endangering the health and safety of themselves, other campers, and/or staff or volunteers.
Stealing, damaging, or failing to care for University or personal property.
Continual disruption of the program.
Refusal to follow the behavior guidelines.
Inappropriate physical contact such as hitting, tripping, pushing, or biting.
Using profanity or inappropriate language or displaying pornography or clothing or other personal items with offensive content.
Bullying or acts of aggression or violence.
Possession or use of illegal substances, tobacco, or alcohol.
Possession of weapons – any object that may cause harm to another or place another person in fear of his/her safety may be considered a weapon.
Steps Taken for Failure to Follow These Behavior Guidelines
CFK Staff will redirect the camper to a more appropriate behavior in line with the behavior guidelines.
If the behavior persists, staff will discuss the problem with a parent/guardian.
If the problem persists, the camper may be suspended or dismissed from camp and the parent/guardian will be notified to pick the child up.
Physical or verbal abuse to others will not be tolerated or if a camper's behavior at any time threatens the immediate safety of him/her, other campers, or staff, the parent/guardian will be notified and expected to pick-up the child immediately.
Failure to comply with the Code of Conduct may result in the removal from the program and/or additional fees. There will be no refunds given for campers who are removed from the program due to violations of the Code of Conduct. I have reviewed the code of conduct with my child, who agrees to follow these guidelines.
Electronic Devices
Cell phones, electronic games, and all other electronic devices are not permitted to be used during class time. CFK will not be responsible for damage or loss of these items. Some classes may utilize electronic devices during instruction; however, CFK will not be responsible for damage or loss of these items
Lunch and Snack Times
Each class is given a 10-minute break during session. While snacks are not provided by the program, students may bring a drink and snack or purchase these at our snack cart upon arrival to the program. Water bottles are always permitted and encouraged.
Lunch Break (Noon-1:00 p.m.): If your child is attending camp all day, the program will supervise the lunch hour at no additional charge. PLEASE NOTE THAT LUNCH IS NOT PROVIDED BY THE PROGRAM. Children attending camp all day can bring a brown bag lunch or purchase lunch from Bruno's Cafe, upstairs in the Reed Union Building, during registration. Please note: *The option for all-day participants to purchase weekly lunch from Bruno's will be available with registration. Please click here to see our regular menu. Daily lunch options for adults will also be available in Bruno's, and parents are invited to dine with their children in Bruno's during the lunch hour. Please be sure to note any food allergies your child may have on the Medical Release form required at time of registration and please notify CFK staff of food allergies upon arrival to class.
Behrend Bookstore
Stop in the Penn State Behrend Bookstore and check out the "Want to Know More?" section, where you will find books related to CFK classes that offer project ideas and interesting reading. The bookstore is to the left as you enter the Reed Union Building.
About the Instructors
Penn State Behrend College for Kids is proud of its roster of instructors that includes Penn State Behrend faculty and staff, experienced community teachers, and local business professionals. Instructors offer a diverse class selection in a safe learning environment, which is sure to enhance a child's education by challenging their imagination, creativity, and desire to learn.
Instructors are generally available at the drop-off location prior to class. If you would like to meet your child's instructor, please notify one of the College for Kids staff members.
Optional Early or Late Care
To help accommodate working parents, College for Kids offers both morning and afternoon care programs on campus. Early Care operates from 7:30 a.m. to 9:00 a.m. Late Care operates from 4:00 to 5:30 p.m. The cost of each session is $20 for one week. Students MUST be picked up by 5:30 p.m. to remain in the Late Care program. Our policy for late pick up is as follows: The fee for late pick-up is $10 for every 5 minutes or portion thereof after 5:30 p.m.
This information will be provided with online registration.
If at all possible, medication should be administered at home. Medications will be allowed at the Youth Program only when failure to take such medicine would jeopardize the health of a child and he/she would not be able to attend the Youth Program if the medicine were not made available. 
The parent(s)/legal guardian(s) of Youth Program participants are required to disclose their intention to bring medications to the Program, especially to treat potentially life-threatening conditions (i.e. inhalers, EPI-pens, insulin injections). Upon arrival to the Program, parent(s)/legal guardian(s) should plan to meet with a member of the Youth Program staff at registration to review medication issues for a Youth Program participant and complete additional required paperwork if not completed prior to arrival. For identification purposes, a current picture of the child is to be provided upon registration.
All medications (prescription and over-the-counter) must be stored in the original product packaging and clearly labeled with the participant's name. Prescription medication(s) must also include a label with the medication's name and dosage instructions, as well as the prescribing physician's name and telephone number.
All medications will be kept in a securely locked cabinet used exclusively for storage of medications. Medications that require refrigeration will be stored and locked in a refrigerator designated for medications ONLY. Access to all medications will be limited to approved personnel. The need for emergency medication may require that a Youth Program participant carry the medication on his/her person or that it be easily accessed (i.e., inhalers, EPI-pens, insulin injections). Penn State Youth Program staff will NOT purchase medications of any type (prescription or over-the-counter) for Youth Program participants of any age. 
If a Program has professional medical staff on-site, then the medical staff may administer over the counter medications (e.g., ibuprofen or Tylenol) supplied by the parent(s)/guardian(s) per package instructions. Medical staff may monitor the self-administration of medications, if necessary, upon written consent of the parent(s) and/or legal guardian(s) and/or physician orders.
If there are no medical staff on-site, Penn State Youth Program staff will not dispense medications, but may monitor the self-administration of certain medications if necessary, ONLY upon written consent of the parent(s)/legal guardian(s) and /or physician's orders.
It is NOT permissible for a participant to share any medications with any other participants.
It is the responsibility of the parent(s)/legal guardian(s) to be sure that the participant's medications brought to the Youth Program are not left behind at the end of the Program. Failure to do so will result in the medications being destroyed within three working days after the participant's last day at the Program. Absolutely no medications will be returned via mail regardless of circumstance.