Fall 2016 Black School Economics Newsletter 
Penn State Behrend, Black School of Business
In this issue:
News from the Economics Program
Economic Research Institute of Erie
Society of Undergraduate Economists (SUE)
News from the Economics Program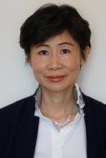 Welcome to a new academic year from our Economics program here at Penn State Behrend. Both a B.A. in Economics, more traditionally associated with a liberal arts education, and a B.S. in Business Economics, the only business economics program in the Penn State system, are offered. Offering both programs provides a latitude of choices in which to take your economics education! The Economics programs boast the great work of the Economic Research Institute of Erie (ERIE) in the Black School of Business, which had its 13th annual ERIE Conference this past summer focusing on the impact of immigration on the local economy.
Dr. Ken Louie, director of ERIE and associate professor of economics, is on sabbatical in the 2016-17 academic year and will focus more on research of ERIE. Also, it is my pleasure to welcome our new faculty member, Dr. Mark Owens, associate professor of economics. Dr. Owens earned his Ph.D. from The Ohio State University in 2006 after which he joined the faculty at Middle Tennessee State University. Both Dr. Owens and his wife are very excited to be back in Erie, as they both grew up in the area. He is teaching ECON 102 and ECON 442 in the fall.
—Dr. Jessica Zhao, interim department chair for finance and economics and professor of finance
A Message from Dr. Kerry Adzima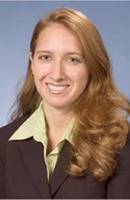 Economics is off to a busy and exciting start. We began the semester welcoming Penn State Behrend alumna Brittany Martinelli, who is currently employed as a senior national market research analyst with Kaiser Permanente. Martinelli gave a talk offering advice on how to land that first job after graduation. The Society of Undergraduate Economics (SUE) also sponsored a welcome back event providing an opportunity for students to meet some of their professors and to network with other students interested in economics. Both events were well attended and enjoyed by all who participated. We also want to welcome our newest economics faculty member, Dr. Mark Owens, who began teaching this fall. I hope you all have a very productive semester and look forward to meeting more students interested in economics as the year progresses.
—Dr. Kerry Adzima, associate professor of economics 
Alumni Spotlight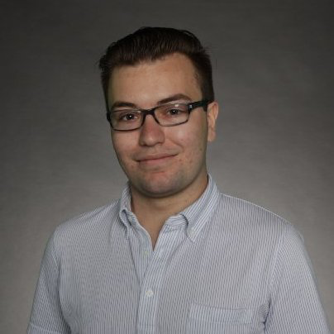 Kevin Detsch '15
Business Economics, Finance, International Business minor in Management 
Kevin Detsch graduated in 2015 with majors in Business Economics, Finance, and International Business, and a minor in Management. Currently he lives in Mountain View, California, working for Lockheed Martin as a financial analyst.
What do you like best about your job or your employer?
One of my favorite things about my employer is how much support they give to individuals who want to advance their careers. Since Lockheed Martin is so large, there are many opportunities to rotate to different jobs and learn new skills even within the company. An employee can do this formally or informally. In fact, I was recently notified that I have been accepted into Lockheed Martin's Finance Leadership Development Program, which consists of three one-year rotations within the company. Along the way there are classes in full-spectrum leadership, and the company will fund graduate school. It's an amazing opportunity and demonstrates just how dedicated the company is to fostering career growth of its employees.
What would you tell your college self if you could go back in time?
If I could go back in time, I would tell my college self to seek out more leadership and entrepreneurial positions. Being involved in general is good but being able to point to specific past behavior demonstrating these traits in an interview is even more valuable. Academic and work experience are excellent and rounding that out with additional examples helps greatly.
What advice do you have for students who are getting ready for the work world?
In college, your job is to get a college degree. You can get help picking the right classes necessary to do that, and the professors in those classes will give you assignments with rubrics that explain what he or she expects you to do in order to successfully complete that assignment. In the work world, your manager may tell you what the assignments are, but sometimes you'll have to figure them out yourself. Seldom do you get a rubric – figuring out how to successfully complete the assignment is part of your job. The work world is inverse of the college world in that way.
Theodore Wisinkski '15
​Business Economics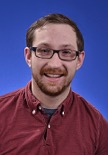 Theodore Wisinski graduated in 2015 with a major in Business Economics. Currently he lives in San Francisco, California, where he attends graduate school at the University of San Francisco and majors in International and Development Economics.
What has surprised you about graduate school?
The amount of time each assignment takes, the amount of things that each class can cover, and the things I am capable of completing. 
What kind of research are you involved in?
Over the summer I worked with disadvantaged high school students in Medellin, Colombia. Our purpose was to study how non-transferrable incentives and group interactions may instill changes in individual's school habits and other aspects of their lives.
What classes or experiences at Behrend best prepared you for graduate school?
My current program is very centered on linking, specifically microeconomics theory to statistical analysis. That being said, the econometrics course and data analytics course at Behrend as well as any statistics classes have been very useful to me. I use a lot of calculus and the principal economics course material on a daily basis as well as a foundation for more advanced classes.
What are your goals after you graduate?
After I finish my master's degree this coming spring I will likely work for a few years in the field helping develop impact evaluation tools for development programs at any number of firms. After that I will be well situated to pursue a Ph.D. in economics, which I will greatly consider.
What advice would you give to undergraduate students at Behrend?
If you plan on going back to school, keep your books and notebooks. Also, being able to gain perspective from people outside your own culture is invaluable. It can really help you develop a better understanding of how best to handle many challenges.
Faculty Spotlight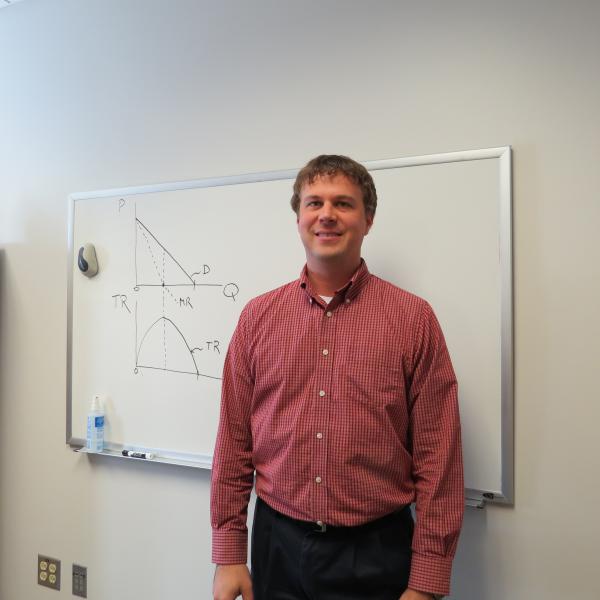 Dr. Owens obtained both his Ph.D. and master's in economics at Ohio State University, and completed his undergraduate degree in economics with minors in psychology and math at Saint Vincent College. While at Saint Vincent, Owens played soccer for all four years, participated in the Economics Club, and completed a fellowship with a research project on income inequality, and another project on ultimatum bargaining. Owens likes to ski, golf, play soccer, and transport his kids, ages 7 and 10, to their various activities.
What economic topics do you find most interesting?
I like topics for which individuals have preferences or beliefs that make it difficult to predict patterns using standard economic models, or standard research techniques. This had led me to study racial discrimination in markets, competition between churches for members, behavioral impacts from changes in the minimum wage, the relative importance of the charitable component of Girl Scout cookie purchases, and other topics.
What made you decide to study/research economics?
I started as a math major but I always had an interest in human behavior and decision making. I took several psychology courses and economics courses as I tried to figure out what to do with the math I had learned. I had a professor at Saint Vincent who taught experimental economics and I quickly realized that it combined what I liked about math and psychology to answer interesting questions. I knew that was what I wanted to study and I have not looked back.
What is your favorite part about being a professor?
I like having the freedom to be able to think about questions that are interesting to me and to share my thoughts with students with the hope that they find something interesting to pursue.
What advice would you offer students just starting their college career at Behrend?
Get involved on campus. Talk to your professors about things that may not be related to class. Follow your interests, even if they do not seem to be related to your major field of study.
Student Spotlight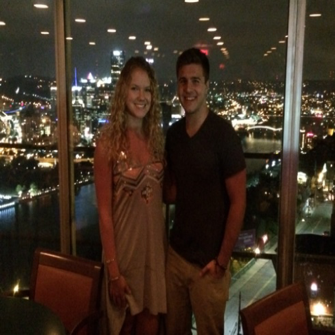 Dylan Rossi
Graduate research assistant at ERIE.
Dylan Rossi, originally from Leechburg, Pennsylvania, is a graduate student in Penn State Behrend's MBA program. He is also working as the graduate research assistant for the Economic Research Institute of Erie, and plans to graduate with his M.B.A. in the spring of 2017.
What did you study as an undergraduate student, and what or who influenced you to choose that degree?
For my first two years I was a software engineering student. I ended up switching to Business Economics the semester after taking ECON 102 with Travis Yates, lecturer in economics. He made it all seem so relatable and I really enjoyed the math behind it all. I was taking calculus and differential equations so the math came naturally for me. After that, I got deeper into the more intense economics courses. I took a course on sports economics with Dr. John Fizel, professor of economics, since football is my secondary passion. Combining the two made for an incredible class. I actually got to teach one of our classes to give lessons on fantasy football. Every economics professor I had was a great asset to my success while pursuing my undergraduate degree. While Yates got me interested, Dr. James Kurre, associate professor of economics emeritus, showed me to always analyze further before coming to a conclusion too early. Dr. Fizel showed me how to combine my two passions and enjoy the work and research I do. Dr. Valerica Vlad, assistant professor of economics, was always great to talk to about today's economy and political situation; we have had some good conversations about America's current situation. Lastly, Dr. Ken Louie, associate professor of economics, gave me an amazing opportunity to further develop my skills by hiring me as a research assistant, and now as the graduate research assistant, which allows me to get my master's degree. Outside of my economics professors, Dr. Kathleen Noce, senior lecturer in MIS, was always there to talk and gain advice from. I'm in a small startup, Prometheu5, started by 2016 graduate Phil Shank, and Dr. Noce helps us find work and projects.
What was your favorite class or the most helpful class you took as an undergrad?
My favorite was sports economics because I got to talk about sports the whole time. The most helpful was econometrics, especially now when I am putting together equations for our research at the Economic Research Institute of Erie.
What are your goals after you graduate?
Currently I'm looking at becoming an NFL agent. The NFL Players Association requires all agents to have a master's degree. Once I graduate, I have to take one more test to get certified. Football is my other passion, so this would be amazing to become an agent and be a part of it all. I am also moving to Austin, Texas, after I graduate. I'm ready to say goodbye to snow for good.
Economic Research Institute of Erie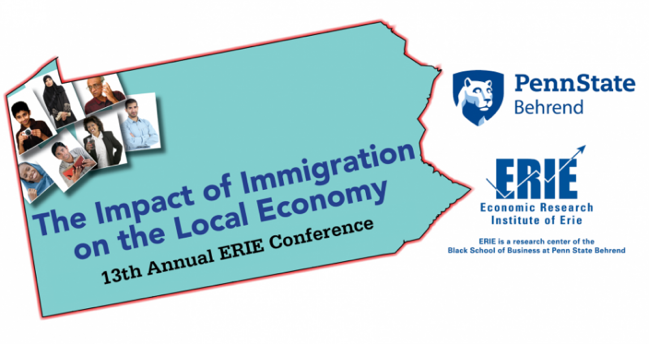 This past summer the Economic Research Institute of Erie (ERIE) in the Black School of Business hosted the 13th ERIE Conference with the topic of focus being the impact of immigration on the local economy. 
The agenda consisted of:
A summary of important recent trends in the Erie economy, including the newest edition of the ERIE Index of Entrepreneurship and Innovation, and a brief overview of some of the immigration issues and trends in the Erie region
Disentangling some immigration facts and fallacies
An overview of the resources, challenges, successes, and opportunities from the perspective of practitioners from the Multicultural Community Resource Center (MCRC) and the Erie Field Office of the U.S. Committee for Refugees and Immigrants (USCRI)
Reflections on immigrant experience from the perspective of a successful local immigrant business owner
Some immigration issues from the perspective of a practicing attorney, Alicia DiBacco, who specializes and works in this field
The keynote speaker for the event was Dr. Pia Orrenius, a nationally known and highly respected expert on the economics of immigration. Orrenius has served as senior economist on the Council of Economic Advisers in the Executive Office of the President, and is currently vice president and senior economist at the Federal Reserve Bank of Dallas. Her academic research focuses on the labor market impacts of immigration, unauthorized immigration, and U.S. immigration policy. She has written extensively on immigration issues and is co-author of the book Beside the Golden Door: U.S. Immigration Reform in a New Era of Globalization.
ERIE publications such as Erie Leading Index (ELI), Latest Erie Data, the ERIE Guide to the Erie Economy, and even presentation slides from the 13th ERIE Conference can be found at the ERIE website.
Don't forget to sign up for the ERIE newsletter! 
Impact
 Spring Business Trip
This spring the business trip will be taking place in none other than New York City! Keep an eye out for flyers with more information at the end of the semester. Sign-ups for the trip will be held at the RUB desk after the holiday break. 
Stay tuned for more information! 
Society of Undergraduate Economists and Marketing Club Meet with Alumna Brittany Martinelli
Brittany Martinelli is a Penn State Behrend alumna with majors in Business Economics and Marketing. She also obtained her M.B.A. from Behrend in 2015. Martinelli is now a senior national market research analyst at Kaiser Permanente in Rockville, Maryland. The Society of Undergraduate Economists and Marketing Club had the opportunity to sit down with Martinelli for a dinner at Logan House when she came to speak on campus at the beginning of the semester.
Society of Undergraduate Economists (SUE)
Meet the New SUE Officers
Antoine Harris, secretary
Antoine Harris, from Pittsburgh, is a junior majoring in Accounting. He also participates in the Multi-Cultural Club and the Association of Black Collegians.
Travis Smith, treasurer
Travis Smith, from Brooklyn, New York, is a junior majoring in Software Engineering and minoring in MIS. He is also involved in the National Society of Black Engineers.
Mike Tyndall, vice president
Mike Tyndall, from Union City, is a junior majoring in Business Economics and Finance, and minoring in MIS. He is in the process of starting his own T-shirt business.
Natalie Szalajko, president
Natalie Szalajko, from South Bend, Indiana, is a junior majoring in Business Economics and Finance, and minoring in Politics and Government. She is also an undergraduate research assistant for ERIE and recently studied abroad in Toronto, Canada.
Society of Undergraduate Economists Meeting times:
SUE meets every first and third Thursday of the month at 12:30 p.m. in 206 Burke.