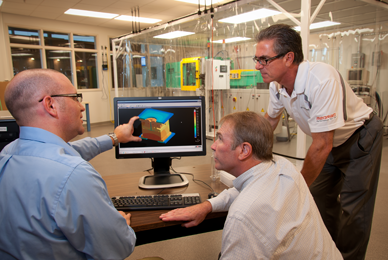 Our mission is to partner with companies to maximize medical device performance and lower the cost of healthcare.
Plastics devices and materials, including prosthetics, implants, tools, and packaging, play a critical role in the growing health care industry. The U.S. market for medical plastics is growing at a rate of 5 to 10 percent annually and sales are projected to reach $6.55 billion in 2012. The Medical Plastics Center of Excellence (MPC) in the School of Engineering at Penn State Behrend supports the medical device industry and other research institutions through collaborative research efforts and professional development in the field of medical plastics. Our campus is an open lab environment where industry professionals can work side-by-side with faculty and students, leveraging expertise, shared space, and robust equipment resources.
Our research capabilities include:
Material development, testing, and characterization
Process development, automation, and optimization
Product design, development, and translational research
Prototyping through pilot production
Circuit design and development
Software development
Support for the center has been provided by Harmac Medical Products, SIGMA Soft Plastics Services, Philips Respironics, and the state of Pennsylvania.
For More Information