Political Science Jobs
Recent graduates of Penn State Behrend's Political Science program are employed at the following: Toyota Motors, Pennsylvania State Police, Pennsylvania General Assembly, Central Intelligence Agency, Internal Revenue Service, U.S. Peace Corps, U.S. Border Patrol, U.S. Navy JAG Corps, U.S. Marshals Service, U.S. State Department, and NASA. Many graduates have obtained positions in private law firms and public high schools.
Graduates have also continued their education at a number of graduate and law schools such as Cornell University, Johns Hopkins University, University of Michigan, University of Maryland, The George Washington University, The University of Pennsylvania, The Ohio State University, and Case Western Reserve University.
Student Internships
Please read Internship Programs and Policies for information on how to find internships and how to obtain academic credit.
Political or government internships are recommended for all political science majors. Penn State Behrend students have a wide variety of internship opportunities due to the large number of political and government offices located in Erie. Internships can be obtained for academic credit or just for the experience - students are responsible for contacting political or government offices to set up the internships.
Recent political science students have interned in the following offices:
Erie office of Senator Bob Casey
Office of State Representative Flo Fabrizio
Governor's Northwest Regional Office
State Attorney General's Office Bureau of Consumer Protection in Erie
Erie County Department of Health
Erie City Police
Office of Erie Mayor Joseph Sinnott
Erie County District Attorney's Office
Your Career Starts Here
Penn State Behrend has a comprehensive support system to help you identify and achieve your goals for the classroom and beyond. Meet with your academic adviser often and take advantage of the services offered by the Academic and Career Planning Center beginning in your first semester.
Employers Are Looking For You!
A Wall Street Journal survey of 479 corporate recruiting executives across thirty industries ranked Penn State the number-one overall institution in the nation for producing the best prepared, most well-rounded new hires.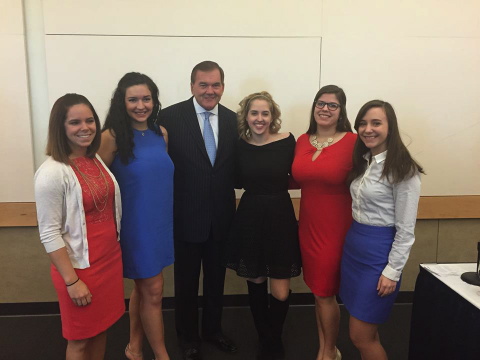 Shannon Lawlor, Ashley Solo, Sarah Veslany, Sarah Hall, and Nicole Malinowski (l-r) meet Tom Ridge, former Congressman from Erie, former Pennsylvania Governor, and former U.S. Secretary of Homeland Security, at the Erie County Bar Association Law Day event on April 24, 2015.
Careers of Penn State Behrend Political Science Alumni
(updated Sept. 2019)
There are 466 living POLSC alumni since the first major graduated in 1977.
We were able to determine the current jobs of 378 (81%) of those alumni.*
Of those 378 alumni, the most common career paths are:
Business professionals            (n=116, 31%)
Government service                (n=76, 20%)
Law                                           (n=74, 20%)
Education                                (n=52, 14%)
Politics and policy                   (n=15, 4%)
Other                                        (n=66, 17%)
Note that numbers add up to over 100% because 20 alumni were counted in two categories, mostly government attorneys in both the law and government service fields.
*A few older alumni have retired – they are counted in the fields of their most recent jobs
Law
Among the 74 alumni who work in the legal field are:
39 attorneys who work for or own small or large law firms
16 government attorneys9 attorneys who work for private businesses or non-profit groups
5 paralegals or legal assistants
2 mediators
2 who just completed law school
1 law librarian
Some government attorneys work for:
US Customs and Border Protection
New York City Administration for Children's Services
US Department of Labor
US Department of Health and Human Services
US Department of Justice
Warren County (PA) District Attorney's office
Indiana County (PA) District Attorney's office
Cuyahoga County (Ohio) Prosecutor's Office
Pennsylvania Human Relations Commission
Federal Bureau of Prisons
Michigan Bureau of Elections
Commodity Futures Trading Commission
Some of the corporate and non-profit counsels work for:
The Nature Conservancy
American Eagle Outfitters
GEICO
Liberty Mutual
KidsVoice
Thomson Reuters
Business Professions
Among the 116 alumni who work as business professionals, 20 work in banking or finance, 13 work in insurance, and 13 work as sales professionals
Some of the business professionals hold the following positions:
Senior Sales Analyst, Southeast Toyota
Commercial Underwriter, Erie Insurance
Program Manager, Raytheon
Manager, Global Operations Strategy, United Airlines
Senior Loan Officer, H&R Block
Senior Portfolio Manager, Northwest Bank
Program Planner, Lockheed Martin
Education
Among the 53 alumni who work in education are:
11 social studies teachers
8 who work as teachers in other fields in elementary or high schools
2 school administrators
4 university professors
21 college or university administrators
7 who are pursuing graduate degrees in order to teach
Positions held by our alumni in education include:
Social Studies teachers in Erie School District, Iroquois School District, Millcreek School District, in Baltimore, MD, in suburban Orlando, in suburban Pittsburgh, in suburban Philadelphia, in suburban Rochester, NY
Professor of Public Administration, Florida State University
Director of Risk Management and Safety, University of Notre Dame
Student Affairs Officer, UCLA
Associate Director of Student Affairs, Penn State Behrend
​Academic Advisor, Penn State Behrend
​International Services Advisor, Clemson University
Reference Librarian, University of Connecticut Law Library
Government Service
Among the 76 alumni who work in government service:
35 work for the federal government
21 work for state governments
19 work for local governments
1 is a masters of public administration student
8 are current or retired police officers
7 are active duty career military officers
16 are government attorneys
3 alumni currently hold elected office:
Congressman in the US House of Representatives, Washington DC
District Attorney for Potter County, PA
District Judge in Erie County, PA
Federal government positions of alumni (excluding attorneys) include:
Foreign Service Officer, US Department of State
Chief Inspector, US Marshals Service
US Capitol Police officer
Research Analyst, FBI
Case Analyst, Social Security Administration
International Relations Officer, US Department of Labor
Revenue Officer, Internal Revenue Service
Deputy Director for Program Management, US Department of Veterans Affairs
Equal Employment Opportunity Specialist, US Department of Defense
Project Support Lead, NASA Jet Propulsion Laboratory
Data Analyst, US Senate Office of Public Records
US Border Patrol agent
Community Planning and Development Representative, US Department of Housing and Urban Development
Analyst, US Immigration and Customs Enforcement
Intelligence Educator, Office of Director of National Intelligence
Supervisory Data Analyst, Federal Trade Commission
State government positions of alumni (excluding attorneys) include:
Pennsylvania State Police trooper
Deputy Director for Community Development, Virginia Department of Housing and Community Development
Puget Sound Recovery Lead, Washington Department of Fish and Wildlife
Executive Director, Pennsylvania Governor's Action Team
Director of Adult Protective Services, Pennsylvania Department of Human Services
Program Assistant, Florida Department of Environmental Protection
Policy Analyst, Texas Sunset Advisory Commission
Local government positions of alumni (excluding attorneys) include:
Caseworker Supervisor, Erie County Office of Children and Youth
Investigator, Washington DC Metropolitan Police Department
Chief Magistrate of Mecklenburg County (NC)
Those with military careers are serving in the US Army, US Navy, US Air Force, US Coast Guard, and US Marines.
Politics and Policy
Outside of government service, 12 alumni currently work in public policy, and 3 alumni work as political activists
Among the positions of our alumni in politics and policy are:
Director for International Trade Policy, Toyota Motor North America
Government Relations Specialist, Erie Insurance
Senior Analyst, The Investigative Project on Terrorism
Associate, Enviroissues
Political Director at Unite Here (union), Local 25, in Washington DC
Other Career Areas
Our remaining alumni work in a variety of fields, with health care, non-profit professionals, and entertainment among the most numerous careers. Jobs held by some of our alumni in these other fields include:
Executive Director, Neighborhood Learning Alliance in Pittsburgh
Executive Vice President for International Distribution, Dick Clark Productions
General Manager, The Erie Club
Senior Writer/Producer, Turner Classic Movies
Manager, Batavia Muckdogs minor league baseball team
Research Specialist, Saint Vincent Hospital
Licensed Social Worker, UPMC Children's Hospital of Pittsburgh
Staff Writer, Ballotpedia
Graduate and Law Schools
Among the law schools attended by our alumni since 2000 are:
Ave Maria School of Law
Boston College
Case Western Reserve University
Catholic University of Washington DC
Cleveland Marshall College of Law
Cornell University
Duquesne University
Michigan State University
New York University
Ohio Northern University
Penn State Dickinson School of Law
Syracuse University
The George Washington University
The Ohio State University
Thomas M Cooley Law School
University of Buffalo
University of Illinois
University of Maryland
University of Michigan
University of Pittsburgh
Vermont Law School
Widener University
Willamette University
Among the graduate schools attended by our alumni since 2000 are:
Binghamton University
Cambridge University (England)
Cleveland State University
Cornell University
Edinboro University
Fudan University (Shanghai, China)
Georgetown University
Graduate Institute of International and Development Studies (Geneva, Switzerland)
Louisiana State University
Mercyhurst University
Oregon State University
Penn State Harrisburg
Pepperdine University
The George Washington University
The Johns Hopkins University
University of Akron
University of Buffalo
University of Connecticut
University of Delaware
University of Illinois at Chicago
University of Leeds (England)
University of Pennsylvania
University of Pittsburgh
University of South Carolina
University of Virginia
University of Windsor (Ontario, Canada)