2017 Math Options Career Day will be held Tuesday May 9.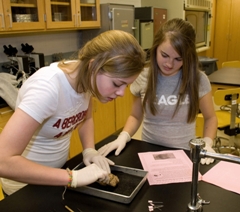 Welcome to the Math Options program, a math, science, technology, engineering, and business career day for seventh- and eighth-grade girls. This program has been designed to provide information on careers in mathematics, engineering, technology, and the sciences to young women at a time when they are making important academic decisions. Girls from schools in Erie, Crawford, Potter, Venango, and Warren counties attend the Math Options program.
Looking Back: Math Options Career Day 2016
On May 10, 2016, the Youth Education Outreach Office hosted the 20th annual Math Options Career Day. Nearly 250 female students from 43 Pennsylvania schools experienced interactive workshops while meeting women and men who work in STEM fields. 
Our keynote speaker was Cynthia Reid, a 36-year employee at LORD Corporation in Erie. She graduated from Penn State with a B.S. in Mechanical Engineering and is a registered professional engineer in Pennsylvania. She is a Staff Engineer in the Product Support Engineering group, where she supports in-production and legacy fixed wing and rotary wing engine mounting products. She is a member of SWE, ASME, SAE, and WAI. At LORD, she is president of the Quarter Century Club, leads the NWPA Outreach Committee, and serves on the Good Neighbor Fund Board. Outreach has been near and dear to Cynthia's heart throughout her career. She volunteers for the School-to-Industry Chemistry outreach, Junior Achievement's JA in a Day program, the WISE and Math Options programs at Penn State Behrend, and also judges for PJAS and IU5's K'NEX competition. She organizes and leads the annual Aerospace Outreach, LORD's largest outreach activity. She coordinates in-house STEM tours at LORD's new facility. Outside of work, she recently joined the Erie Woman's Club, leads and plays in the Erie County Clarinet Choir, plays in the Erie Playhouse pit orchestra and the Millcreek Area Community Band, sings in her church choir, works with and teaches stained glass, and is enjoying entertaining in her "new" 1874-built home. She is married and has one grown son.
Contact YouthOutreach@psu.edu for more information.