2018 Math Options Career Day will be held on Tuesday, May 8.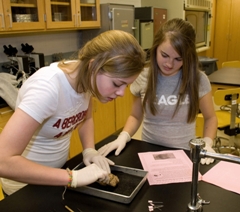 Welcome to the Math Options program, a math, science, technology, engineering, and business career day for seventh- and eighth-grade girls. This program has been designed to provide information on careers in mathematics, engineering, technology, and the sciences to young women at a time when they are making important academic decisions. Girls from schools in Erie, Crawford, Potter, Venango, and Warren counties attend the Math Options program.
Looking Back: Math Options Career Day 2017
On May 9, 2017, the Youth Education Outreach Office hosted the 21st annual Math Options Career Day. Nearly 250 female students from 43 Pennsylvania schools experienced interactive workshops while meeting women and men who work in STEM fields. 
Our keynote speaker was Andrea Hart. Andrea moved to Erie in 1995 to attend Penn State Behrend where she earned a bachelor of science degree in mathematics. While she was a student at Behrend, Andrea volunteered with the Math Options program. She was the camp coordinator for the week-long Math Options camp. Andrea received her teaching certificate from Mercyhurst College and earned her master's degree in education from Edinboro University. Andrea taught 11th grade at Fort LeBoeuf, 9th grade at Mercyhurst Prep, and 7th grade at Wattsburg Middle School. She currently teaches 7th grade math at Iroquois Junior High and has taught as an adjunct math faculty at Penn State Behrend.
Contact YouthOutreach@psu.edu for more information.