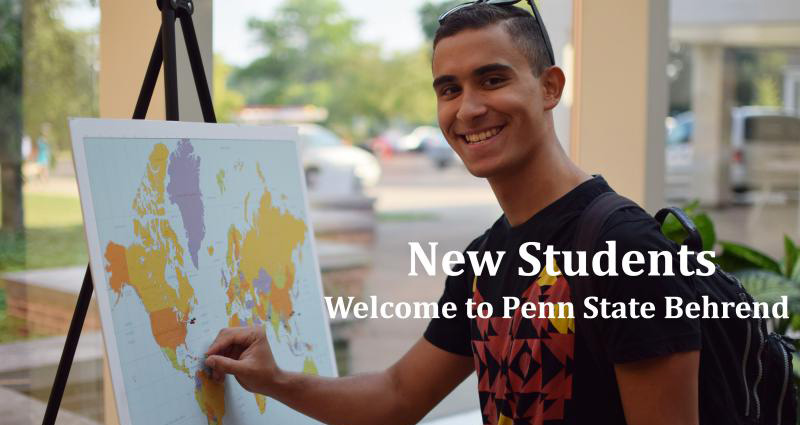 Things you need to know:
---
In order to be a full-time international student at a university in the United States, you are typically required to get an F1 or J1 student visa. For an F1 visa, you'll have to first get an I20 document and have a visa interview. For a J1 visa, you will get a DS 2019 instead of the I20.
You will work directly with the Penn State office called DISSA (Directorate of Student and Scholar Advising) in order to get your I20 or DS 2019. DISSA is located at University Park, and the email address for their pre-arrival department is international@psu.edu. Visit DISSA's website.
There is an airport in Erie, Erie International Airport, (airport code ERI). The locations that offer flights to the Erie airport are Detroit, Michigan (DTW); Chicago, Illinois (ORD); and Philadelphia, Pennsylvania (PHL). Make arrangements to arrive to the Erie airport. Do not fly into State College, PA. State College is a 4-hour drive from Erie, and there are no direct bus routes connecting them.
If you have a housing contract to live on campus, and you arrive in Erie before the Check-in Day (see schedule below), you will have to stay in a hotel until the day that you can move into your on-campus housing. There are two hotels where we will pick students up to bring them to campus:
Comfort Inn Presque Isle is near the Erie airport and offers a free shuttle to and from the airport. A Penn State international student discounted price is available by calling +1-814-835-4200 and letting them know that you are a PSU international student. 
If you have family coming with you, a better option might be Cobblestone Inn and Suites, which is across the street from Penn State Behrend. They also offer a discounted price for Penn State students and family. Just ask for that price when booking at +1-814-899-9099.
Once you know your arrival information, please fill out this form to let us know when you are arriving, so that we can plan accordingly. You also can request transportation on this form.
Airport or Hotel Pickup
Typically, a representative from International Student Services is able to pick students up at the airport or one of the hotels listed above and bring them to campus on the check-in day (see schedule below). Once you know your arrival information, please fill out this form to let us know if you would like transportation, and we will do our best to accommodate your request if possible.
Here is a downloadable map of Penn State Behrend to help you prepare for your arrival.
International Student Orientation is mandatory for newly-admitted students before each fall and spring semester and includes:
Immigration Sessions & Information about Campus Resources

Mandatory Document Check-in & Immunization Submission

Shopping Trips

Information about Academic Expectations

Academic Advising Appointment & Course Scheduling

Opening a U.S. Bank Account 

Social Activities & Opportunities to Get to Know Other Students
Spring 2018 International Student Orientation Schedule
Wednesday, January 3 — Arrival day. Please reserve a hotel for the night and we will pick you up on the morning of January 4 if you stay in one of the two hotels listed above.
Thursday, January 4 — Check-in day and orientation begins. First day to move into on-campus housing. Please check in at 11 Erie Hall (lower level of Erie Hall across from Police Services) between 8:30 a.m. and 12:00 p.m. (noon) if you are coming to campus on your own.
Friday, January 5 — International Orientation activities continue, including NSO (New Student Orientation).
Monday, January 8 — First day of classes for Spring semester.
Before becoming active in the SEVIS database, all F1 and J1 visa holders have to complete a mandatory Government Regulations online module and test. To complete the module and test, please visit the appropriate link for F1 students or J1 students. You must complete this along with the rest of your mandatory document check-in on istart.gp.psu.edu within 30 days of arrival.
Our International Student Office is housed in Erie Hall, Room 11, on the lower level of the building. Alecia Hollinger and Barbara Zarnick are the current International Student Advisers.
To contact Alecia, email her at alecia@psu.edu or call her at 1-814-898-6317. 
To contact Barbara, email her at bez14@psu.edu or call her at 1-814-898-6059. 
To see more information about Alecia and Barbara, please visit our Meet the Staff page.
On-Campus Housing
Living on campus can be beneficial for making friends, and it is more convenient than trying to drive through the snow in winter. For these reasons, we do recommend that freshman international students live on campus, at least for the first year. Here is a link with information about on-campus housing. Keep in mind that once you accept your housing contract, you are legally obligated to pay that contract, so be sure that you want to live on campus before accepting the contract. You also can see the costs for on-campus housing here.
Off-Campus Housing 
There are many options for off-campus housing, some very close, but most requiring a car or other transportation to campus. You can see a list of available rentals here. The two apartment complexes within walking distance to campus are University Gate Apartments and Hudson Lofts. Please visit their websites for more information about availability and pricing.
Amounts listed are for one semester, and display the out-of-state tuition rates based on full-time study.
2017/18 Semester Tuition and Fees for First-Year (Freshman) Students 
Tuition: $11,358
Student Fee: $236
Information Technology Fee: $252
International Fee: $500
Total cost of tuition and fees: $12,346.00
Visit the Bursar's website to find out more about the tuition and fees rates, bill due dates, authorizing people to see and pay your bill, and payment options.
Tuition Bill Due Dates
In general, tuition bills are due*:
Fall Semester: Due the 22 of August
Spring Semester: Due the 22 of December
Summer Session: Due the 22 of May
*These dates will be different for first-semester students who have to attend New Student Orientation.
Housing and Dining Costs
To see the current on-campus room and board costs, visit Penn State Behrend's Housing website. 
Here is a website that helps to explain common insurance terms, which can be quite confusing at first. Health insurance for international students is mandatory for several reasons. Health care can be extremely expensive in the United States and the United States does not have a national health care plan.
To Purchase Mandatory Health Insurance Policy
You must purchase the spring/summer health insurance policy by January 17, 2018 to avoid the late fee. Enroll in Penn State's Plan through the First Student website. The First Student plan will have a spring/summer premium of $1,477. To see more information about the health insurance requirement, please visit the University Health Services website.
Late Fee
There is a $50.00 late fee for students who fail to fulfill the mandatory health insurance requirement by the established semester deadline. There is a $100.00 late fee for students who don't fulfill the mandatory health insurance requirement the second and any subsequent times. Late fees must be in the form of a Money Order. These can be purchased at many gas stations like GetGo or Country Fair, Walmart, PNC Bank, and most other banks or post offices.
Required Immunizations
Measles, Mumps, Rubella (MMR)​ - 

To satisfy the requirement, you must have 2 doses of Measles (Rubeola), 2 doses of Mumps and 1 dose of Rubella OR 2 doses of the MMR vaccine OR provide blood test results showing immunity.The first dose must have been given on or after your first birthday. Dose 2 must have been given at least 4 weeks after dose 1.

Meningococcal - required if living in University Housing - Meningococcal conjugate vaccine (MCV4): also known as Menveo, Menactra. This vaccine is effective against the most common meningococcal infections caused by serogroups A, C, W, and Y. One dose of meningococcal vaccine administered at age 16 or older is required of all incoming students living in University housing who are age 21 or younger. Incoming students living in University Housing who are age 22 or older may submit either proof of vaccination or a Meningococcal Vaccine Waiver.

*NOTE not all Meningococcal vaccines are acceptable. Make sure that you have the correct type of Meningococcal vaccine before receiving the immunization.
To see list of the other recommended (but not required) immunizations, visit the University Health Services website.
How to Provide Proof of Immunizations
For instructions on how to submit your immunization records, please visit the Submission Requirements page of the University Health Services website.
Penn State Behrend is located in Erie, Pennsylvania, a mid-sized city that offers the culture and entertainment options of a large metropolitan area with an abundance of natural resources and the friendly ease of a small town.
Pennsylvania's fourth largest city, Erie is located by Lake Erie's beautiful Presque Isle peninsula, which boasts a 3,200-acre state park offering more than a dozen miles of sandy beaches, boating, and a thirteen-mile trail for walking, jogging, in-line-skating, and cross-country skiing.
The downtown area offers a variety of cultural and historical attractions, including the Erie Art Museum, the Erie Playhouse, and the U.S. Brig Niagara, a victor in the Battle of Lake Erie during the War of 1812. Erie is also home to the Seawolves, a Class AA affiliate of the Detroit Tigers; the Otters of the Ontario Hockey League; and the Bayhawks, an NBA Development League for the Cleveland Cavaliers. Many shopping and dining options are offered along the Peach Street corridor, just a 10-minute drive from the Penn State Behrend campus.
This very drivable city is conveniently located within two hours of Buffalo, Cleveland, and Pittsburgh, and is a comfortable four-hour drive from both Toronto and Penn State's University Park campus. There is also a public bus system in Erie, which is free for Penn State students to use with their ID card. For routes and timetables, go to the EMTA website or visit the RUB desk on campus.
For information about things to do in Erie, check out the Visit Erie website. For information about arts and culture in Erie, here is the Erie Arts and Culture website.
We know that the role of parents is very important in the education of their children, so we want to provide resources to keep you informed and involved.