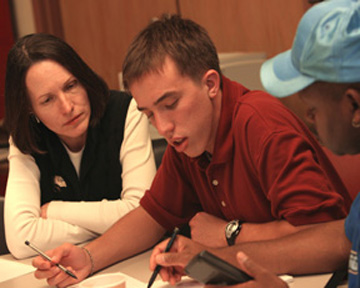 The Learning Resource Center provides services at every stage of your college career to support you in achieving your goals—getting a great GPA, studying abroad, preparing for graduate school, or applying for national fellowships and scholarships. Your success is ours, too!
We offer tutoring for most first-year and sophomore level courses, along with some upper level courses. Exam prep and weekly study sessions are also offered for several courses.
TutorTrac - No tutoring (either drop-in, by-appointment, or guided study groups) will occur during the fall semester break from Friday, November 17, at 5:00 p.m. through Monday, November 27, at 8:00 a.m. Students may use TutorTrac during the break to schedule appointments for when they return to campus after break has ended.
Contact the Learning Resource Center for more information.