Mary Behrend Monument Walk Paver Information
For three years, Penn State Behrend enabled alumni and friends to honor themselves, family, graduates, future Penn Staters, and others with an inscribed paver at the Mary Behrend Monument.
The Mary Behrend Monument Walk honors Mary Behrend and the donation of her family's Glenhill Farm estate to Penn State. The monument is a nine-foot granite obelisk surrounded by benches, trees, gardens and an inscribed-paver walkway that the college's alumni and friends have embraced to commemorate important dates, relationships, memories, and people connected to Behrend and to Penn State. The monument was installed on campus in fall 2015 and is located next to what was once Mary's painting studio, now the college's Studio Theatre.
The next paver installation is more than a year away. To be contacted when the next paver campaign begins, email Kristen Comstock at kcc146@psu.edu.
---
Cost of the pavers will be $150 each; this tax-deductible donation to the college will be acknowledged with a receipt.
A gift acknowledgement option can also be sent to whomever you choose to honor. The giftee will receive a notecard 30 days after you place your order.
All inscriptions are centered in capital letters (except for names that include a small "c," such as McGarvey). Inscription can be 3 lines, with a maximum of 14 characters per line. (Spaces and punctuation count as characters.) Greek letters and any symbols that appear on the keyboard can be used. A heart symbol can also be included, but counts as 3 characters.
Questions, please call 814-898-6159.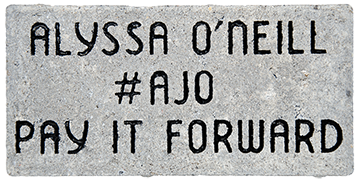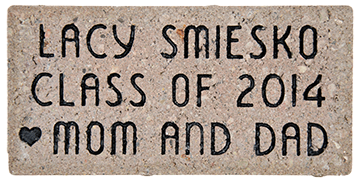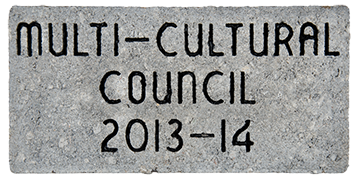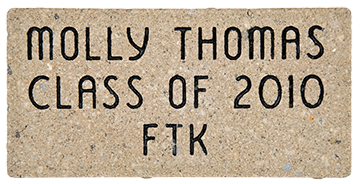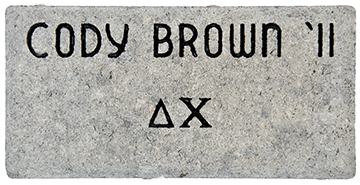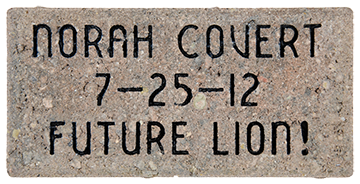 Inscriptions cannot include commercial messages. Discriminatory or inappropriate messages that refer to an individual's or group's sex, race, color, religious creed, national origin, age, or physical disability are not permitted. Penn State Behrend reserves the right to deny any paver purchase application that it deems inappropriate.