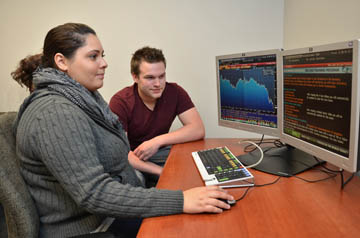 Economics is the science of choice, and Business Economics majors learn how to weigh the costs and benefits of virtually any decision—especially those in an applied business setting—to help people make better choices. Black School of Business students receive hands-on experience working with real-world data to develop problem-solving skills that businesses need, and for which they are willing to pay.
The Black School of Business's Business Economics major at Penn State Behrend is a quantitative-based program that combines study of the key areas of economics with a solid foundation in core business fields such as finance, accounting, marketing, and management.
Business Economics majors can further tailor the major to their interests and goals by concentrating on one of three supporting areas of study: quantitative methods, international studies or a foreign language, or education abroad. The quantitative methods supporting area is designed for students planning to pursue graduate study; the other supporting areas most often are pursued by students interested in international business.
Students can also pursue a multiple major in Business Economics and Finance.
Why Major in Business Economics? 
The decision-making skills that Business Economics majors learn are useful in a broad range of careers and industries. Employment opportunities exist in business, finance, labor organizations, government, and academia. 
Government is a major employer of economists. Business and government economists collect and analyze data and provide forecasts and advice in a wide variety of organizational settings. 
Academic careers emphasize teaching and research skills and usually require an advanced degree. An undergraduate degree in economics prepares students for advanced study in economics as well as in related areas such as business administration, law, and public administration.
Why Choose the Black School of Business at Penn State Behrend for Your Business Economics Degree?