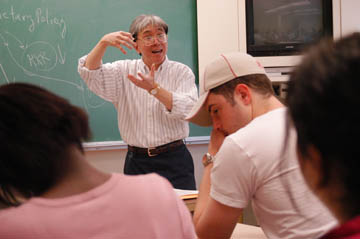 Economics is the science of choice, and Economics majors learn how to weigh the costs and benefits of virtually any decision to help people make better choices. These skills are useful in almost all areas, so students who are not completely sure which field to pursue often choose Economics because it is broad enough to lead to careers in many areas. Coursework goes beyond economic research, analysis, and planning, to include the arts and humanities, natural sciences, and social and behavioral sciences. Some students choose to combine Economics with a second major in Communications or Political Science.
The Economics major differs from the Business Economics major in that it requires a foreign language, offers more free electives, and does not require the business core courses. In addition to required courses in economics, students may choose upper-division courses in international economics, money and banking, managerial economics, econometrics, regional economics, sports economics, labor economics, and business and economic forecasting. Some of these courses involve hands-on projects in which students learn how to find, analyze, and work with data to solve problems and help people make informed choices.
Why Major in Economics?
The decision-making skills that Economics majors learn are useful in a broad range of careers and industries. Employment opportunities exist in business, finance, labor organizations, government, and academia. Government is a major employer of economists. Business and government economists collect and analyze data and provide forecasts and advice in a wide variety of organizational settings. Academic careers emphasize teaching and research skills and usually require an advanced degree. An undergraduate degree in economics prepares students for advanced study in economics as well as in related areas such as business administration, law, and public administration.
Why Choose Penn State Behrend for Your Economics Degree?
Want to learn more? Check out the Black School of Business Economics Newsletter.