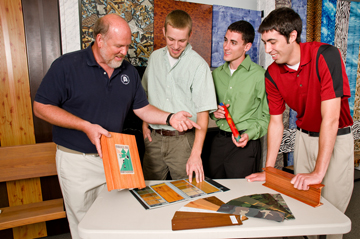 The Interdisciplinary Business with Engineering Studies major at Penn State Behrend is designed to prepare graduates to work on the business side of a technical company. The major provides the opportunity for students to apply technical knowledge and skills with business purpose and insight. In addition to taking a core set of courses in business that allow for the IBE degree to be accredited by AACSB, students are required to be proficient in engineering mathematics and science and take an array of engineering courses.
Students also choose a focus module of approximately 15-18 additional credits in one of six areas. These areas include: accounting/finance; operations and supply chain management; technical sales; quality control; product design and manufacture; and materials and mechanical systems. The modules provide a set of tools that will help graduates provide immediate value to employers.

The IBE degree is administered jointly by the Black School of Business and the School of Engineering.
Why Major in Interdisciplinary Business with Engineering Studies?
The modular design of the program allows for employability and early career success in many jobs such as: technical sales, new business developer, technical support, brand manager, production planner, operations analyst, purchasing agent, operations manager, plant accountant, and project manager. Graduates of IBE will be well-prepared to complete graduate studies, if they choose. With an appropriate GPA, a graduate will be able to complete the MBA at Penn State Behrend (30 credit hours) or the Master of Project Management (online Penn State degree).
Penn State Behrend also offers certificate programs that allow IBE students to further enhance their degrees, including the SAP certificate and the Oracle Certificate.
Why Choose the Black School of Business at Penn State Behrend for Your IBE Degree?
Want to learn more? Check out the Black School of Business IBE Newsletter.