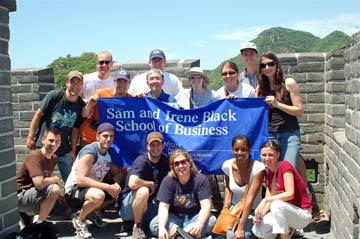 The demand for decision-makers versed in the cultures and languages of other countries continues to grow. The International Business major at Penn State Behrend is designed to provide students with the knowledge and skills to conduct business in an international setting.
International Business is a dual-major program. The International Business curriculum emphasizes accomplishing organizational objectives while coordinating human, material, information, and financial resources across national boundaries. A second School of Business major adds depth of business knowledge. With careful planning, the program can be completed in four years.
A required study abroad component is distinct to the International Business major. Penn State offers 130 study programs in forty-two countries from Aberystwyth, Wales, to Wellington, New Zealand, through a variety of organizations. Programs vary in length from spring break to a full year abroad. An international programs adviser is available to help students make the selection that best meets their educational needs.
Why Major in International Business?
We live in an increasingly interdependent world in which business and economic events happening halfway around the globe are as likely to affect us as those happening in the next state.
The International Business major provides a foundation for understanding the fundamental global economic forces influencing domestic business decisions and will be especially useful to students who plan to work for international companies or organizations.
Why Choose Penn State Behrend for Your International Business Degree?
Penn State Behrend's business programs are accredited by AACSB International (Association to Advance Collegiate Schools of Business), the premier accrediting agency for schools of business. Only 15 percent of colleges and universities worldwide have obtained this designation, including world-class business schools like Harvard, Wharton, Stanford, and Yale.
Want to learn more?  Check out the Black School of Business International Business Newsletter!