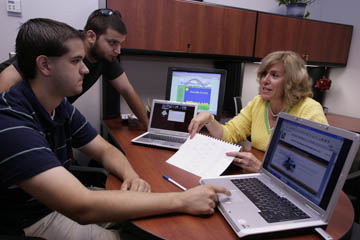 The Management Information Systems major at Penn State Behrend prepares students for a variety of IT-related jobs such as systems analyst, business analyst, data analyst, team leader, project manager, consultant, and MIS manager. Since the focus of these jobs is on the application of information technology to business problems and opportunities, the MIS curriculum integrates three main areas of study— business, computers, and MIS. Students take core business courses in order to understand organizational processes and requirements. Computer courses help students to develop technical competencies and understand information technologies. Core MIS courses in database management systems, systems analysis, and systems design and development focus on the tools, processes, and techniques required for successful application of information technology to business problems. These courses are supplemented with a variety of electives and a required internship experience.
Why Major in Management Information Systems?
With strong technical skills and an understanding of organizations and business, Management Information Systems majors have many opportunities for employment. Many begin as entry-level programmers in large businesses and advance to higher level systems analysis, design, and management positions. Others work as consultants to small businesses or start businesses of their own. Business and computing skills also provide an excellent starting point for graduate work in many fields.
Graduates in this field enjoy excellent placement at some of the highest starting salaries of any business major. Department of Labor projections indicate this trend will continue into the next century, as organizations rely more and more heavily on knowledge workers and strategic information systems.
Why Choose Penn State Behrend for Your MIS Degree?
Penn State Behrend's business programs are accredited by AACSB International (Association to Advance Collegiate Schools of Business), the premier accrediting agency for schools of business. Only 15 percent of colleges and universities worldwide have obtained this designation, including world-class business schools like Harvard, Wharton, Stanford, and Yale.
Want to learn more?  Check out the Black School of Business Management Information Systems Newsletter!