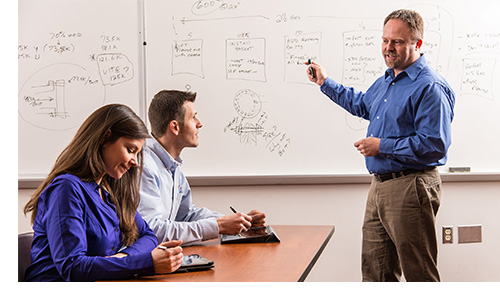 The Master of Manufacturing Management (MMM) graduate degree is jointly offered through the School of Engineering, one of the nation's Top 50 undergraduate engineering programs, and the AACSB International-accredited Sam and Irene Black School of Business.
The MMM seeks to produce executives who possess in-depth, relevant manufacturing knowledge bridging engineering and management. Designed specifically to meet the needs of regional industry, the program approaches manufacturing as a global enterprise requiring a unique set of engineering, business, and quality skills that work in concert with the communication and emotional intelligence expertise needed to be an effective leader.
The MMM draws students from two paths: Practicing professionals from industry and individuals who have graduated from or are currently enrolled in engineering or engineering technology, science, or a business administration undergraduate program. Applicants who expect to graduate with a B.S. in engineering or engineering technology, science, or business administration may apply for admission to the program in their senior year.
Learn more about the MMM program, request more information, or apply today.
Contact info:
QMM Program (MMM Degree)
School of Engineering, 242 Burke Center
5101 Jordan Road, Erie, PA 16563-1701
Ph: (814) 898-6153 | Fax: (814) 898-6125
Email: PSBehrendMMM@psu.edu