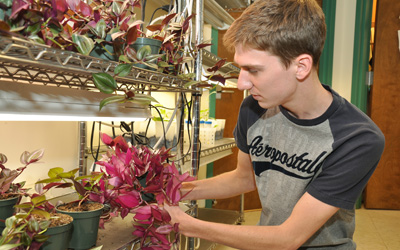 Penn State Behrend's Biology degree provides preparation for students who intend to enter careers requiring biological backgrounds, prepare for careers in medicine or health related fields or for students who intend to secure advanced degrees in graduate school in biology and related fields. The degree is divided into six options to help narrow this far-reaching field and meet individual career interests.
The General Biology option provides the flexibility for students to tailor their program for graduate study in many fields of biology or careers requiring broad backgrounds and diverse skills in the biological sciences. The Ecology, Evolution, and Behavior option prepares students for graduate study in ecology or careers in resource management, environmental education, or environmental regulation.
Students interested in the health sciences, or careers in biotechnology or research can choose the Molecular and Cellular Biology and Biochemistry option. The Genetics and Developmental Biology option prepares students for careers in research or biotechnology and graduate programs in genetic counseling, plant or animal breeding, or developmental biology.
Students can also choose the Medical Technology option, which includes a clinical phase of study, or the Health Professions option, which is for students pursuing a medical or veterinary program at an approved professional school.
A biology minor is also offered, along with a minor in sustainability leadership, which allows students to integrate social, economic, and environmental concepts of sustainability into their coursework.
Why Should You Study Biology at Penn State Behrend?
Pre-Health Professions at Penn State Behrend