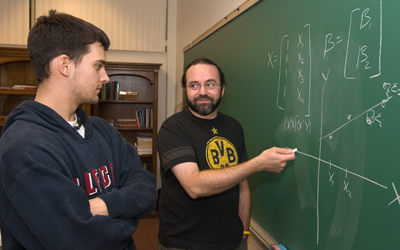 The Mathematics major at Penn State Behrend allows students to customize a mathematics degree to specific career interests by offering four options.
Applied Mathematics covers analysis modeling and problem-solving, while the Business option offers a background in statistics, computer programming, and systems management. The Computer Science option covers computer programming, operation, networking, and algorithms. The Pure Mathematics option is typically chosen in preparation for an advanced degree in mathematics.
While completing their math degree, math majors can also earn an Actuarial Mathematics and Statistics Certificate, which will prepare them for careers as actuaries. Some math majors also double major in Secondary Education in Mathematics, giving them both the mathematics degree and a teaching certificate in four years.
Why Should You Study Mathematics at Penn State Behrend?