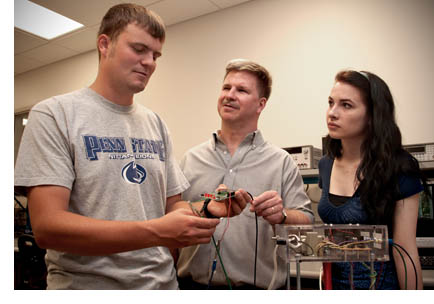 Unique to Penn State Behrend, the Electrical and Computer Engineering Technology program provides graduates with a strong foundation for careers in electrical and electronic systems design, microprocessor applications, automation, programmable logic controllers, instrumentation and control, computer programming, electrical testing, plant engineering, quality control management, and technical sales and service.
The ECET program differs from the traditional electrical engineering major, which focuses on the application of theoretical and scientific principles. It also differs from technical programs, which focus on the development of skills used for repair and maintenance of products. The applied nature of the ECET program allows students to analyze, design and implement electrical and computer systems, based on a working knowledge of the foundational theories. In their senior year, students work in small teams with individual faculty to complete capstone design projects. Most projects are sponsored by industry partners, giving students the opportunity to work on industry projects while completing their education.
Why Should You Study Electrical and Computer Engineering Technology at Penn State Behrend?
If you are interested in an applied approach to learning the fundamentals of electrical and computer engineering and technology, Penn State Behrend's Electrical and Computer Engineering Technology program may be right for you. Penn State Behrend faculty members focus on preparing students for successful careers in industry. In our ECET program, relevant theoretical knowledge is presented using lecture, laboratory and computer-based tools enabling comprehensive understanding of electrical and computer systems. Our program employs current technology such as motors, factory automation, wireless communication, lighting, and electronics to solve real-world problems.
Graduates of the ECET program have been rewarded with excellent positions in industry. Graduates in previous years have had a nearly 100 percent job placement rate at both national and local companies.
Why earn your degree at Penn State Behrend?
Small class sizes foster close student-professor relationships.
Faculty typically have doctorates or significant industrial experience. Lectures and labs are taught by professors, not graduate students.
The diverse and broad-based engineering education includes a strong design emphasis and practical laboratory experience.
Cooperative education and internship opportunities are available for academic credit.
Every student works on a team to complete a two-semester capstone design project, many sponsored by industry.
Students have the opportunity to work with faculty on undergraduate research projects and participate in the Behrend Honors and Schreyer Honors programs.
Our alumni network keeps faculty informed of internship and job openings for students.
The Electrical and Computer Engineering Technology program is Accredited by the Engineering Technology Commission of ABET, www.abet.org.