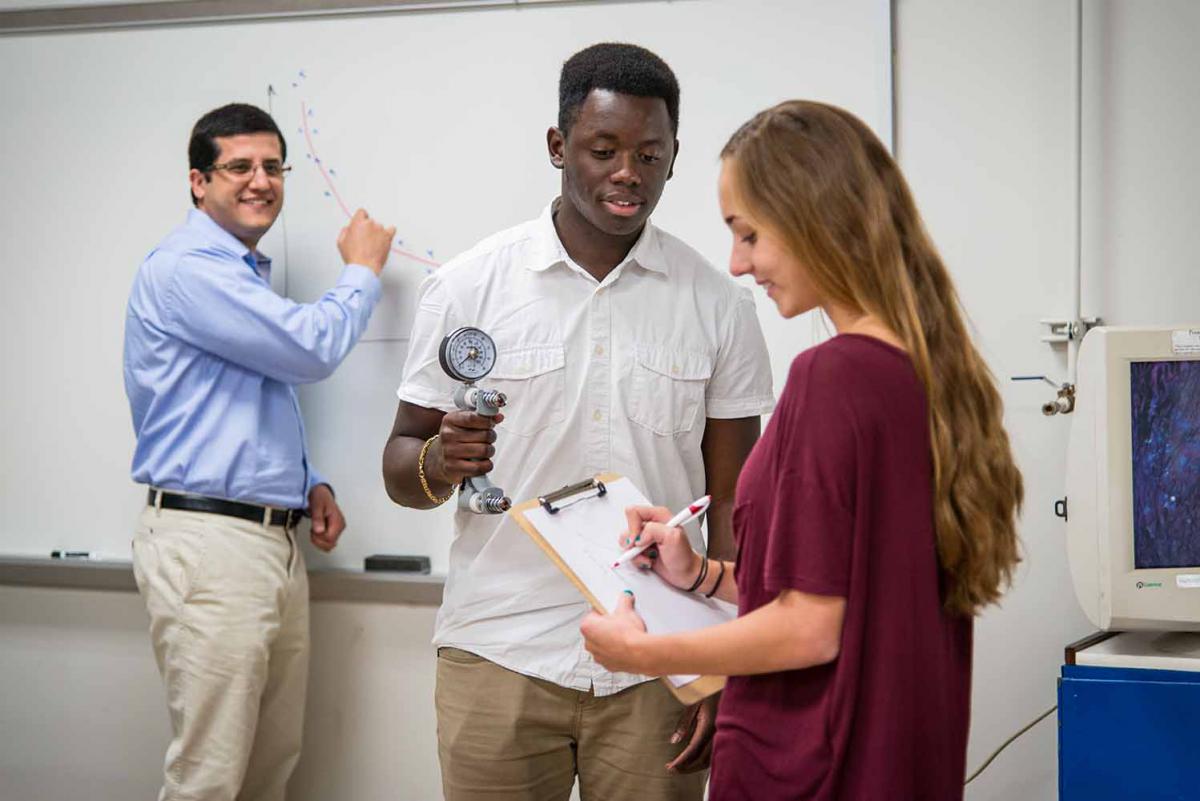 Industrial engineering is a broad-based and versatile discipline that involves the design, analysis, and improvement of systems and processes. Students build a foundation of science, mathematics, economics, and engineering principles that prepares them to take a systems point of view in solving a wide variety of problems. Industrial engineers are involved in the design, development, and improvement of systems and processes such as manufacturing, inventory control, quality control, facilities planning, and logistics. Industrial engineers also apply their skills and knowledge in fields such as health care, retail, utilities, information systems, financial, and other service industries. Industrial engineers continuously interact with people at all levels from process operators to senior management and so need to have excellent communication skills.
At Penn State Behrend, students learn to apply mathematical and engineering principles to develop systems and processes that are safe, reliable, efficient, and cost-effective in manufacturing products and delivering services. Studies include calculus, science, probability and statistics, engineering economics, product and manufacturing system design, information technology, ergonomics, and optimization. In their senior year, students work in small teams along with faculty advisors to complete capstone design projects. Most projects are sponsored by industry partners, giving students the opportunity to work on industry projects while completing their education.
Why Should You Study Industrial Engineering at Penn State Behrend?
Industrial Engineers have a "big-picture" perspective and bring people, resources, equipment, and technologies together to improve systems and processes. Industrial Engineers work to reduce costs, increase efficiency/productivity, assure quality, and satisfy customer expectations. They are trained in identifying and solving a wide variety of problems using their broad-based skills. As companies across all industries are increasingly striving to control costs and maximize efficiencies, the versatile skill set of Industrial Engineers opens doors for numerous career opportunities in virtually every sector of the economy. Recent occupational outlook surveys show strong and growing demand for Industrial Engineers.
The curriculum at Penn State Behrend provides students with strong technical expertise and problem-solving skills that will allow the graduates to function successfully in a wide variety of professional settings. During the program, students will also have the opportunity to choose electives in manufacturing systems engineering, engineering service systems, or engineering information systems. IE's may be interested in certificates or minors available from Penn State Behrend's collaborative business/engineering environment such as the operations and supply chain management minor.
Why earn your Industrial Engineering degree at Penn State Behrend?
Small class sizes foster close student-professor relationships.
Faculty typically have doctorates or significant industrial experience. Lectures and labs are taught by professors, not graduate students.
The diverse and broad-based engineering education includes a strong design emphasis and practical laboratory experience.
Laboratory computers and equipment are constantly updated to keep pace with the latest technological developments. Many of the computer labs are open twenty-four hours a day, seven days a week.
Cooperative education and internship opportunities are available for academic credit.
Every student works on a team to complete a two-semester capstone design project, many sponsored by industry.
Students have the opportunity to work with faculty on undergraduate research projects and participate in the Behrend Honors and Schreyer Honors programs.
Our alumni network keeps faculty informed of internship and job openings for students.

Penn State Behrend's School of Engineering uses Simio simulation software under a grant from Simio LLC for its industrial engineering program.
The Industrial Engineering program is Accredited by the Engineering Commission of ABET, www.abet.org.