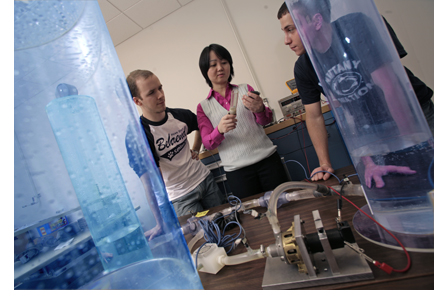 Mechanical engineering is one of the largest and broadest engineering disciplines, involving the study of both mechanical and fluid/thermal systems. Built on a foundation of physics, chemistry, and mathematics, the mechanical engineering program at Penn State Behrend teaches students to solve problems. Mechanical engineers research, design, test, manufacture, and operate products ranging from automobiles to rocket engines.
At Penn State Behrend, students learn to use scientific and engineering methods to devise useful products that are safe, reliable, and cost effective. Studies begin in mathematics, mechanics, and thermodynamics and progress to courses such as machine design, heat transfer, and system dynamics. Students also learn how to apply scientific principles, engineering analysis, and engineering design to solve unstructured problems. In their senior year, students work in small teams with individual faculty to complete capstone design projects. Most projects are sponsored by industry partners, giving students the opportunity to work on industry projects while completing their education.
Why Should You Study Mechanical Engineering at Penn State Behrend?
Mechanical engineers have tremendous flexibility, working in every type of industry, in jobs ranging from research and development to manufacturing and operations. Mechanical engineers also work in product design, procurement, technical sales, and management. Graduates enter a wide variety of industries such as health care, energy, military, transportation, consumer products, and sports/ recreation. A mechanical engineering education is also an excellent preparation for careers such as technical management, business law, and technical sales.
Why earn your Mechanical Engineering degree at Penn State Behrend?
Small class sizes foster close student-professor relationships.
Faculty typically have doctorates or significant industrial experience. Lectures and labs are taught by professors, not graduate students.
The diverse and broad-based engineering education includes a strong design emphasis and practical laboratory experience.
Laboratory computers and equipment are constantly updated to keep pace with the latest technological developments. Many of the computer labs are open twenty-four hours a day, seven days a week.
Cooperative education and internship opportunities are available for academic credit.
Every student works on a team to complete a two-semester capstone design project, many sponsored by industry.
Students have the opportunity to work with faculty on undergraduate research projects and participate in the Behrend Honors and Schreyer Honors programs.
Our alumni network keeps faculty informed of internship and job openings for students.
The Mechanical Engineering program is Accredited by the Engineering Commission of ABET, www.abet.org.