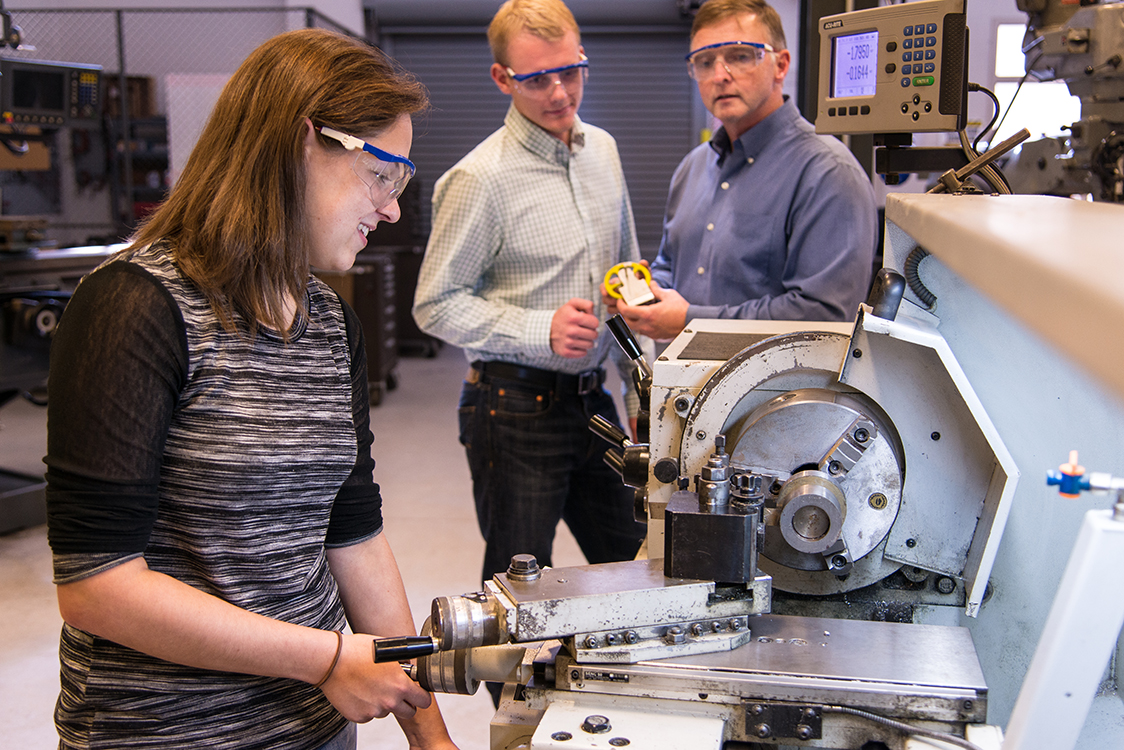 The Mechanical Engineering Technology (M.E.T.) program at Penn State Behrend provides hands-on study and application of the principles of mechanical engineering.
Graduates pursue careers in fields such as applied product design, manufacturing process development, field service engineering, tool and die design, quality control, plant supervision and management, and technical sales.The MET program prepares students to be effective team members in the modern industrial enterprise. It emphasizes applied design and analysis, complementing instruction in manufacturing and engineering materials. Students learn to conceptualize new product designs; analyze the design for mechanical performance using computer design and measurement technologies; select appropriate materials for construction; consider how to manufacture the product; and ensure that quality control measures are maintained.
In their senior year, bachelor's degree students work in small teams with individual faculty to complete capstone design projects. Most projects are sponsored by industry partners, giving students the opportunity to work on industry projects while still in school.
Why Should You Study Mechanical Engineering Technology at Penn State Behrend?
If you are mechanically inclined and have an interest in mathematics and science, Mechanical Engineering Technology may be the program for you. This program prepares students for professional careers in a broad range of industries and governmental agencies, and Penn State Behrend graduates are employed in the automotive, aeronautical, petroleum, defense, medical, power generation, transportation, and materials fields, among others.
Why earn your M.E.T. degree at Penn State Behrend?
Small class sizes foster close student-professor relationships.
Faculty typically have doctorates or significant industrial experience. Lectures and labs are taught by professors, not graduate students.
The diverse and broad-based engineering education includes a strong design emphasis and practical laboratory experience.
State-of-the-art facilities provide hands-on learning experiences.
Cooperative education and internship opportunities are available for academic credit.
Every student works on a team to complete a two-semester capstone design project, many sponsored by industry.
Students have the opportunity to work with faculty on undergraduate research projects and participate in the Behrend Honors and Schreyer Honors programs.
Our alumni network keeps faculty informed of internship and job openings for students.
The Mechanical Engineering Technology program is Accredited by the Engineering Technology Commission of ABET, www.abet.org.