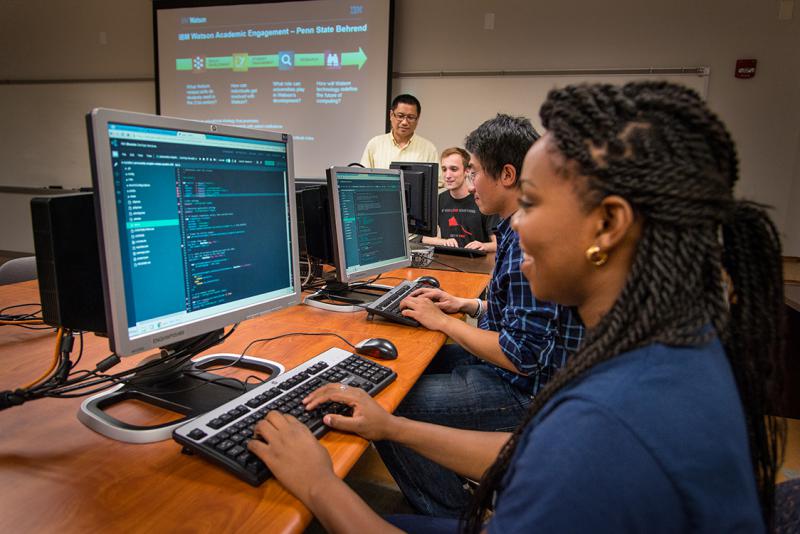 The Computer Science major at Penn State Behrend stresses the fundamentals of computer science (programming, discrete math, data structures, and analysis and design of algorithms) and their practical applications to system programming, database management, computer graphics, data visualization, and telecommunications. This approach provides a conceptual framework from which graduates can assimilate future developments in a rapidly evolving field.
All computer science students complete a two-course senior project sequence in which they propose a significant software project, work on a team to implement the project, and then present their work at the end of the spring semester.
A student majoring in computer science must excel in the use of computers, physical sciences, mathematics and English, and be independent, self-motivated, and able to concentrate. Students are strongly encouraged to arrange a computer science internship during their third or fourth year of study.
Why Should You Study Computer Science at Penn State Behrend?
The purpose of computer science is to investigate algorithms, design efficiency, and implementation and application of computer systems to the problems of businesses and government. The goal of a computer scientist is to maintain and create the most effective computer systems possible using the most current technology available.
The field of computer sciences is one of the fastest growing industries today. As people rely more on computers, the development and maintenance of computer systems is critical. Computer science graduates will find numerous career opportunities in a variety of business, government, and academic organizations. The curriculum at Penn State Behrend also prepares students for further study in computer science at the master's and doctoral levels.
Why earn your Computer Science degree at Penn State Behrend?
Small class sizes foster close student-professor relationships.
Faculty typically have doctorates or significant industrial experience. Lectures and labs are taught by professors, not graduate students.
The diverse and broad-based engineering education includes a strong design emphasis and practical laboratory experience.
Laboratory computers and equipment are constantly updated to keep pace with the latest technological developments. Many of the computer labs are open twenty-four hours a day, seven days a week.
Cooperative education and internship opportunities are available for academic credit.
Every student works on a team to complete a two-semester capstone design project, many sponsored by industry.
Students have the opportunity to work with faculty on undergraduate research projects and participate in the Behrend Honors and Schreyer Honors programs.
Our alumni network keeps faculty informed of internship and job openings for students.
---
The Computer Science program is accredited by the Computing Accreditation Commission of ABET, www.abet.org.