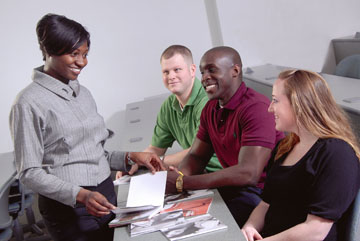 The Marketing major at Penn State Behrend prepares students for careers in business and government, and with non-profit organizations. Typically, graduates are employed in marketing management, sales management, retailing, market research, and brand management. The major provides a solid foundation in marketing practice, such as analyzing and understanding the needs and wants of present and potential customers, designing distribution strategies, researching marketing data, and coordinating marketing programs with other functional areas of business.
The major emphasizes the marketing of services. Marketing majors may also choose from additional business courses that allow greater specialization in quantitative (marketing research) or management perspectives while the non-business supporting courses allow for additional study in written and oral communication, psychology, foreign language, quantitative methods, or international studies.
 
Why Major in Marketing?
Nearly every type of business or industry utilizes marketing professionals in some way. Job options for marketing degree holders include careers in advertising, brand management, market research, and public relations. Typically, the Marketing graduate is likely to find employment in the following organizations: banking, civil rights, education, arts and culture, public safety, government, retailing, food services, hotels, sports, health and wellness, automotive, real estate, insurance, marketing research, transportation, and non-profit services.
Why Choose Penn State Behrend for Your Marketing Degree?
Penn State Behrend's business programs are accredited by AACSB International (Association to Advance Collegiate Schools of Business), the premier accrediting agency for schools of business. Only 5 percent of colleges and universities worldwide have obtained this designation, including world-class business schools like Harvard, Wharton, Stanford, and Yale.
Want to learn more? Check out the Black School of Business Marketing Newsletter!