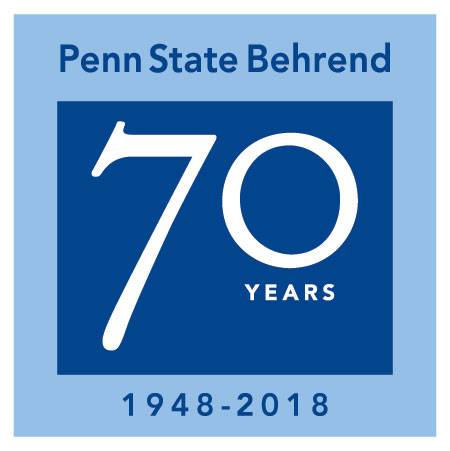 70 years old and still growing
Only three months elapsed between Mary Behrend's June 1948 donation of her Glenhilll Farm to Penn State and its reinvention as The Behrend Center. Yet 146 students showed up for classes in September, motivated by post-World War II G.I. Bill benefits and a new ability to pursue public, co-ed higher education in Erie. Over the past 70 years, Behrend's growth story can be told in part through the changes in its enrollments.
September 1948
126 men and 20 women enroll to pursue their first year of Penn State education. They are supported by a dozen faculty members and six staff members.
Spring 1951
Young men are being drafted into service for the Korean War, and enrollment at The Behrend Center consequently plummets to 64; rumors circulate that the campus may close.
1953
Associate-degree programs are added; they are the first to be offered outside of State College.
Fall 1963
360 students enroll. Looking ahead, campus leaders project growth to 800 students by 1980.
1966-1972
Nationally, college attendance by young men jumps; some are using G.I. Bill benefits while others want a deferment from service in Vietnam. With the opening of the first three on-campus residence halls— Perry, Niagara, and Lawrence—enrollment grows to 1,500 by 1972.
January 1973
Behrend is the first location outside of State College to be awarded college status by the Penn State Board of Trustees. Four-year degrees now can be pursued in Erie.
Fall 1985
Enrollment makes another leap, to 2,250. The first graduate program, an M.B.A., is introduced, and oncampus apartments are added. Fall 2001 Enrollment reaches 3,700.
Fall 2006
Enrollment tops 4,000; a space crunch is alleviated by the openings of 60,000 square feet of classrooms and labs in Burke Center and the University Gates private apartment development.
Fall 2017
Total enrollment in Behrend programs is 5,184. Some Behrend students see our beautiful campus only online; three of the college's forty-three degrees are offered through Penn State World Campus.