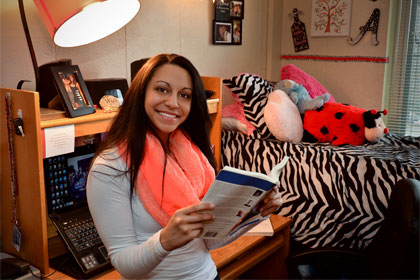 For many students, going off to college also means the first time living away from home. This can be exciting and empowering--but also a little scary.
Penn State Behrend strives to makes this transition as smooth as possible for our nearly 1,750 students living on campus. Four types of living arrangements are available, including traditional residence halls, eight-person and four-person suites, and four-person apartments. Special housing for honors students is also available, and there are also a variety of nearby off-campus housing options.
Hungry? Penn State Behrend offers a variety of delicious dining options. Bruno's Cafe offers delicious sandwiches, soups, pizza, salads and snacks a la carte-style, plus a full-service coffee shop; Dobbins Dining Hall provides all-you-can-eat hot meals, salad bar and desserts; and Clark Cafe offers continental breakfast fare during the morning, and salads and sandwiches during lunchtime.

And there's never a shortage of things to do living at Behrend. Students living on campus are supported by a strong residence life program, which organizes residence hall activities and programs.