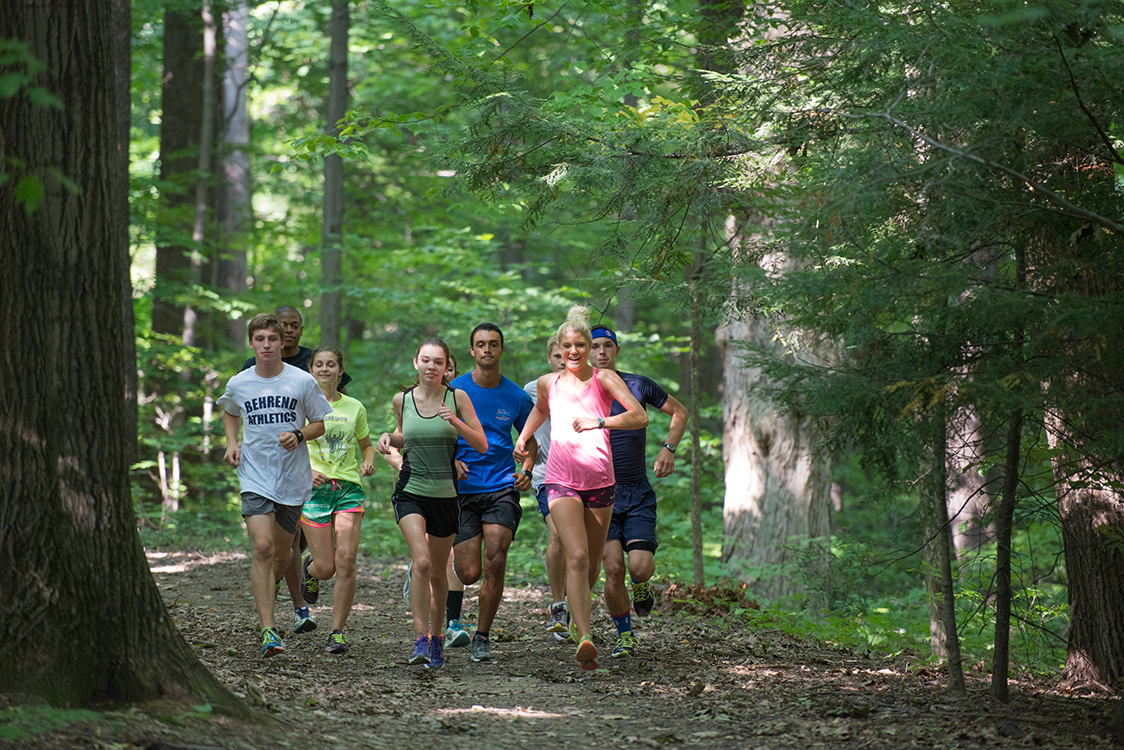 Applying to colleges can seem overwhelming. But everything you need to know is right here, and Penn State Behrend's admissions staff is just an e-mail or phone call away if you have any questions.
How To Apply
Simply take these steps to apply.
Important Application Information
There are two ways that you can apply for admission to Penn State:

​Regardless of the application that you choose to use, you should create a MyPennState profile. You will use this account to provide your Self-Reported Academic Record.
To receive the earliest possible notification of your admission and financial aid status, Penn State strongly encourages you to file a completed application, including your Self-Reported Academic Record and test scores, by November 1 of your senior year.
When is the application available?
Penn State's application is available on August 1. The Early Action application deadline for first-year students is November 1.
If you choose not to file an Early Action application, we recommend that you submit your complete application, including all required materials, prior to the priority application date of November 30. Applications are still accepted after that date, but it may become more difficult to gain acceptance to your first choice of academic college or campus.
What if I can't find the major I am looking for on the application?
Contact us! We're happy to help with any questions or concerns.
Can my application fee be waived?
Your application fee can be waived in cases of financial hardship. We also can waive the application fee if you have visited Penn State Behrend and apply using the Penn State application. Please contact our office for a fee waiver before you submit your application.
Application fees that have already been paid cannot be refunded. We also cannot provide the campus-visit fee waiver if you apply using the Coalition Application or Common Application.
After completing an application, what's next?
We encourage you and members of your family to visit the Penn State campuses you are considering. Visit programs vary from campus to campus, so you should contact the admissions office at the campuses of your choice or visit the Penn State campus visit website for specific information.
Why should I submit an Early Action application?
Early Action is a non-binding commitment by Penn State to respond to applicants earlier in the admissions decision cycle. If you submit a complete application by the Early Action deadline of November 1, you will receive an admissions decision by December 24 and be included in the earliest awards for financial aid, which begins in mid-February. You still will have until May 1 to commit to Penn State and pay your enrollment deposit.
When will I know if I am admitted?
Submit your complete application by November 1, and you'll receive a decision by December 24. If your application is received by November 30, a decision will arrive by January 31. Applications submitted by December 31 will get a February 28 response, and those submitted by January 31 will have a decision by March 31.
Applications received after February 1 will be reviewed on a rolling basis. Decisions for programs that require an audition, interview, portfolio, or departmental review may require a longer decision period.
Whether you apply Early Action or use a later deadline, we request that offers of admission are accepted by May 1. This is done through your MyPennState profile. A housing contract will be generated for you at that time if you are a traditional-age first-year student from outside the local area.
Admissions Qualifications
Penn State bases its admissions decisions on a variety of factors that are viewed in relation to one another. The most important factor, the high school grade-point average (GPA), accounts for approximately two-thirds of the admission decision. The remaining one-third of the decision is based on other factors, which may include standardized test scores (SAT or ACT), class rank, personal statements, and activities. Penn State does not require a specific high school GPA or minimum standardized test scores. The middle 50 percent range for high school GPA is 3.16-3.65, and the middle 50 percent range for SATs is 1060-1250.
These ranges represent the middle 50 percent of students offered admission to Penn State Behrend. They are not cutoffs or averages and are intended only to give you a general idea of your admissibility to Penn State Behrend; in no way do they represent a promise or guarantee of admission.
Penn State will be test-optional through 2025. First-year Penn State applicants are able to choose whether to submit SAT or ACT scores as part of their applications.