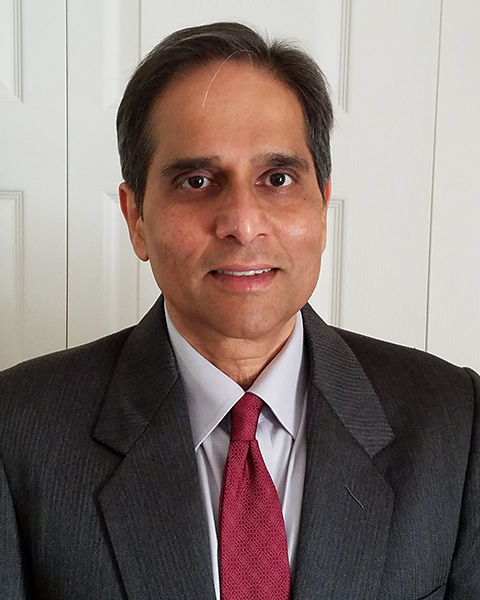 Department Chair, Accounting and MIS
Distinguished Professor, Accounting and Management Information Systems
Professor of MIS, iMBA/oMBA program
Mailing Address:
PENN STATE BEHREND
281 BURKE CENTER
ERIE PA 16563
Biography

Ph.D., University of Memphis (1993), CPA, A.C.A., C.I.S.A, C.F.E., C.M.A: Research and teaching interests include auditing, accounting information systems, and corporate information strategy. He has previous industry experience as an audit manager, a management accountant, and a systems consultant. Dr. Deshmukh served as an expert witness for the United States House of Representatives.

---

Teaching

Named Distinguished Professor of Accounting and Management Information Systems, 2021
Recipient, iMBA Outstanding Teaching Award, World Campus, Penn State University, University Park PA, 2008.
Nominated, Council of Fellows Excellence in Teaching Award, Penn State Erie, Erie PA, Spring 2002.

Teaching Philosophy

The central issue in teaching, in my opinion, is not the transfer of knowledge but passing of the conviction that a student can learn, understand, and master the material. My first objective is to foster a conviction in students that they can learn and understand complex concepts and apply those in the real world. I emphasize that there are no right or wrong answers in my courses, as in life. I ask students to explain the logic behind their answers and reward display of correct thinking and logical explanations. Students are expected to complete many assignments without any help from the instructor. If they are having problems, I call and talk with them. I have assigned extra problems and mock exams to struggling students. I have not always been successful in empowering students; however, I prefer to view my glass as "half full."

The second objective is to ensure that students master the information. I see my role as a guide who points out right directions, delivers resources, and provides corrective feedback. I have a clear set of objectives for each course, a structured syllabus, and a statement of expectations from students. I have a number of open-ended assignments that demand critical thinking from students. I also assign projects where students acquire information about local businesses, interact with business people, and analyze accounting information systems. These projects are done with minimal help but with intensive comments from me, and have been quite successful over the years. I demonstrate the real-world relevance of my courses by inviting guest speakers, ex-students, and by using current events and news.

The third objective is to instill a sense of professionalism in students. I have always impressed upon students the primary characteristics of a professional: lifelong learning, holding oneself to higher standards, and doing the right thing under pressure. The accounting profession is rocked with scandals every decade or so. I highlight the power of accounting to influence human behavior. I have analyzed fraud, ethical conflicts, and accounting abuses using a number of well-known and not-so-well-known cases, and from my personal experience.

Courses Taught

ACCTG 211: Financial & Managerial Accounting & Decision Making
ACCTG 312: Accounting Technology Lab
ACNTG 422: Accounting Systems
ACCTG 403 (formerly ACNTG 423): Auditing Practices and Standards
ACNTG 497C: Advanced Information Systems
ACCTG 497D: Electronic Commerce
ACNTG 597D: Financial Statement Analysis
ACCT 504: Auditing Practice & Theory
iMBA 550: Corporate Information Strategy

---

Research

Nominated, Council of Fellows Excellence in Research Award, Penn State Erie, Erie PA, Spring 2007.
Certificate of Merit Award, Institute of Management Accountants, 2001.

---

Service

Other Activities

Associate Editor, Journal of Accounting, Auditing, and Performance Evaluation, 2012-Present
Joint Editor, Journal of Accounting, Auditing, and Performance Evaluation, 2006-2012
Associate Editor, International Journal of Accounting, Auditing, and Performance Evaluation, 2003-2006.
Associate Editor, Journal of Electronic Commerce, 2006-.
Co-edited a regular issue of Journal of Electronic Commerce Research, 2005.
Editorial Board, International Journal of Managerial and Financial Accounting, 2007-.
Financial reviewer of grants for the U.S. Department of Defense, 2002-2003.
Financial reviewer of grants given by the United Way to non-profit organizations, Erie PA, 2000-2002.
Expert witness, Subcommittee on Oversight, Investigations, and Emergency Management, House Committee on Transportation and Infrastructure. U.S. House of Representatives, Washington DC, November 1999 [Estimated potential fraud, waste, and abuse of grants awarded by the Environmental Protection Agency for the fiscal years 1994-1998].

Participation in Professional and Learned Societies

North Carolina Association of CPAs, 2010-.
Information Systems Audit and Control Association, 2000-.
Institute of Internal Auditors, 1995-.
Association of Certified Fraud Examiners, 1993-.
Electronic Data Processing Auditors Association, Inc., 1992-1994.
Institute of Certified Management Accountants, 1991-.
American Accounting Association, 1988-.
Institute of Chartered Accountants of India, 1986-.

Service to Public and Private Organizations

External Reviewer for full professor, Rochester Institute of Technology, Rochester NY, Spring 2006.
Treasurer, India Association, Erie PA, 1996-.
Financial Executives Institute

Board Member, 2006-.
Presenter of CPE session, 2005; 2004.

Erie Chapter of the Institute of Management Accountants

Presenter, CPE Session, 2004.
Co-organized Penn State Erie student chapter, January 1997.
Research Interests

Audit and Assurance Services Accounting Information Systems
Publications

Annual Report Readability and Share Repurchases under a Temporary Tax Holiday, Advances in Taxation - June, 2020
Collaborators: Michael Filbeck; Xin Zhao

Audit Quality and Readability of the Annual Reports, International Journal of Strategic Decision Sciences - January, 2020
Collaborator: Zhou Xin, Author

Responses of US Multinational Firms to a Temporary Repatriation Tax Holiday: A Literature Review and Synthesis, Journal of Accounting Literature - December, 2019
Collaborators: Dong Qi, Author; Cao Y, Author; Zhou Xin, Author

Earnings Management and Instances of Material Weaknesses Reported under Sections 302 and 404., Asia-Pacific Journal of Accounting & Economics - October, 2019
Collaborator: Shin Kwon

Benefits and Adoption of Integrated Reporting: Perceptions of the Malaysian Corporate Accountants, International Journal of Knowledge-Based Organizations - September, 2019
Collaborators: Prem Joshi, Co-Author; Abdullah Sallehhuddin, Co-Author; Predeeban Munusamy, Secondary Author; Array Array

Analyzing Forward-Looking Statements in Initial Public Offering Prospectuses: A Text Analytic Approach, Journal of Business Analytics - November 10, 2018
Collaborators: Amit Deokar, Co-Author; Jie Tao, Primary Author

An Empirical Study of Extent and Determinants of Intellectual Capital Disclosures by Top Listed Companies in Malaysia, Indian Journal of Finance - January, 2016
Collaborators: Prem Joshi, Co-Author; Teoh Min, Co-Author; Nahariah Jaffar, Co-Author

Disclosure Choices, Corporate Characteristics, and Compliance with IFRS Practice Statement Management Commentary: An Empirical Study of Malaysian Listed Companies., Global Business and Economic Review - January, 2016
Collaborators: Prem Joshi, Co-Author; L Ling, Co-Author; L Yin, Co-Author

Determinants of audit fees in Malaysia's Top 100 Listed Companies: An Empirical Study, International Journal of Strategic Decision Sciences - December, 2014
Collaborators: Prem Joshi, Co-Author; N Mohamad, Co-Author; H Nahariah, Co-Author

Company Characteristics and Compliance with IFRS's Practice Statement (Management Commentary) by Listed Companies in Bahrain, International Journal of Managerial and Financial Accounting - December, 2013
Collaborators: Prem Joshi, Co-Author; H. Deshmukh, Co-Author

An Analysis of Trust, Employee Trustworthiness, Fraud, and Internal Controls, International Journal of Strategic Decision Sciences - 2013
Collaborators: S Kumar, Co-Author; J Liu, Co-Author; K. Stecke, Co-Author

Financial Reporting Abuses: Perceptions of Auditors in Bahrain, Oil, Gas & Energy Quarterly - 2012
Collaborators: P. Joshi, Co-Author; J. Alajmi, Co-Author

Corporate Governance and the Sarbanes-Oxley Act - 2011


Diffusion of Management Accounting Practices in Gulf Corporation Council Countries, Accounting Perspectives - 2011
Collaborators: P. Joshi, Co-Author; W Bremser, Co-Author; R. Kumar, Co-Author

Study of Compliance with International Auditing Standards by Auditors in Bahrain, International Journal of Applied Decision Sciences - 2011
Collaborators: P. Joshi, Co-Author; J. Alajmi, Co-Author

Healthcare Related Open Source Innovations: Diffusion Patterns and Early Adopter Influence, International Journal of Business Innovation Research - September, 2010
Collaborators: Balaji Rajagopalan, Co-Author; H. Deshmukh, Co-Author

An Empirical Analysis of Auditor's Evidence Gathering Techniques in Bahrain, Afro-Asian Journal of Finance and Accounting - 2009
Collaborator: P. Joshi, Co-Author

XBRL in the Accounting Curriculum: A Survey of AIS Faculty - September, 2009
Collaborators: K. Karim, Co-Author; J. Romine, Co-Author; R. Rutledge, Co-Author

Auditing & Assurance Services: A Systematic Approach, Fifth Edition, Issues in Accounting Education - 2008


Sarbanes-Oxley Act, 2002: An Investor Boon or Corporate Bane? - 2007


Digital Accounting: The Effects of the Internet and ERP on Accounting - 2006


Digital Accounting, Instructor's Manual/Test Bank - 2006


Performance Analysis of Filtering Software Using Signal Detection Theory, Decision Support Systems - 2006
Collaborator: Balaji Rajagopalan

XBRL in the Accounting Curriculum: A Survey of AIS Faculty, Review of Business Information Systems - 2006
Collaborators: K. Khondkar, Primary Author; J. Romine; R. Rutledge

Issues and Advances in B2C Research, Journal of Electronic Commerce Research - 2005
Collaborator: Balaji Rajagopalan, Primary Author

A Conceptual Framework for Online Internal Controls, Journal of Information Technology Management - 2004


Virtual Close: Prospects and Problems, The Review of Business Information Systems - 2004


XBRL, Communications of AIS - 2004


A Knowledge-based Decision Support System for Costing Job Orders, The Review of Business Information Systems - 2003
Collaborator: L. Talluru, Co-Author

Accounting Software and e-Business., The CPA Journal - 2002
Collaborator: J. Romine, Secondary Author

Instructor's Manual for Accounting Information Systems - 2000


Test Bank for Accounting Information Systems - 2000
Collaborator: C. Venable, Secondary Author

Supplementing Legacy Financial Systems by Integrating High-end Technology, Strategic Finance - 2000
Collaborator: J. Lobaugh, Co-Author

An Analytic Hierarchy Process Approach to Assessing the Risk of Management Fraud, Journal of Applied Business Research - 1999
Collaborator: Ido Millet, Co-Author

The Role of Audit Technology and Extension of Audit Procedures in Strategic Auditing, The International Journal of Applied Quality Management - 1999


A Fuzzy Set Approach to Client Acceptance Decisions, Application of Fuzzy Sets and Theory of Evidence to Accounting II - 1998
Collaborators: J. Romine; L. Talluru

A Rule-Based Fuzzy Reasoning System for Assessing the Risk of Management Fraud, International Journal of Intelligent Systems in Accounting, Finance, and Management - 1998
Collaborator: L. Talluru, Co-Author

An Analysis of Efficiency and Effectiveness of Auditing to Detect Management Fraud: A Signal Detection Theory Approach, International Journal of Auditing - 1998
Collaborators: K. Karim; P. Siegel

An Application of a Data Mining Technique for Assessing the Risk of Management Fraud, The Review of Accounting Information Systems - 1998
Collaborator: L. Talluru, Secondary Author

Assessment of Short-term Liquidity Risk Using Fuzzy Sets, Application of Fuzzy Sets and Theory of Evidence to Accounting II - 1998
Collaborator: S. Nassiripour, Secondary Author

Rip-off System - 1997
Collaborator: J. Romine, Primary Author

Visionary Management? - 1997
Collaborator: J. Romine, Secondary Author

A Bayesian Analysis of Cost-Effectiveness of Auditing for Small Businesses, Advances in Accounting - 1997
Collaborators: P. Siegel; K. Karim

Measurement and Combination of Red Flags to Assess the Risk of Management Fraud: A Fuzzy Set Approach, Managerial Finance - 1997
Collaborators: J. Romine; P. Siegel

ModelQuest Expert 1.0., OR/MS Today - 1997


The Phantom Cash Register - 1996
Collaborator: J. Romine, Co-Author

Analysis of the Accounting Variables Influencing Bank Dividends: Neural Networks versus Discriminant Analysis, Management Development - 1996
Collaborator: J. Romine

Assessing the Risk of Management Fraud Using Red Flags: A Fuzzy Number Based Spreadsheet Approach Fraud: A Fuzzy Set Approach, Journal of Accounting and Computers - 1996
Collaborator: J. Romine

Models for Detecting Management Fraud: A Critical Review, Journal of Business Administration - 1995

Education

Ph D, Accounting, The University of Memphis

MBA, Finance, The University of Alabama

Diploma in Computer Management, Computer programming, The University of Bombay

BS, Chemistry, The University of Bombay