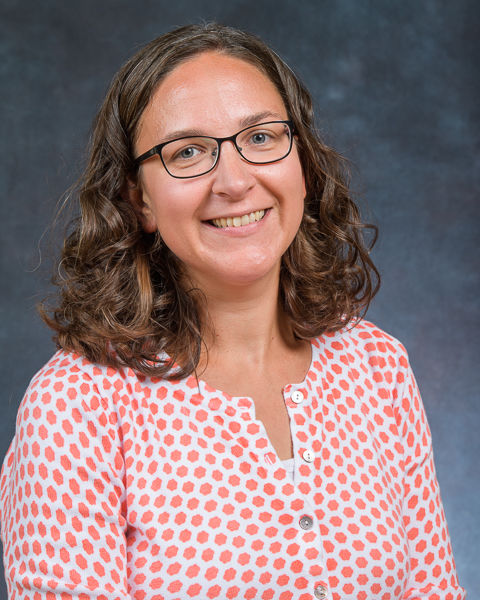 Associate Professor, Biology

Mailing Address:
PENN STATE BEHREND
1 PRISCHAK BUILDING
ERIE PA 16563
Biography

Teaching Specialties

Microbiology
Immunology
Bacterial Pathogenesis

---

Research Interests

My current research focus involves identifying bacteria populations within different environments. One specific environment has been the surface of avian eggs. The microflora of avian eggshells is proposed to play an integral role in the protection of the egg/embryo from infection by pathogenic microorganisms and alteration of the egg microstructure aiding in embryonic development. We have profiled the bacterial microflora of House Wrens and American Kestrels using culture-dependent techniques. My lab has recently partnered with Purple Martin Conservation Association and have begun characterizing the bacterial composition of the microflora found on the surface of Purple Martin eggs. With the continued support of the PMCA, we plan to use the Purple Martin species as a model system to understand the origin of the microflora (are the same bacterial species ubiquitous throughout a given nest environment, e.g. found on eggs, feathers of the mother, and nest material) and whether the birds influence the bacterial composition through normal processes (uropygial gland secretions) and incubation behaviors (incorporation of green leaves).

The other main focus of my lab is to determine the effectiveness of Agion silver zeolite technology on bacterial populations on door handles across our campus. We have been using culture-dependent techniques with three different types of agar media (Tryptic Soy, Mannitol Salt and MacConkey) to monitor the bacterial populations on silver- and control-coated door handles every fall and spring semester. We are currently using 16S rRNA primers to identify each cultured bacterial species. In the fall 2014 semester, we will begin to incorporate the use of culture-independent techniques to get a more comprehensive idea of the bacterial populations on the door handles. We anticipate future studies examining the prevalence of silver resistance mechanisms within the populations.

Previously, my lab has also looked at the bacterial communities found in a static windrow pile derived from our on-campus composting initiative. The study led to a publication within Compost Science and Utilization journal and I would be willing to continue studies within this area if students are interested.

All projects within my lab are focused on student participation in experimental design, sample collection, data analysis, and presentation of data. Each year students participating in research within my lab present their studies at the Allegheny branch meeting of the American Society for Microbiology and the annual Sigma Xi Undergraduate Research and Creative Accomplishment Conference.
Publications

Implementation of a Service-Learning Project Focused on Handwashing and Vaccinations within an Undergraduate Microbiology Laboratory Course, Frontiers in Microbiology - May 19, 2021


The Bacterial Community Found on the Surface Purple Martin (Progne subis) eggs, The Open Ornithology Journal - February, 2017
Collaborators: Mary Sperry, Co-Author; Dan Hoang, Co-Author; Kaitlin Pander, Co-Author; Sean Weaver, Co-Author; Aimee Day, Co-Author; Kelly Hedderick, Co-Author; Michael Rutter, Co-Author; Aeppli Robert, Co-Author

A long term study examining the antibacterial effectiveness of Agion silver zeolite technology on door handles within a college campus, Letters in Applied Microbiology
Collaborators: Marcelo Lob, Co-Author; Rachel Mercaldo, Co-Author; Aubrey Hetzler, Co-Author; Vishall Kaistha, Co-Author; Hasan Khan, Co-Author; Nicole Kingston, Co-Author; Emily Schmitt, Co-Author; Michael Knoll, Co-Author; Brenton Maloy, Co-Author; Katelyn Melvin, Co-Author; Paul Ruiz, Co-Author; Nesve Ozsoy, Co-Author; Michael Potter, Co-Author; Michael Rutter, Co-Author; Greg Yahn, Co-Author; Diane Parente, Co-Author

An Assessment of Bacterial Population on American Kestrel Eggs, The Open Ornithology Journal
Collaborators: Emily Hyde, Co-Author; Holly Pier, Co-Author; Margaret Voss, Co-Author

Studying the Avian Egg Microflora, Purple Martin Update - January, 2014


An Assessment of the Microbial Diversity Present on the Surface of Naturally Incubated House Wren Eggs - 2013
Collaborators: Brian Carlson, Co-Author; Andrea Adams, Co-Author; Margaret Voss, Co-Author

An Assessment of Bacterial Populations in a Static Windrow Compost Pile, Compost Science & Utilization - October 7, 2013
Collaborators: Joshua MacCready, Co-Author; Nathan Elbert, Co-Author; Ann Quinn, Co-Author

Nucleofection Disrupts Tight Junction Fence Function to Alter Membrane Polarity of Renal Epithelial Cells., American Journal Of Physiology (Renal Physiology) - 2010
Collaborators: D. Mo, Primary Author; C. Bertrand, Co-Author; J. Hildebrand, Co-Author; J. Burns, Co-Author; O. Weisz, Co-Author

Differential Involvement of Endocyctic Compartments in the Biosynthetic Traffic of Apical Proteins, European Molecular Biology Organization Journal - 2007
Collaborators: K. Cresawn, Co-Author; A. Oztan, Co-Author; C. Guerriero, Co-Author; G. Ihrke, Co-Author; J. Goldenring, Co-Author; G. Apodaca, Co-Author; O. Weisz, Co-Author

N-glycans Mediate the Apical Recycling of the Sialomucin Endolyn in Polarized MDCK Cells., Traffic - 2006
Collaborators: K. Weixel, Co-Author; J. Burns, Co-Author; G. Ihrke, Co-Author; O. Weisz, Co-Author

Polarized Biosynthetic Trafficking in Renal Epithelial Cells: Sorting, Sorting, Everywhere, American Journal of Physiology, Renal Physiology - 2006
Collaborators: M. Ellis; K. Cresawn, Co-Author; O. Weisz, Co-Author

The Role of N- and O-glycans in Biosynthetic Sorting, American Journal of Physiology (Cell Physiology) - 2006
Collaborators: R. Hughey, Co-Author; O. Weisz, Co-Author

Specific N-glycans direct apical delivery of transmembrane, but not soluble or glycosylphosphatidylinositol-anchored forms of endolyn in Madin-Darby canine kidney cells, Molecular Biology of the Cell - 2004
Collaborators: G. Ihrke; J. Bruns, Co-Author; K. Weixel, Co-Author; O. Weisz, Co-Author
Education

Ph D, Molecular Virology and Microbiology, The University of Pittsburgh

BS, Biology, Chemistry minor, Mount Union College