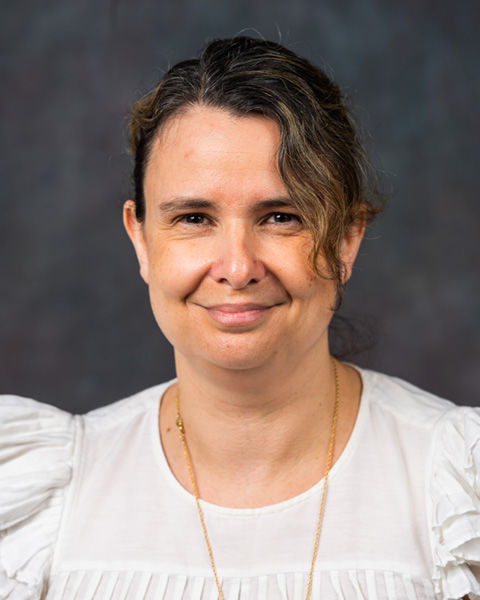 Assistant Teaching Professor of French, Languages

Mailing Address:
PENN STATE BEHREND
170 KOCHEL CENTER
ERIE, PA 16563
Biography

A native speaker of French, Dr. Frédérique Marty came for the first time to the United States in 2012 to teach at University of Idaho as part of an exchange program (2012-2013) with the University of Pau in the South of France. After completing her Ph.D. in French Language and Literature at the University of Pau in 2014, she pursued her teaching journey at the University of Sciences of Philadelphia (2014-2015), then at Marlboro College (2015-2019), a small liberal arts college in Southern Vermont. At Marlboro College, she developed and led a study abroad program in the Basque region. In Fall 2019, Dr. Marty started to teach at Penn State Erie, The Behrend College, and holds the position of assistant teaching professor of French.

In addition to her teaching, she is a dedicated researcher in her field and has been active in presenting and publishing her work. Her doctoral dissertation is an annotated edition of the Pelerin de Lorete (1604), a voluminous tome by the Jesuit Louis Richeome, highlighting some of the religious feuds raging in Europe in the beginning of the 17th century. This book, which combined several genres, was considered a best-seller at that time.


Courses Taught

FR 001 Elementary French I
FR 002 Elementary French II
FR 003 Intermediate French II
FR 201 Oral Communication and Reading Comprehension
FR 138N French Culture Through Films

Research Interests

Dr. Marty's research interests include: 16th and 17th centuries religious texts in Early Modern France with a focus on religious iconography and history of the book; pilgrimage and travel narrative; studies in otherness; and francophone literature: colonization and decolonization in North Africa.

Publications

"Le Bestiaire du Pelerin de Lorete de Louis Richeome" at Colloque L'école des bêtes (XIIe-XVIe siècles) : L'animal exemplaire, objet de savoir et miroir de l'homme. Université de Pau et des Pays de l'Adour.

Accepted for publication in January 2019

.
"La Vierge lectrice : sur la présence du livre dans les tableaux d'Annonciation, et sur le sens de cette représentation" in Le livre en tous ses états. Du statut de l'œuvre écrite à la figuration du symbole (XIIe-XVIIe siècles), Études réunies par Gérard Gros, Paris, Honoré Champion, "collection, congrès et conférences-Moyen Âge", 2015, pp. 97-116.
"L'acide entre texte et image dans le Traité des manières de graver… d'Abraham Bosse (1645)" in L'acide dans la littérature, sous la direction de Véronique Duché, Paris, Classiques Garnier, "Collection Rencontres", 2015, pp. 117-125.
"Le sens de l'amer le jour du "Vendredy Sainct" in les Actes du Colloque L'amer dans la littérature, Atlantica-Séguier, December 2008, pp. 59-66.
"La représentation du mystère de l'Incarnation à travers la figure mariale dans une miniature (fol. 46) du manuscript amiénois Bnf, fr. 145 (1518)" in Champ Fructueux, Amiens, Publications du C.E.M.A.R., Université de Picardie Jules Verne, 2007, pp. 173-185.
"Les images du sucre à la fin du Moyen Âge à travers les miniatures des livres de diététique" in les Actes du Colloque Le sucre dans la littérature, Atlantica-Séguier, 2007, pp. 189-198.
"André Janier, Les Serées du libraire imprimeur Guillaume Bouchet" in La revue Réforme Humanisme et Renaissance n° 65, 2006, pp. 203-204.
Education

Ph.D., Université de Pau et des Pays de l'Adour, 2014

D.E.A. [Diplôme des Études Appliqués / Masters in French Language and Literature], Université de Pau et des Pays de l'Adour, 2002

M.M.L [Maîtrise in Modern Languages], Université de Pau et des Pays de l'Adour, 2001

L.M.L. [License in Modern Languages], Université de Pau et des Pays de l'Adour, 2000