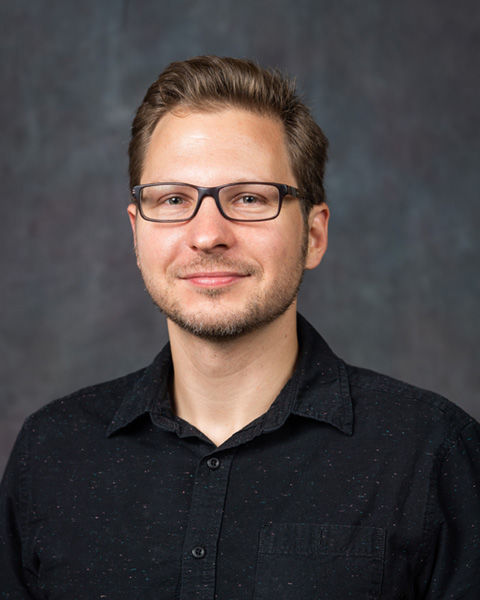 Associate Teaching Professor of Music, Digital Media, Arts, and Technology and Music, Theatre, and Visual Arts programs

Mailing Address:
PENN STATE BEHREND
170 KOCHEL CENTER
ERIE, PA 16563
Biography

Joel Hunt is a music theorist, composer, and performer with experience ranging from jazz and pop music to interactive electroacoustic music and algorithmic computer music.

Hunt is an associate teaching professor of music at Penn State Erie, The Behrend College, where he teaches courses on music theory, film music, digital audio, and the history of electroacoustic music. Joel's research interests include computational analysis, music information retrieval, analysis of electroacoustic music, jazz/pop theory, American modernism, and sketch studies. His dissertation focuses on the evolution of compositional process in the music of Henry Brant, incorporating analyses of Brant's original sketches, text manuscripts, and correspondence. He has presented his research at the Society for Music Theory Conference (Milwaukee), European Music Analysis Conference (Leuven), Tracking the Creative Process in Music Conference (Montreal), Paul Sacher Foundation Colloquium (Basel), Society for American Music Conference (Sacramento), Canadian University Music Society National Congress (Victoria and Saint Catharines), West Coast Conference of Music Theory and Analysis (Irvine), and the Temporality: Issues of Change and Stasis in Music Conference (Long Beach). Joel's research has received generous support from the Paul Sacher Stiftung, the Albert and Elaine Borchard Foundation, and the University of California, Santa Barbara Humanities and Social Sciences Department, Graduate Division, and Academic Senate. For his work on Brant, Joel received the 2013 Roger Chapman Memorial Prize in Music Theory.

Hunt is also an active composer and performer, specializing in algorithmic, interactive, and improvisatory electroacoustic music. As a champion of new music, he has premiered countless new works for saxophone at venues such as the International Computer Music Conference (Athens), Primavera Festival of Contemporary Arts and Digital Media (Santa Barbara), California Electronic Music Exchange Concert Series (Los Angeles), United States Navy Band International Saxophone Symposium (Washington, DC), and the Ethos NewSound Festival of Contemporary Music (Fredonia). As an ensemble player, he has performed at the Roy and Edna Disney/CalArts Theater (Los Angeles) and the Santa Barbara Museum of Art, at conferences held by the North American Saxophone Alliance and the College Band Directors National Association, at the Sigurd M. Rascher Centennial Celebration, at International Jazz Festivals in Rochester and Ellicottville, and has toured throughout the Northeast, California, and China. His compositions have been premiered by the Now Hear Ensemble, Ensemble et cetera, UCSB Contemporary Music Ensemble, and the Fredonia Jazz Ensemble. Joel's current creative pursuits include recording a collection of newly commissioned works for saxophone and electronics, and recording a set of original compositions for modular analog synthesizer.
Research Interests

interactive electronic music, algorithmic computer music, music production, computational analysis, music information retrieval, analysis of electroacoustic music, jazz and popular music theory, the music of Henry Brant, sketch studies
Publications

For Your Glory, The Cross Worship - July 25, 2021
Collaborators: Alison Huffman, Primary Author; Adam Boaks, Co-Author

"Henry Brant", Komponisten der Gegenwart (KDG) - December 1, 2019


Book Review, Negotiated Moments: Improvisation, Sound, and Subjectivity, edited by Gillian Siddall and Ellen Waterman (Duke University Press, 2016), Notes, Quarterly Journal of the Music Library Association - September 15, 2018


Book Review, Expanding the Horizon of Electroacoustic Music Analysis, edited by Simon Emmerson and Leigh Landy (Cambridge University Press), Notes, Quarterly Journal of the Music Library Association - June 1, 2018


From Process to Performance: Text-Based Improvisation in Henry Brant's "Instant Music", 9th European Music Analysis Conference - June 28, 2017


Unifying a Diverse Output: "Prose-Report Composition" in the Music of Henry Brant - January 15, 2016


Indeterminacy as a means for practical complexity in Henry Brant's 'Instant Music', Mitteilungen der Paul Sacher Stiftung - April 15, 2014

Education

Ph D, Music Theory, The University of California, Santa Barbara

MA, Music Composition and Music Theory, The University of California, Santa Barbara

BM, Music Composition and Saxophone Performance, The State University of New York at Fredonia