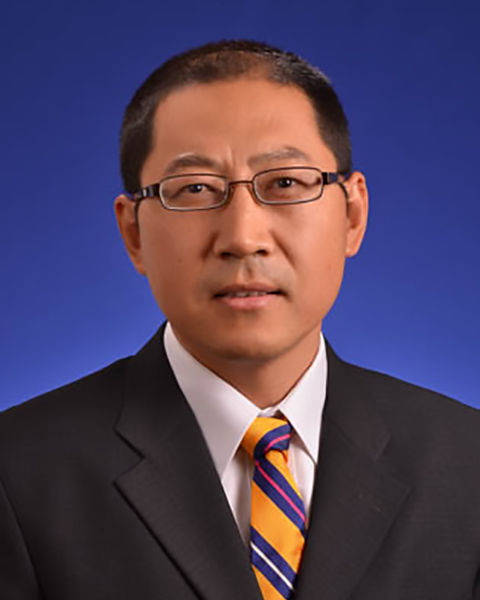 Associate Professor of Engineering, Mechanical Engineering Technology

Mailing Address:
PENN STATE BEHREND
242 BURKE CENTER
ERIE PA 16563
Biography

Dr. Liyong Sun is an associate professor of engineering at Penn State Behrend. He received his B.S. in Thermal Engineering from Tsinghua University, China, M.S. in Cryogenic and Refrigeration Engineering from Chinese Academy of Sciences, China, and Ph.D. in Mechanical Engineering from the University of Minnesota.

Dr. Sun joined the Penn State Behrend faculty in August 2013. His industry experience includes Stirling engine regenerator design and fabrication, heat pipe solar receiver design and fabrication, and water purification element fabrication and testing. He taught in the mechanical engineering department at the Middle East Technical University, Northern Cyprus Campus, for a year and served as a teaching assistant at the University of Minnesota for four semesters. Dr. Sun is a member of the American Society of Mechanical Engineers (ASME).
Research Interests

Dr. Sun's primary research interests lie in simulation and modeling of thermal fluid science, including molecular dynamics and computational fluid dynamics (CFD).
Publications

Incorporate a Remote Rankine Cycler Lab into the Thermodynamics Course - March 28, 2023
Collaborators: Jun Zhou, Co-Author; Zhiyuan Yu, Co-Author

Incorporate Engineering Equation Solver (EES) In Thermal-fluid Courses - May 18, 2022
Collaborator: Jun Zhou

Educational Experiences of a Mechanical Engineering Technology Program Faculty During COVID-19 - July 27, 2021
Collaborators: Steven Nozaki; David Clippinger; Nancy Study

Direct Numerical Simulations of Three Dimensional Secondary Streaming of Oscillating Flows through a Cylindrical Pellet - May 27, 2021
Collaborator: Yan Su, Co-Author

Enhancing Students Learning in Thermal-fluid Sciences Courses Through Daily Life Examples - May 27, 2021


Effects Of Operating Conditions On The Heat Management Of A Microscale Fuel Cell - July 10, 2019
Collaborators: Adam Hollinger, Co-Author; Jun Zhou, Co-Author

Ratcheting Strain and Microstructure Evolution of AZ31B Magnesium Alloy under a Tensile-Tensile Cyclic Loading, Materials - March 28, 2018
Collaborators: Zhifeng Yan, Co-Author; Denghui Wang, Co-Author; Wenxian Wang, Co-Author; Jun Zhou, Co-Author; Xiuli He, Co-Author; Peng Dong, Co-Author; Hongxia Zhang, Co-Author

Uncertainty Analysis of Thermal Conductivity Measurement by a Homemade Apparatus - March 24, 2018
Collaborators: Robert Edwards, Co-Author; Adam Hollinger, Co-Author; Meredith Sander, Co-Author

Deformation Behaviors and Cyclic Strength Assessment of AZ31B Magnesium Alloy Based on Steady Ratcheting Effect, Materials Science and Engineering: A - March 22, 2018
Collaborators: Zhifeng Yan, Co-Author; Denghui Wang, Co-Author; Xiuli He, Co-Author; Wenxian Wang, Co-Author; Hongxia Zhang, Co-Author; Peng Dong, Co-Author; Chenhao Li, Co-Author; Yuli Li, Co-Author; Jun Zhou, Co-Author; Zhuang Liu, Co-Author

A Comparative Study of Permeable and Semipermeable Membranes Constructed Multiple Layer Water Filters by Non-Dimensional Lattice Boltzmann Simulations, International Journal of Heat and Mass Transfer - November 23, 2017
Collaborator: Yan Su, Co-Author

Modeling of Heat Removal in a Single-channel Microscale Fuel Cell - June 26, 2017
Collaborator: Adam Hollinger, Co-Author

A Simple Experiment to Enhance Student Learning in the Area of Fins - March 03, 2017
Collaborator: Robert Edwards, Co-Author

A Simple Experiment to Enhance Student Learning of Pressure in a Fluid Power Course, Transactions on Techniques In STEM Education - December, 2016
Collaborator: Robert Edwards, Co-Author

A Student Research Project To Compare the Theoretical Pressure Drops Across Heat Sinks to Actual Measured Pressure Drops, Transactions on Techniques In STEM Education - December, 2016
Collaborators: Robert Edwards, Co-Author; Nathan Myers

Intrinsic Instability of Thin Liquid Films on Nanostructured Surfaces, Applied Physics Letters - September 12, 2016
Collaborators: Han Hu, Primary Author; Arif Rokoni, Co-Author; Ying Sun, Co-Author

Effect of Nanostructures and Wettability on the Instability of Thin Water Films on a Solid Surface: A Molecular Dynamics Study - July 12, 2016
Collaborators: Jun Zhou, Co-Author; Philip Jones, Co-Author

Lattice Boltzmann Simulation of Flow in a Multiple Layer Water Filter - July 12, 2016
Collaborator: Yan Su, Co-Author

Developing In-Class Experiments for Fluid and Thermal Science Courses for Technology Students - June 26, 2016
Collaborator: Robert Edwards, Co-Author

A Simple Experiment to Enhancing Student Learning of Pressure in Fluid Power Course - April 09, 2016
Collaborator: Robert Edwards, Co-Author

Modeling of Heat Transfer and Fluid Flow in Fusion Welding - August 12, 2015
Collaborators: Jun Zhou, Co-Author; Amir Khalilollahi, Co-Author

A Molecular Dynamics Study for the Stability of Thin Water Films on Nanostructured Surfaces - July 08, 2015
Collaborator: Jun Zhou, Co-Author

A Student Research Project To Compare the Theoretical Pressure Drops Across Heat Sinks to Actual Measured Pressure Drops - April 17, 2015
Collaborator: Robert Edwards, Co-Author

Enhancing Student Learning in Thermal-fluid Sciences Courses Through Software - April 17, 2015
Collaborator: Robert Edwards, Co-Author

Thermo-Fluid Experiments Supporting Microfabricated Regenerator Development for a Stirling Space Power Engine, 7th International Energy Conversion Engineering Conference, Denver, CO - 2009
Collaborators: Terrence Simon, Co-Author; Susan Mantell, Co-Author; M Ibrahim, Co-Author; David Gedeon, Co-Author; R Tew, Co-Author

Jet Penetration into a Scaled Microfabricated Stirling Cycle Regenerator, 6th International Energy Conversion Engineering Conference, Cleveland, OH - 2008
Collaborators: Terrence Simon, Co-Author; Susan Mantell, Co-Author; M Ibrahim, Co-Author; David Gedeon, Co-Author; R Tew, Co-Author

A Microfabricated Involute-Foil Regenerator for Stirling Engines, 5th International Energy Conversion Engineering Conference, St. Louis, MS - 2007
Collaborators: R Tew, Co-Author; M Ibrahim, Co-Author; T Simon, Co-Author; S Mantell, Co-Author; D Gedeon, Co-Author; K Kelly, Co-Author; J McLean, Co-Author; G Wood, Co-Author; S Qiu, Co-Author

A Microfabricated Segmented-Involute-Foil Regenerator for Enhancing Reliability and Performance of Stirling Engines - 2007
Collaborators: M Ibrahim, Co-Author; D Danila, Co-Author; T Simon, Co-Author; S Mantell, Co-Author; S Qiu, Co-Author; G Wood, Co-Author; K Kelly, Co-Author; J McLean, Co-Author

Assessing the Performance of a Microfabricated Regenerator for Stirling Space-power Convertor, 3rd International Energy Conversion Engineering Conference, San Francisco, CA - 2005
Collaborators: M Ibrahim, Co-Author; J Keister, Co-Author; T Simon, Co-Author; S Mantell, Co-Author; D Gedeon, Co-Author; D Guidry, Co-Author; S Qiu; G Wood

A Survey of Microfabrication Techniques for Use in Stirling Engine Regenerators, 2nd International Energy Conversion Engineering Conference, Providence, RI - 2004
Collaborators: Susan Mantell, Co-Author; David Gedeon, Co-Author; Terrence Simon, Co-Author

Experimental Study of a Traveling-wave Thermoacoustic Refrigerator and Mixture of Helium and Nitrogen, Vacuum and Cryogenics - 2001
Collaborators: Jingtao Liang; Kun Yuan; Yuan Zhou

Experimental Study of the Traveling-Wave Thermoacoustic Prime Engine, Cryogenics (China) - 2001
Collaborators: Ercang Luo; Jingtao Liang; Yuan Zhou
Education

Ph D, Mechanical Engineering, The University of Minnesota

MS, Cryogenic and Refrigeration Engineering , Chinese Academy of Sciences

BS, Thermal Engineering, Tsinghua University