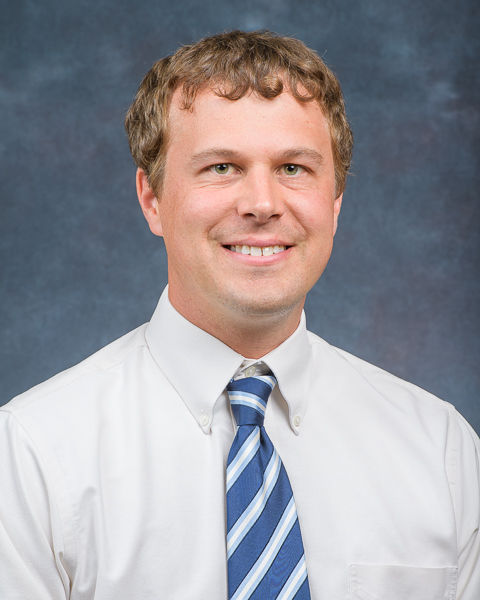 Director, Graduate Studies
Discipline Lead, International Business
Associate Professor, Economics

Mailing Address:
PENN STATE BEHREND
281 BURKE CENTER
ERIE PA 16563
Biography

Dr. Owens earned both his Ph.D. and M.A. in economics at the Ohio State University and completed his undergraduate degree in economics with minors in mathematics and psychology at Saint Vincent College. He is an Associate Professor of Economics at Penn State Behrend and the discipline lead for International Business.
Prior to joining the Penn State Behrend faculty, he worked at Middle Tennessee State University (MTSU) for ten years. At MTSU he taught Ph.D. courses and served in many supervisory roles including as the director of graduate programs in Economics, faculty adviser to the undergraduate economics club, and as a dissertation and honors thesis committee chair for student research projects.
Dr. Owens's primary research interests are in experimental and behavioral economics, labor economics, and industrial organization. He has published research on a wide range of topics including racial discrimination in markets, competition between churches for members, behavioral impacts from changes in the minimum wage, consumers' price sensitivity toward charitable contributions of Girl Scout cookies, the impact of tax incentives for movie filming locations, and the behavioral influences behind fourth down decisions made by college football coaches.
Over his career he has earned awards for scholarship excellence, teaching, and academic advising.

Research Interests

Experimental and Behavioral Economics, Labor Economics, Industrial Organization
Publications

Does Personal Door-to-Door Campaigning Influence Voters? Evidence from A Field Experiment, Journal of Behavioral and Experimental Economics - May 21, 2023
Collaborator: Charles Baum

The Economic Impact of a Community Group Home - May, 2022


The Role of Foreign-Born Residents in the Economy of Erie County PA - September 11, 2021
Collaborator: James Kurre

Motion Picture Production Incentives and Filming Location Decisions: A Discrete Choice Approach, Journal of Economic Geography - May, 2020
Collaborator: Adam Rennhoff, Co-Author

Consumer Demand for Charitable Purchases: Evidence from a Field Experiment on Girl Scout Cookie Sales, Journal of Economic Behavior and Organization - August, 2018
Collaborators: Adam Rennhoff, Co-Author; Charles Baum, Co-Author

Decision-Making on the Hot Seat and the Short List: Evidence from College Football Fourth Down Decisions, Journal of Economic Behavior and Organization - April, 2018
Collaborator: Michael Roach, Co-Author

Risk Preferences, Responsibility, and Self-Monitoring in a Stag Hunt, Journal of Behavioral and Experimental Economics - June, 2017
Collaborators: Robert Girtz, Co-Author; Joshua Hill, Secondary Author

Provision and Price of Child Care Services: For-Profits and Nonprofits, Journal of Urban Economics - November, 2014
Collaborator: Adam Rennhoff, Co-Author

Responsibility-Alleviation and Other-Regarding Preferences with Peer Workers in Labor Markets: An experimental Investigation, Journal of Labor Research - September, 2012


Competition and the Strategic Choices of Churches, American Economic Journal: Microeconomics - August, 2012
Collaborator: Adam Rennhoff, Co-Author

The Effects of Welfare Vehicle Asset Rules on Vehicle Assets, Applied Economics - May, 2012
Collaborator: Charles Baum, Co-Author

State Minimum Wage Differences: Cost of Living or Political Inclinations?, Business Economics - January, 2012
Collaborators: William Ford, Secondary Author; Travis Minor, Secondary Author

Do Other-Regarding Preferences Change with Age? Evidence from a Gift Exchange Experiment, Journal of Socio-Economics - 2011


The Effect of Salary Caps on Competitive Balance in Professional Sports, Journal for Economic Educators - 2011
Collaborator: Evan Totty, Co-Author

The Effects of Information and Competition on Racial Discrimination: Evidence from a Field Experiment, Journal of Economic Behavior and Organization - 2011
Collaborators: John Nunley, Co-Author; Robert Howard, Secondary Author

Minimum Wage Restrictions and Employee Effort in Incomplete Labor Markets: An Experimental Investigation, Journal of Economic Behavior and Organization - 2010
Collaborator: John Kagel, Corresponding Author

The Effects of Federal Housing Assistance on Exiting Welfare and Becoming Employed for Welfare Recipients, Journal of Poverty - 2009
Collaborator: Charles Baum, Co-Author

The Search for an Economics Job with a Teaching Focus, Journal for Economic Educators - October, 2008

Education

Ph D, Economics, The Ohio State University

MA, Economics, The Ohio State University

BS, Economics, St. Vincent College