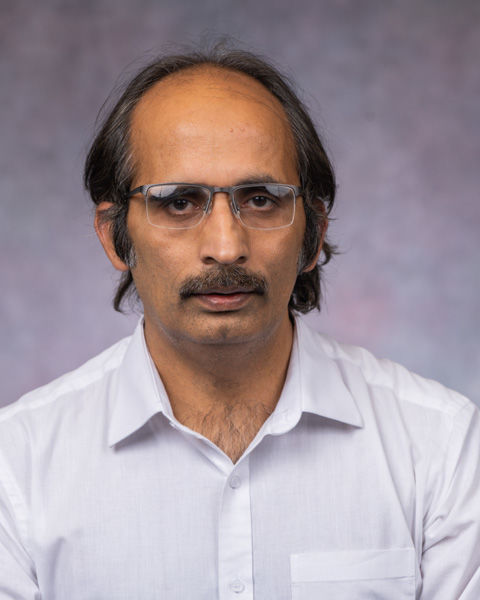 Assistant Professor, Computer Science and Software Engineering
Mailing Address:
PENN STATE BEHREND
242 BURKE CENTER
ERIE PA 16563
Biography

I completed my Ph.D. in Computer Science from City University of Hong Kong, MS (Software Engineering) from City University of Science and Information Technology, Peshawar, Pakistan and MSc (Computer Science) from Gomal University, DIK, Pakistan.

I am currently working as an Assistant Professor at the Computer Science and Software Engineering Department, School of Engineering, Penn State University Behrend, Erie, PA, USA. Before Joining PSU, I have worked as a Pro temp (NTTF) at the Computer and Information Science Department, University of Oregon, Eugene, Oregon, USA. Prior to this, I was working as an Assistant Professor in COMSATS University, Islamabad. I have worked as course chair and acting Director Administration at Namal College, Mianwali an affiliated College of University of Bradford, UK. Moreover, I have worked as a faculty member of University of Peshawar, Center of Applied Epistemics, and CECOS University. I have worked as programmer with SRDC, British Council, Peshawar, Pakistan. I am a research collaborator at SERC, MID Lab, Smart Intelligence team, SERC-KUST, SE-CU (HK) team, SE-NUAA (CN) from September 2014 to date.
Moreover, As an editorial staff member, i am providing volunteer services to numerous reputed journals and conferences such as IET Software, KSII Transactions on Internet and Information Systems, Journal of Information and Knowledge Management, EASE and so on.

My current research focus is to explore the software engineering practices for High Performance Computing (HPC) software packages and applications to improve their process and benchmark their quality levels, to automate the document generation for open-source software, and to explore the implications of Machine learning, Artificial Intelligence (AI), Big data analysis and soft computing technique in analysis and design of softwares.
Research Interests

I love to do interdisciplinary research in the domain of Software Engineering, healthcare system, Machine Learning, Text mining and Social network analysis.
Publications

A conceptual model supporting decision-making for test automation in Agile-based Software Development, Data & Knowledge Engineering - March 1, 2023
Collaborators: Shimza Butt, Primary Author; Saif Ur Rahman Khan, Co-Author; Wen-Li Wang, Co-Author

Exploiting Ontology Recommendation Using Text Categorization Approach, IEEE Access - January 9, 2023
Collaborator: Muhammad Azeem Sarwar, Primary Author

A Study on Application Programming Interface Recommendation: State-of-the-Art Techniques, Challenges, and Future Directions, Journal of Library Hi Tech - 2022
Collaborators: Muhammad Sajid Nawaz, Primary Author; Saif Ur Rehman Khan; Javed Iqbal

TTAG+R: A Dataset of Google Play Store's Top Trending Android Games and User Reviews, QRS 2022 - December 1, 2022
Collaborator: Rahila Chand, Primary Author

Empirical Investigation of role of Meta-learning approaches for the Improvement of Software Development Process via Software Fault Prediction, EASE 2022 - June 1, 2022


Three-Phase Methodology to Manage the COVID-19 Information for Classification of Mental Illness, Journal of Information & Knowledge Management


Self-Adaptation in Smartphone Applications: Current State-of-the-Art Techniques, Challenges, and Future Directions, Journal of Data and Knowledge Engineering
Collaborators: Mughees Ali, Primary Author; Saif Ur Rahman Khan

Uncertainity Handling in Cyber-Physical System: State of the Art Approaches, Tools, Causes and Future Directions, Journal of Software Evolution and Process
Collaborators: Mah Noor Asmat, Primary Author; Saif Ur Rehman Khan

Threshold-Based analysis of the code quality of High-Performance Computing Software Packages, QRS 2021 - December 1, 2021
Collaborator: Bosco Ndemeye, Primary Author

What users really think about the usability of smartphone applications: diversity based empirical investigation, Journal of Multimedia Tools and Applications
Collaborators: Sher Badshah, Primary Author; Arif Ali Khan; Bilal Khan

Evolution of Influential Developer's Communities in OSS and its Impact on Quality, Intelligent Automation and Soft Computing
Collaborator: Beenish Khan, Primary Author

Empirical Investigation of Developer's Rule Exceptions for High Performance Computing (HPC) applications, The International Conference on Evaluation and Assessment in Software Engineering (EASE), 2021 - June 1, 2021


An Efficient Traffic Incident Detection and Classification Framework by Leveraging the Efficacy of Model Stacking, Journal of Complexity
Collaborators: Zafar Iqbal, Primary Author; Majid Iqbal Khan; Asad Habib

Empirical Investigation of researcher's perception about the impact of Covid-19 on their research productivity, Materials & Continua
Collaborators: Syeda Javaeria Shoukat, Primary Author; Humaira Afzal

Impact on Mental Health through Social Media Forum, Journal of Materials & Continua
Collaborators: Huma Array, Primary Author; Mohammad Khalid Sohail

Blockchain-Based Software Process Improvement (BBSPI): An Approach for SMEs to Perform Process Improvement, IEEE Access
Collaborators: Umar Farooq, Author; Mansoor Ahmad

A Methodology to Automate the Security Patterns Selection, Proceedings of Security, Privacy, and Anonymity in Computation, Communication, and Storage - February 1, 2021
Collaborator: Khudema Zahra, Primary Author

Software Developer Recommendation in Terms of Reducing Bug Tossing Length, , Proceedings of Security, Privacy, and Anonymity in Computation, Communication, and Storage - February 1, 2021
Collaborator: Muhammad Zubair Baloch, Primary Author

A Privacy-preserving protocol for continuous and dynamic data collection in IoT enabled Mobile App Recommendation System (MARS), Journal of Network and Computer Applications (JNCA)
Collaborator: Saira Beg, Primary Author

Predicting Mental Illness using Social Media Posts and Comments, International Journal of Advanced Computer Science and Applications
Collaborator: Mohsin Kamal, Primary Author

Automatic Video Annotation of Human Health Care Action via Clustering, Journal of Medical Imaging and Health Informatics - November 20, 2020
Collaborator: Moomina Waheed

A Methodology for Image Annotation of Human Actions in Videos, Journal of Multimedia Tools and Applications
Collaborator: Moomina Waheed, Primary Author

Knowledge Discovery for Software Development (KDSD), IET Software


Leveraging IoT and Fog Computing In Healthcare Systems, IEEE Internet of Things Magazine - June 1, 2020
Collaborators: Kamran Sattar Awaisi, Primary Author; Mansoor Ahmed; Arif Ali Khan; Ghufran Ahmed

OBAC: Towards Agent-based Identification and Classification of Roles, Objects, Permissions (ROP) in Distributed Environment, Journal of Multimedia Tools and Application - February 20, 2020
Collaborators: Sidra Aslam, Primary Author; Mansoor Ahmed; Imran Ahmed; Abid Khan; Awais Ahmad; Muhammad Imran; Adeel Anjum

A novel method of image denoising: New variant of BM3D, Journal of Medical Imaging and Health Informatics - January 1, 2020
Collaborator: Sadaf Zahid Mahmood, Primary Author

A novel Co-training based approach for the classification of mental illnesses using Social media posts, IEEE Access - November 14, 2019
Collaborator: Subhan Tariq, Primary Author

A Methodology for the Quantification of the effect of Patterns and Anti-Patterns Association on the Software Quality, IET Software - October 1, 2019


Fuzzy AHP based Prioritization and Taxonomy of Software Process Improvement Success Factors in Global Software Development, Applied Soft Computing - October 1, 2019
Collaborator: Arif Ali Khan, Primary Author

Mining version history to predict the class instability, PLOS One - September 16, 2019


Investigation of the Requirements Change Management Challenges in the Domain of Global Software Development, Journal of Software: Evolution and Process - May 25, 2019
Collaborator: Muhammad Azeem Akbar, Primary Author

A Step towards the improvement in the performance of Text classification, KSII Transactions on Internet and Information Systems - April 2, 2019


An Empirical Study to Predict the Quality of Wikipedia Articles, WorldCist 2019 - April 1, 2019
Collaborator: Muhammad Imran Niazi, Primary Author

A Methodology to Characterize and Compute Public Perception via Social Networks, WorldCist 2019 - March 30, 2019
Collaborator: Shaista Bibi, Primary Author

A Methodology to Rank the Design Patterns on the base of Text Relevancy, Journal of Soft Computing - March 18, 2019


A Methodology to Rank the Patients Prone to Chronic Diseases in Telehealth, Journal of Medical Imaging and Health Informatics - March 15, 2019


Knowledge Based Quality Analysis of Crowdsourced Software Development Platforms, Computational and Mathematical Organization Theory - January 20, 2019
Collaborator: Asad Habib, Primary Author

A methodology to characterize and compute correlation between traffic congestion and health issues via social media, 24th International Conference on Automation and Computing (ICAC) - January 1, 2019
Collaborator: Shaista Bibi, Primary Author

An Automated Text Classification Method: Using Improved Fuzzy Set Approach for Feature Selection, 2019 16th International Bhurban Conference on Applied Sciences and Technology (IBCAST) - December 31, 2018
Collaborator: Bushra Zaheer Abbasi, Primary Author

Public perception based recommendation system for cryptocurrency, 2019 16th International Bhurban Conference on Applied Sciences and Technology (IBCAST) - December 31, 2018
Collaborator: Shaista Bibi, Primary Author

Automated Framework for Classification and Selection of Software Design Patterns,, Applied Soft Computing - November 9, 2018


A Methodology to characterize and compute correlation between traffic congestion and health issues via social media, Proceeding of ICAS, IEEE - September 6, 2018
Collaborator: Shaista Bibi, Primary Author

Impact of membership and non-membership features on classification decision : an empirical study for appraisal of feature selection methods, Proceeding of ICAS, IEEE - September 6, 2018
Collaborator: Bushra Zaheer Abbasi, Primary Author

Integrated planning approach towards home health care, telehealth and patients group based care, Journal of Network and Computer Applications - September 1, 2018
Collaborators: Jamal Abdul Nasir, Primary Author; Chuangyin Dang

Implications of Deep Learning for the Automation of Design Patterns Organization, Journal of Parallel and Distributed Computing - July 1, 2018


GSEPIM: A Roadmap for Software Process Assessment and Improvement in the Domain of Global Software Development, Journal of Software, Evolution, and Process - May 17, 2018
Collaborator: Arif Ali Khan, Primary Author

Effect of project management in requirements engineering and requirements change management processes for global software development, IEEE Access - April 26, 2018
Collaborator: Muhammad Shafiq, Primary Author

Counter measuring conceivable security threats on smart healthcare devices, IEEE Access - April 12, 2018
Collaborator: SYEDA MARIAM MUZAMMAL, Primary Author

Systematic Literature Study for Dimensional Classification of Success Factors Affecting Process Improvement in Global Software Development: Client-Vendor Perspective, IET Software - April 3, 2018
Collaborator: Arif Ali Khan, Primary Author

Statistical Analysis of the Effects of Heavyweight and Lightweight Methodologies on the Six-Pointed Star Model, IEEE Access - February 13, 2018
Collaborator: Muhammad Azeem Akbar, Primary Author

Improving the quality of software development process by introducing a new methodology AZ–Model, IEEE Access - December 29, 2017
Collaborator: Muhammad Azeem Akbar, Primary Author

Correlation Between the Frequent Use of Gang-of-Four Design Patterns and Structural Complexity, 24th Asia-Pacific Software Engineering Conference - December 6, 2017


A Proposed Model for Software Process Assessment and Improvement in the domain of Global Software Development, EuroAsiaSPI 2017 - September 1, 2017
Collaborator: Arif Ali Khan, Primary Author

Systematic Literature Reviews of Software Process Improvement: A Tertiary Study, EuroAsiaSPI 2017 - September 1, 2017
Collaborator: Arif Ali Khan, Primary Author

The Effect of Gang-of-Four Design Patterns Usage on Design Quality Attributes, Proceedings of, QRS-2017 - July 24, 2017


Software Design Patterns classification and Selection using Text categorization Approach, Applied Soft Computing - June 1, 2017


Understanding Software Process Improvement in Global Software Development: A Theoretical Framework of Human Factors - June 1, 2017
Collaborator: Arif Ali Khan, Primary Author

A methodology to predict the instable classes: student research abstract, ACM SAC - May 1, 2017


Systematic Literature Review and Empirical investigation of Barriers for Software Process Improvement in Global Software Development: Client-Vendor Perspective, Information and Software Technology - February 1, 2017
Collaborator: Arif Ali Khan, Primary Author

End User in Charge-Social Framework for Open Source Development, IARIA 2016 - February 10, 2016
Collaborator: Kwaben Ebo Bennin, Primary Author

A Formal Framework for Web Service Broker to Compose QoS Measures, Proceeding of SAI Intelligent System conference (IntelliSys2015) - November 15, 2015
Collaborator: Adnan Akhunzada, Primary Author

Towards Experiencing the Pair Programming as a Practice of the Rational Unified Process (RUP), Proceeding of SAI Intelligent System conference (IntelliSys2015) - November 15, 2015
Collaborator: Adnan Akhunzada, Primary Author

Performance evaluation of Ensemble Methods: An Experiment, Proceeding of 24th Australasian Software Engineering Conference (ASWEC) - October 10, 2015


Effects of Geographical, Socio-cultural and Temporal distances on communication in Global Software Development during Requirements Change Management A Pilot Study, International Conference on Evaluation of Novel Approaches to Software Engineering (ENASE), 2015 - February 10, 2015
Collaborator: Arif Ali Khan, Primary Author

Effective Stakeholder Participation In Requirement Engineering Using Wiki-Based Process Framework, Gomal University Journal of Research - June 1, 2010
Collaborator: Shakil Ahmed, Primary Author

Mapping The Best Practices of XP and Project Management: Well defined approach for Project Manager - March 3, 2010
Collaborator: Muhammad Javed, Primary Author

Improvement in RUP Project Management via Service Monitoring: Best Practice of SOA, JOURNAL OF COMPUTING - February 1, 2010
Collaborator: Sheikh Muhammad Saqib, Primary Author

Mapping of SOA and RUP: DOA as Case Study, JOURNAL OF COMPUTING - January 1, 2010


Architecture Business Cycle for an Embedded System, Gomal University Journal of Research - June 1, 2009
Collaborator: Bashir Ahmad, Primary Author

A Step towards Software Corrective Maintenance: Using RCM model, International Journal on Computer Science and Engineering - February 2, 2009

Education

PhD, Computer Science, City University of Hong Kong

MS, Software Engineering, City University of Science and Information Technology

MSc, Computer Science, Gomal University