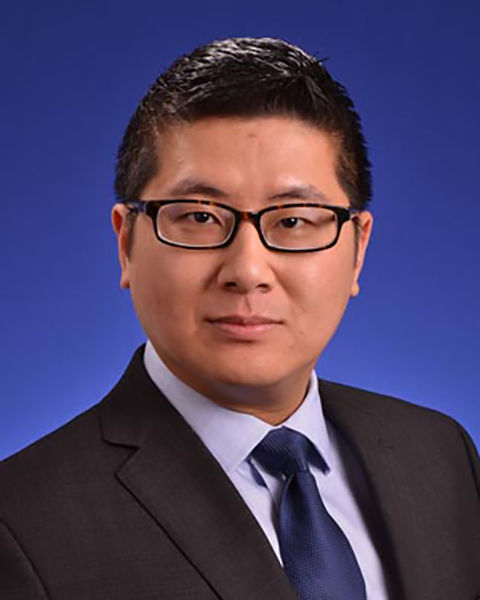 Associate Professor of Industrial Engineering, Industrial Engineering and MMM Programs

Mailing Address:
AMIC BUILDING
5350 TECHNOLOGY DRIVE
ERIE PA 16510
Biography

Dr. Yuan-Han Huang received the B.S. in Industrial Engineering from I-Shou University, Taiwan; the M.B.A. in Industrial Management from the National Taiwan University Science & Technology, Taiwan; and the M.S. in Industrial & Systems Engineering from the State University of New York (SUNY), Buffalo. Dr. Huang received his Ph.D. in Industrial Engineering with a concentration in Human Factors Engineering from Clemson University in 2013.
Dr. Huang joined Penn State Behrend in August, 2013. His research interest focuses on investigating the evolution of medical professionals' workflow under various healthcare settings.
Research Interests

Human Factors Engineering, Health Systems, Human Computer Interactive Design..
Publications

Interactive Evaluations for Enhanced Priority Queues Process, Proceedings of Industrial and Systems Engineering Research Conference (ISERC) - May, 2021


Information Presentations to Priority Queue in Healthcare Settings, Proceedings of Industrial and Systems Engineering Research Conferencee (ISERC) - November, 2020
Collaborator: Miyah Lata, Student Author

Hospice and Palliatives Care in Rural Pennsylvania, Proceedings of Industrial and Systems Engineering Research Conferencee (ISERC) - May, 2019


Development of Sustainable Community Paramedicine Programs: a Case Study in Pennsylvania, Emergency Medicine Journal - 2018
Collaborators: Linlin Ma, Student Author; Luke Sabljak, Student Author; Zachary Puhala , Student Author

Emergency Department Patient Experience and Waiting Time, The American Journal of Emergency Medicine - 2018
Collaborators: Luke Sabljak, Student Author; Zachary Puhala , Student Author

Expected Functions and Application of Personal Health Records, Proceedings of Industrial Engineering Research Conference - May 19, 2018
Collaborator: Emily Miksa, Student Author

Enhancing Ergonomic Design Skills among Undergraduate Students by Integrating Computer Aided Design and Digital Human Modeling , Proceedings of 2017 ASEE Annual Conference & Exposition - June 25, 2017
Collaborators: Faisal Aqlan, Co-Author; Eugene Walters, Co-Author

A Sustainable Community Paramedicine Model, Proceedings of Industrial Engineering Research Conference - May 21, 2017
Collaborators: Linlin Ma; Luke Sabljak, Co-Author; Zachary Puhala, Co-Author

Perceptions of Waiting Times in Emergency Department, Proceedings of Industrial Engineering Research Conference - May 21, 2017
Collaborators: Luke Sabljak, Co-Author; Zachary Puhala, Co-Author

Recommendations for Health Information Technology Implementation in Rural Hospitals, International Journal of Health Care Quality Assurance - 2016
Collaborator: Anand Gramopadhye, Co-Author

A Time Study in Emergency Department Fast-Track, Proceedings of Industrial Engineering Research Conference - May 21, 2016
Collaborators: Rachael Knox, Co-Author; Angela Zorn, Co-Author

Investigating Customer Needs for an Information Artifact for Emergency Department Patients, Proceedings of Industrial Engineering Research Conference - May 21, 2016
Collaborator: Shubhankar Pinge , Co-Author

Cognitive Walkthrough: Medication Administration Process in a Virtual Nursing Training Program, Proceedings of Industrial Engineering Research Conference - May 30, 2015
Collaborator: Christopher Henley, Co-Author

Root Cause Analysis: Turnover Time in Operation Rooms, Proceedings of Industrial Engineering Research Conference - May 30, 2015


Workflow-Oriented Perspective: What is Patient-Centered Care?, Proceedings of Industrial Engineering Research Conference - May 30, 2015
Collaborator: Hsin-Li Chan, Co-Author

Systematic Engineering Tools for Describing and Improving Medication Administration Processes at Rural Healthcare Facilities, Applied Ergonomics - November, 2014
Collaborator: Anand Gramopadhye

What Should Rural Hospitals Do Before Implementing an EHR System?, Proceedings of Industrial Engineering Research Conference - May 31, 2014
Collaborator: Anand Gramopadhye

Communication's Role and Technology Preferences during Hurricane Evacuations., Natural Hazards Review - August, 2013
Collaborators: Kevin Taaffe, Author; Sandra Garrett, Co-Author; Innocent Nkwocha, Co-Author

Defining Characteristics of Communication Quality in Culture-Changed Long-Term Healthcare Facilities, Journal of Communication in Healthcare - December, 2012
Collaborator: Sandra Garrett, Co-Author

Are Staff in Rural Healthcare Facilities Ready for EHRs?, Proceedings of Industrial Engineering Research Conference - May, 2012
Collaborators: Sandra Garrett, Co-Author; Kevin Taaffe, Co-Author

Process Flow Development for a State-Wide Research Permissions Management System, Proceedings of Industrial Engineering Research Conference - May, 2012
Collaborators: Kapil Madathil; Reshmi Koikkara; Anand Gramopadhye

Optimizing the Number and Location of Siren Warning Systems: A Case Study at Clemson University, Proceedings of Industrial Engineering Research Conference - May, 2009
Collaborators: Wennian Li; Chansik Kim; Maria Mayorga

The Development of a Database System of Computer-Related Assistive Devices for the Skeletal Impairment, Journal of Institute of Occupational Safety and Health - October, 2003
Collaborators: Chia-Fen Chi; Jen-Chieh Song; Ya-Hui Wang; Yen-Hui Lin
Education

Ph D, Industrial Engineering, Clemson University

MS, Industrial and Systems Engineering, State University of New York at Buffalo, SUNY

MBA, Industrial Management, National Taiwan University Science and Technology

BS, Industrial Engineering and Management, I-Shou University