IN THIS ISSUE:
Women in Engineering Day celebrates tenth year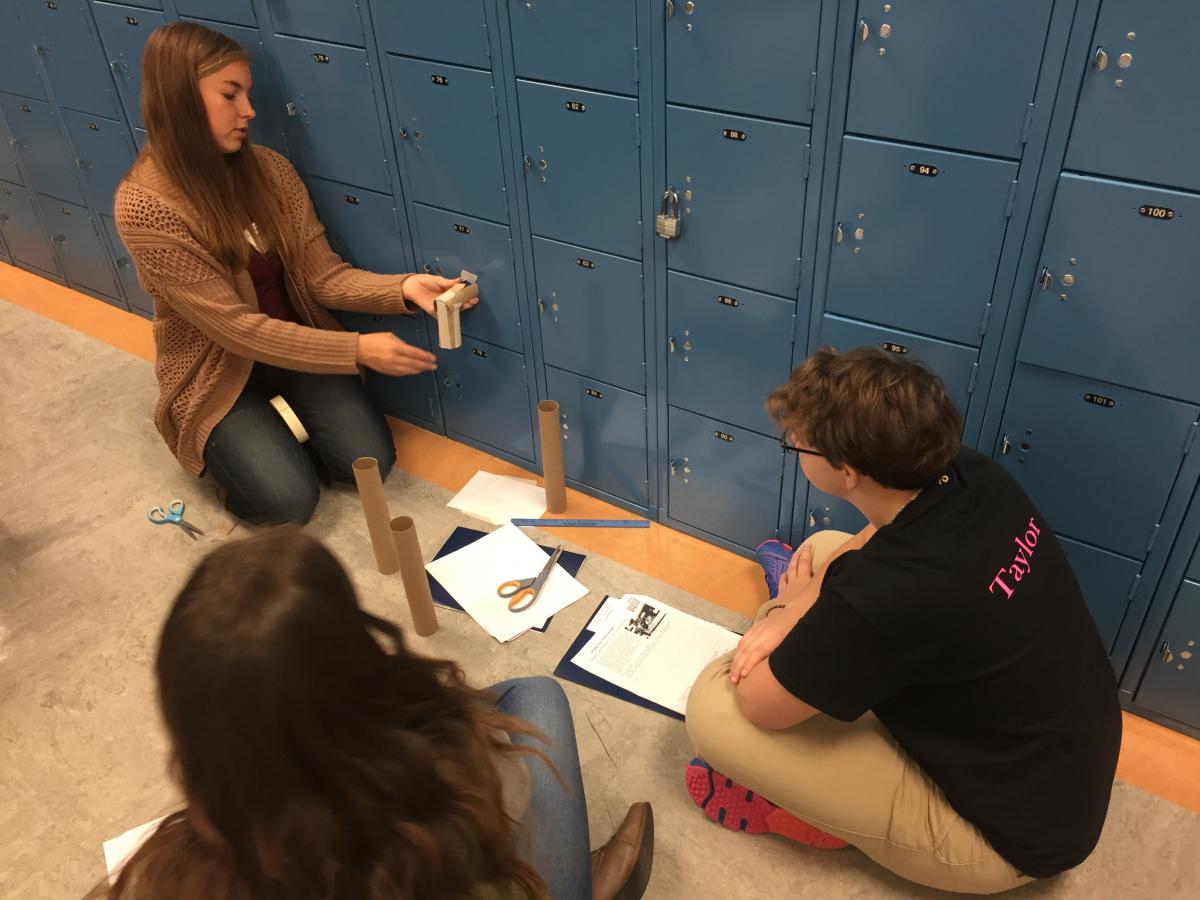 "Ssscccrrrunnch!"
Lilli Mason ripped a long piece of masking tape from its roll. She then carefully used the tape to position a cardboard pipe vertically against the wall. That same pipe then connected to another piece of pipe, only this one was positioned horizontally.
"We need four turns, and one of those has to be a right angle, so we're putting it at the beginning," said Mason, a sophomore at Cambridge Springs High School.
"Yep, getting it right out of the way," added Mason's teammate Samantha Rose, a sophomore at Harbor Creek High School.
Along with Central Tech High School sophomore Taylor Rango, Rose and Mason comprised one of the teams competing in the Pipeline Challenge workshop.
The competition was one of the many workshops that more than 165 high school students participated in during Women in Engineering Day at Penn State Behrend on Friday, Nov. 13. This marked the tenth year for the event, which is designed to introduce high school girls to engineering fields and careers through a series of hands-on activities.
Just one high school attended Women in Engineering Day in its first year, but the outreach effort has grown to host as many as 30 schools annually. More than 1,040 students have attended the event during its 10-year history.
"There are many occasions where young women do not go into the field of engineering because they do not understand what it is or what engineers do," said Melanie Ford, director of Youth Education Outreach and the Engineering K-12 Outreach Center. "By introducing these high school girls to professional women engineers, we are showing them different career options. The girls also have the opportunity to meet great role models and mentors that can impact their lives in the future."
During the day, more than 40 women — professionals from Construction Process Solutions LTD, Erie Insurance, Eriez Magnetics, FMC Technologies, GE Transportation, LORD Corporation and National Fuel Gas — presented workshops to the girls, who came from 23 different high schools in Pennsylvania and New York.
In Pipeline Challenge, coordinated by first-time sponsor National Fuel Gas, students worked to develop a pipeline system that could transport a golf ball or ping pong ball from one side of the classroom to the other. Students needed to incorporate four angles into their design, one of which needed to be a 90-degree turn. The difference in height from one end of the pipe to the other could be no more than 18 inches, and random hazards, such as environmentally-protected areas or bodies of water, needed to be avoided.
"We have the girls get divided out into groups and start sketching out their design. But once they start designing the pipes, they realize it's not as easy as they thought," said Rachael Sebesta, an engineer at National Fuel Gas and one of the coordinators of Pipeline Challenge.
One challenge that arose for Rango, Rose and Mason was finding a way to support the pipes. The workshop's instructions said nothing specific about how participants could keep the pipes from falling over. Like true engineers, the group decided to improvise, taping their own pencils and rulers to the sides of the pipes and floor.
"We're using all of our resources and taking advantage of what we have," Rose said.
The trio's resourcefulness paid off. The ball ultimately was able to travel the necessary distance, encountering no hiccups along the way.
"We figured dropping the ball (vertically) from the start would help give it some momentum, but we thought it might be too heavy. But it worked, so we're happy," Mason said.
High school girls learn business basics at Women in Business Day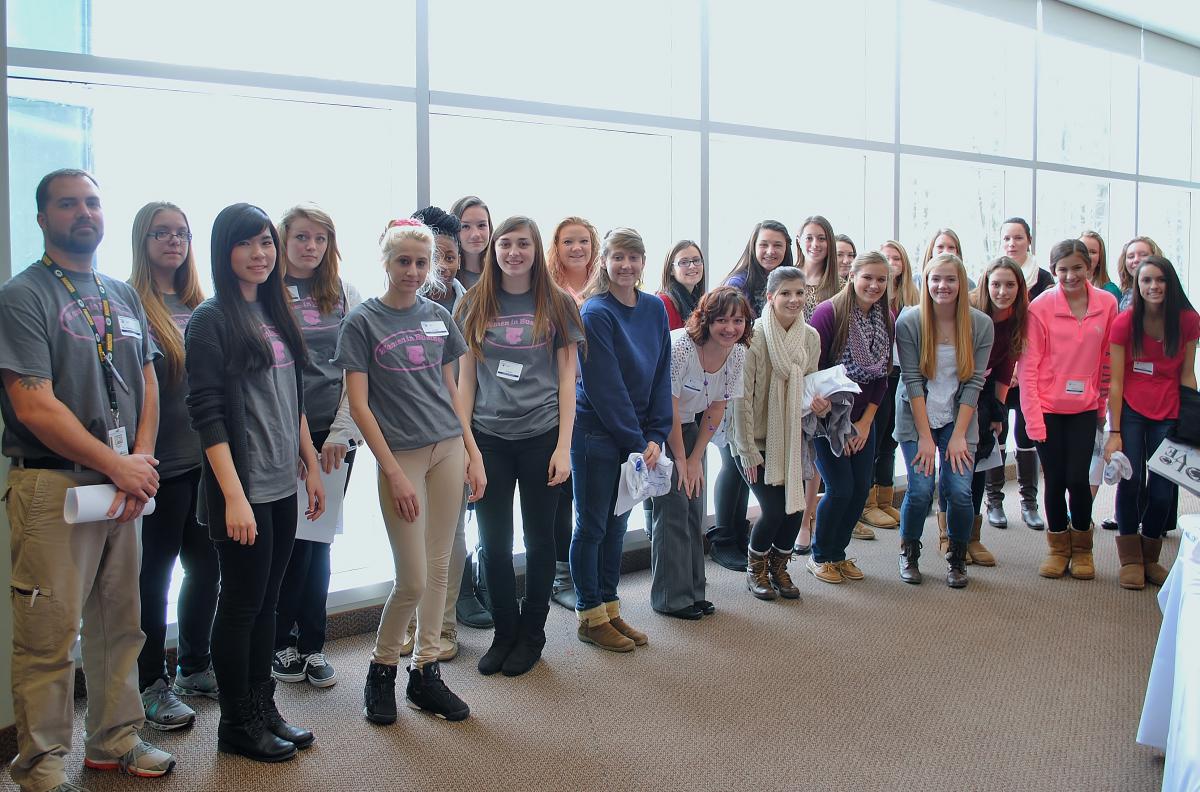 Twenty-five 10th, 11th, and 12th grade girls from four area high schools, including Fairview, Girard, Harbor Creek, and McDowell, attended the second annual Women in Business Day on Friday, November 20.
Randy Brown, lecturer in finance and management, once again directed this year's program. As part of the day's events, a number of female Black School of Business faculty members presented workshops to help educate young women on topics such as accounting, sustainability, and technology of business. Faculty members who participated in the program include Sukanya Rangarajan, lecturer in accounting, Linda Hajac, lecturer in accounting, Dr. Phylis Mansfield, associate professor of marketing, Dr. Kathleen Noce, senior lecturer in MIS, and Janice Totleben, senior lecturer in MIS.
Guest speakers at the event discussed their relationship to the Black School and how women play an active role in the current business forum. Joellen Nelson, a financial advisor for Edward Jones, spoke about her transition from work in the engineering field to her current position. Other guest speakers included Ariana Gloeckner, a junior majoring in both Accounting and International Business, and Sarah Giambanco, an alumna of the Black School.
Positive feedback was received from both students and high school teachers, and there are plans to increase the number of girls who participate in next year's Women in Business Day.
Nearly 100 students attend Physics Day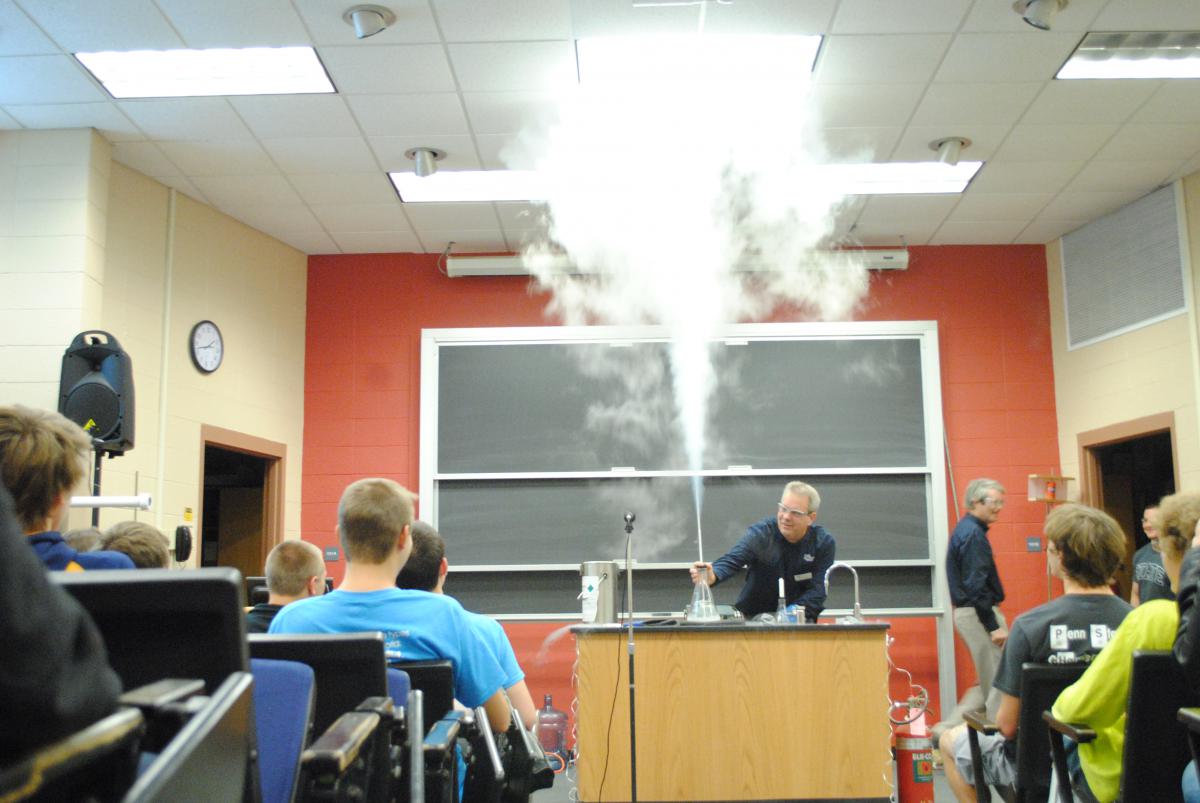 On November 24, the Physics Department welcomed nearly 100 students from seven area high schools for Physics Day.
Physics Day is an annual outreach event for high school students and teachers from Erie and Crawford counties. The event is designed to foster student interest in physics, and offers an opportunity for Behrend students to volunteer and strengthen relationships with area high schools. Participants engaged in fun and challenging physics-related activities, including Jeopardy-style quiz questions, hands-on challenges, an experience in the Yahn Planetarium, and an exciting demo show.
YPC Erie holds winter concert
The Young People's Chorus of Erie performed for nearly 500 people at its holiday concert, Simple Gifts. YPC Erie is a youth outreach program of the School of Humanities and Social Sciences at Penn State Behrend and is northwestern Pennsylvania's only comprehensive youth choral music program teaching healthy vocal technique, music literacy and music theory. The program is open to young people ages 7 – 18 and previous singing experience is not required.
FIRST LEGO League helps build teamwork skills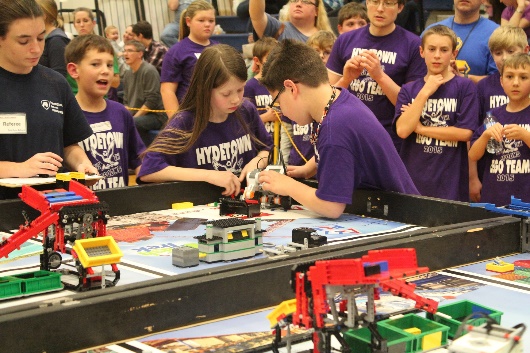 They knocked down buildings, rescued turtles, recycled cars, and composted garbage. The daylong competition, "Trash Trek," was just one of the many activities that thirty-nine northwestern Pennsylvania teams competed in during the annual FIRST LEGO League Championship Tournament sponsored and hosted by the Engineering K-12 Outreach Center of Penn State Behrend on December 12. "Trash Trek" focused on garbage and how it is created, disposed and recycled.
FIRST LEGO League is designed to build teamwork skills and self-confidence as teams discover real world applications of science and math concepts. Students build and program an autonomous robot to compete tasks during a sports-like tournament while learning problem solving skills.
Student teams from middle schools throughout the area competed in a Robot Game while a panel of judges critiqued them in various categories related to a presentation. The presentation focused on a real world problem concerning trash and a proposed solution to address it. The Champion's Award went to a team from the Iroquois School District, "Electric Dreams." The team will now travel to Saint Louis in April for the FIRST World Festival where they will compete against 108 teams from all over the world. The Theme for the FLL 2016 competition will be Animal Allies. FLL and Penn State Behrend Youth Education Outreach would like to thank our sponsors: Little Caesar's Pizza, Bricks 4 Kidz, and Eriez.
Behrend students and sixth graders team up for PLASTCar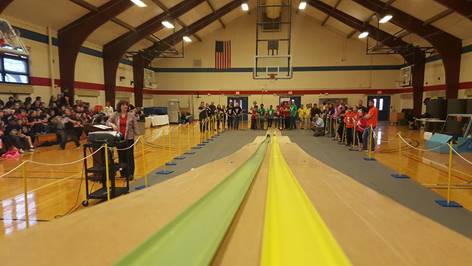 Students from two area elementary schools took over Erie Hall on December 15 as they cheered on their teams during Behrend's tenth annual PLASTCar race. The race marks the end of a semester-long project and partnership between the Plastics Engineering Technology department, Psychology students from Behrend, and sixth graders from Rolling Ridge and Diehl elementary schools.
The project begins each year with the sixth graders from Diehl and Rolling Ridge developing concepts for a new car based on a theme. Each school submits their top four designs, which are then developed into prototype toys by Plastics Engineering Technology (PLET) seniors. Additionally, Psychology students enrolled in an Engineering Psychology course develop conceptual interior designs of the cars.
Over the course of the semester, the students in PLET 468 – Rapid Commercialization, work from the designs provided by the sixth graders to create 3D models using Computer Aided Design (CAD) software. The cars are designed to closely replicate the student's sketches while meeting specifications for size, weight, and being able to fit with existing chassis and wheel sets. While students are designing these cars, they also meet with the sixth graders to review their designs, show them how engineers develop solutions, and explain how the design process works. During the meetings, the sixth graders are told that they are the "boss" and are asked to review the design to ensure it meets their visual expectations.
The winning design teams are invited to visit Behrend for a tour of the computing and Plastics Engineering labs. During this visit, their college-aged "employees" update them on the design of their car and then take them around the labs to show them how plastic materials are tested and manufactured. The sixth graders are given the chance to mold a mask and also help run a molding machine.
Once the design is complete, the PLET students use the CAD data and 3D printers to produce physical prototypes of the cars. The cars are approximately the size of a standard "Matchbox" car. The car body must fit with the provided chassis and wheel set. The cars are decorated and must weigh no more than 40 grams.
The students in the PSYCH 444 - Engineering Psychology course learn about man-machine relationships. During the semester, they work with the sixth graders to develop concepts for the interiors of the cars. The psychology students collect needs and user requirements from the sixth graders. These needs are then combined with standards related to human factors to develop a final design for the car's interior.
After completing the interior design concepts, the psychology students work on constructing a full-size mockup of the car's interior. The prototypes feature as many of the design details as possible and are intended to allow the sixth graders to test the form and fit of their design. In addition to the interior mock-up, the psychology students develop an app that highlights the car's design (both interior and exterior) and the features of the car.
The semester culminates with the PLASTCar competition. Held during finals week, this day-long event brings the sixth grade classes to Behrend to watch and participate in competitions to see which car design is the fastest and which interior is the favorite. The car interiors are set up, and each class takes time to sit and play with each of the cars. The students then vote on their favorite design. While the votes are tabulated, the model cars are put to the test on a 30-meter-long sloped track. The cars compete in a double-elimination bracket race to see which car is the fastest.
This year's competition saw a tight competition through the end as Diehl's Sweet Wheels car came back from a semifinal defeat to beat the previously undefeated French Fry car, also from Diehl. Unfortunately, Rolling Ridge's best hope, the Smith's Hot Dog car, was knocked out in round two, earning a fourth place finish. Diehl was also victorious in the interior design competition. The two elementary schools will now head back to the classroom to begin working on their designs for next season's competition.
The following schools and groups participated in education events with Penn State Behrend during the fall of 2015: Mercyhurst Preparatory School, Girard Gifted, McDowell, General McLane, Youngsville Middle, JS Wilson Middle, Woodrow Wilson, Union City High School, Rolling Ridge, Ripley, and Diehl.
The following schools and groups are scheduled for educational events with Penn State Behrend this spring: Waterford Elementary, Fairview High, Fairview Middle, Fort LeBoeuf Middle, Rice Avenue Middle, Camp SMILE in Union City, Fairview Summer Camp, Cub Scouts Pack 173, Boy Scouts, Saegertown Outreach, and St. Joseph's in Warren.
ABOUT OUR OFFICE
Penn State Behrend recognizes that successful communities and organizations start with young people who are motivated, educated, and excited to learn. Behrend's Youth Education Outreach programs give area youth the opportunity to use the college's resources to participate in unique and exciting learning experiences. To reach our office, call 814-898-6871 or email [email protected].