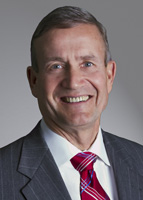 Dave Grzelak, Chairman and CEO of Komatsu America Corporation will be the featured speaker for a 2011-2012 School of Engineering Speaker Event on Friday, March 30, 2012, at noon in the Samuel P. "Pat" Black III Conference Center, Burke 180.
Grzelak graduated from Penn State University in 1971 with a B.S. in Industrial Engineering. He then obtained his MBA from Gannon University in Erie, Pennsylvania. In 1992, Dave was inducted into Penn State-Behrend's Athletic Hall of Fame. Dave was honored with the Penn State's College of Engineering highest award as Outstanding Engineering Alumnus Award in 1999. In 2001, Dave was recognized by Gannon University with the Distinguished Master's Degree Alumni Award. In 2010, Dave was presented an Alumni Fellow Award by the Penn State University, which is the most prestigious award given by the Penn State Alumni Association.
In 2005, Penn State appointed Dave to the Board of the Leonhard Center for the Enhancement of Engineering Education. In 2006, Alamo Group selected Dave to its Board of Directors and a member of the Audit, Compensation and Nomination Committees. From 2008 to 2011, Dave was a Non-Executive Director of Boart Longyear Ltd. He was Chairman of the Environmental, Health & Safety Committee and member of the Audit, Compliance and Risk Committee.
The title of Mr. Grzelak's talk is "UNDERSTANDING GLOBAL CHALLENGES AND NEEDS," and is presented as a discussion on important topics and issues for students, employees and companies to consider in order to be competitive in the global markets. Technology, ethics, cultural differences, understanding customer processes and requirements and other areas will be discussed.
See a list of past Engineering Speakers Series presentations.