This summer, Penn State Behrend's Supermileage team took first place in the Society of Automotive Engineers International Supermileage Challenge! We talked with engineering students and team members John Pearson, Taylor Pearson, and Cody Colpo as well as team adviser, Rich Englund, associate professor of engineering, about the big win and they had so many great things to say that we couldn't fit it all into the magazine.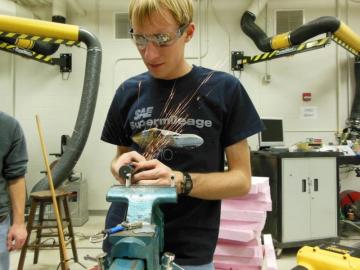 What does this win say about the School of Engineering?
Cody Colpo: It shows that Behrend engineers are dedicated to their work and are willing to put in the extra time to accomplish tasks that not many others can say they have achieved.
What do you enjoy about being on the team?
CC: The sense of camaraderie is amazing. We're all great friends and we work well together. Participating in the Supermileage Team has taught me many things I would not necessarily learn in the classroom, and it has given me the opportunity to apply the things I have learned in the classroom. It has also taught me how to work with others as a team and to set and accomplish group goals.
How many students participate in the Supermileage Club?
Taylor Pearson: Our Friday night meetings average about fifteen people. In total, about thirty people work on major portions of the car. About half of our members are mechanical engineering students and the rest are from a variety of engineering majors.
John Pearson: I find it impressive that our team has gone from having about five active members three years ago to having more than two dozen active members now.
Why do you enjoy the SAE Supermileage Competition?
JP: The competition itself is actually very friendly. Everyone is willing to help others if they are having trouble. I love seeing the various solutions to the same problem. I am fascinated by the difference between every team's engine, drive system, and vehicle design. Every team has the same goal, but we all get there in different ways.
Where is the race and how is fuel efficiency calculated?
TP: The race is held at Eaton Corporation's Proving Grounds in Marshall, Michigan, on a 1.6-mile oval test track. We do six laps for a total of 9.6 miles. Our fuel bottle is accurately weighed before and after each run to calculate our fuel efficiency.
Other than mileage and speed, what other performance goals does the car need to meet?

TP: The most difficult test, by far, is the braking test, where the car, going 10 m.p.h., must come to a stop in 13.12 feet (4 meters) or less. Also to pass inspection, the car must be able to sit on a 20-degree banked surface and be able to negotiate a 50-foot radius turn and a timed slalom course. Visibility (ahead, to both sides, and behind) is also checked. Finally, the car is subjected to a 250-pound load on the roll bar. While driving on the track, the reliability is constantly being challenged by the cracks in the concrete track and the lack of a suspension while running on paper thin tires. Also, the engine must flawlessly restart and re-engage the transmission twenty to thirty times during a run.
What improvements are planned for this year's vehicle?
TP: A new body mold has been finished and we expect to decrease our aerodynamic drag by 40 percent over last year's car. Also, two senior design projects are tied to the car. One is a special computer being designed and built to be an accurate speedometer that will automatically shut off the engine. The second project is a rotary valve engine head for our smaller displacement engine; it's a radically different design! We've also built a very lightweight carbon fiber steering system and obtained a set of the world's lowest rolling-resistance radial bike tires.
Can anyone join the club?
Rich Englund: Yes, it's a Student Government Association club and is open to any student at Behrend, without limitation as to major. Most members are engineers because that is the knowledge base that allows strong technical contributions, but there is work for anyone who is willing to roll up their sleeves and help, particularly with work on the body. The only real requirement is to show up at meetings and participate.